3 minutes reading time
(537 words)
Alabama Football Honors For A-Day Game, Spring Practice
There is not an extraordinary amount of drama regarding a spring football game. If there are no serious injuries, all is considered to be good. Such was the case in Alabama's A-Day Game Saturday, won by the White team (second offense and first defense), 31-17 over the Crimson (first offense, second defense).
For the players it marked the 15th and final practice of the spring. There will be a few weeks to heal up some things, and then begins the next phase of football preparation, the summer workouts.
For a handful of players there is the satisfaction of being recognized for achievement. Two players are selected by sports reporters for their performances in the A-Day Game, which was played at Bryant-Denny Stadium Saturday. One was a true freshman and one a fifth-year senior. They were:
Dixie Howell Memorial Most Valuable Player of the A-Day Game Award -- John Metchie, 6-0, 195, freshman wide receiver from Brampton, Canada. Metchie had five receptions for 133 yards for the winning White team.
Dwight Stephenson Lineman of the A-Day Game Award – Anfernee Jennings, 6-3, 259, senior outside linebacker from Dadeville. He was in on 4 tackles, 2 primary, and had a sack for the winning White team.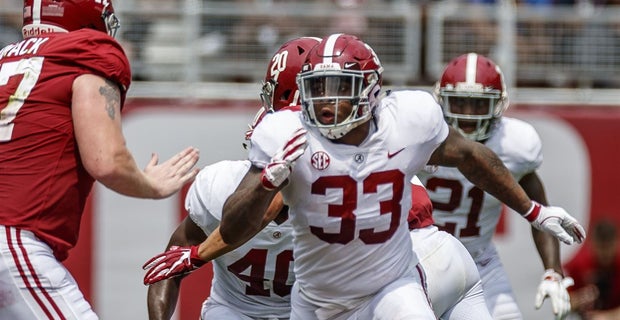 Anfernee Jennings named top lineman in A-Day (Photo: Stuart McNair, 247Sports)
Following the game, Alabama Head Coach Nick Saban presented awards based on the entire spring and selected by the coaching staff. They were:
Lee Roy Jordan Headhunter Award – Dylan Moses, Matt Womack
Jerry Duncan "I Like to Practice" Award – Tommy Brown, Jaylen Waddle, Josh Jobe, DJ Dale, Henry Ruggs
Billy Neighbors Defensive Lineman Award – Raekwon Davis, LaBryan Ray
Paul Crane Offensive Lineman Award – Jedrick Wills, Alex Leatherwood
Bobby Johns Defensive Back Award – Trevon Diggs, Patrick Surtain
Johnny Musso Offensive Back Award – Brian Robinson, Najee Harris
Ray Perkins Receiver Award – Jerry Jeudy, Devonta Smith
Woodrow Lowe Linebacker Award – Anfernee Jennings
Derrick Thomas Community Service Award – Mac Hereford, Eddie Smith
Bear Bryant Outstanding Non-Scholarship Award – Giles Amos, Daniel Powell, William Cooper, Jackson Roby, Joshua Lanier
Ozzie Newsome Most Improved Freshman Award – Evan Neal, Cameron Latu, Eyabi Anoma, Slade Bolden, Shane Lee
Bart Starr Most Improved Player Award – Christian Barmore, Emil Ekiyor, Jared Mayden, Josh McMillon
Mal Moore Leadership Award – Miller Forristall, Thomas Fletcher, Chris Owens
Sylvester Croom Commitment to Excellence Award – Tua Tagovailoa, Xavier McKinney, Shyheim Carter
Other notes from Saturday:
The four permanent team captains from the 2018 season – running back Damien Harris, tight end Hale Hentges, linebacker Christian Miller and offensive lineman Ross Pierschbacher – were recognized at the annual Walk of Fame ceremony that took place Saturday at Denny Chimes. Per Alabama tradition, all four captains had their hand prints and foot prints placed in cement at the base of Denny Chimes.
Captains for the Crimson team were tight end Miller Forristall, quarterback Tua Tagovailoa, and offensive lineman Matt Womack; for the White, defensive lineman Raekwon Davis, defensive back Xavier McKinney, and linebacker Dylan Moses.
The SEC's best officiating crew – the one that Alabama never gets in a game because it's headed by former Tide quarterback David Smith – worked the A-Day Game.
Related Posts
No response for this article yet.