3 minutes reading time
(558 words)
Alabama freshman DL works with first-team defense in Scrimmage 2
TUSCALOOSA, Ala. -- An Alabama true freshman worked with the ones on defense Saturday.
The Crimson Tide returned to Bryant-Denny Stadium for its second of three spring scrimmages, and according to head coach Nick Saban, defensive lineman DJ Dale received first-team reps.
"DJ is playing some with the ones at nose," said Saban following the two-hour, 135-play spring scrimmage. "He's got good initial quickness, good power, strikes, seems to be pretty conscientious, shows a little maturity about being able to go out there and do his job."
Dale joined the Alabama football program prior to the team's appearance in the College Football Playoff. A 4-star recruit out of Pinson, Ala., was the nation's 18th-ranked defensive tackle and No. 9 player in the state of Alabama for the 2019 cycle, according to the 247Sports Composite.
The Clay-Chalkville High School product has received rave reviews for his efforts on the field this spring, including the first two scrimmages. But the hype didn't begin when the Tide started its spring practice schedule last month. Soon-to-be NFL draft pick Quinnen Williams showered the early enrollee with praise when he announced his decision to declare for the 2019 draft.
"I feel like he's a great person to come in and learn the ropes, learn the process," said Williams when asked for younger players to fill his role. "He's a very humble person and he's from where I'm from, so we've got that same trait, that same mindset, myself and him. But he's very bigger coming in, he's way bigger than me coming in. But I'm going to stay on him throughout when I leave."
Following the first scrimmage a week ago, Saban said the first-team defensive line played fairly well, but the second group "was not that great." For the most part this spring, Raekwon Davis, LaBryan Ray and Phidarian Mathis have made up the first unit, which is tasked with replacing both Williams and Isaiah Buggs in the starting lineup this offseason. In order to help the depth along the defensive line and at inside linebacker improve, Alabama moved some guys around this week.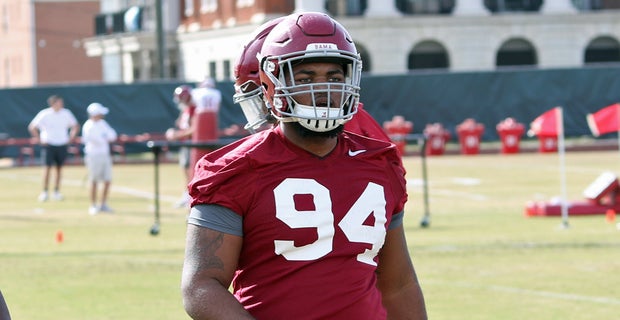 Alabama defensive tackle DJ Dale (Photo: Denon McMillan, 247Sports)
Dale's involvement with the ones reveals at least some of that movement.
This Saturday, the head coach was asked about Dale and fellow early enrollee Justin Eboigbe specifically after the second scrimmage. They are two of three freshman defensive linemen on campus, along with Antonio Alfano, and three of six that signed with the Tide in 2019.
"Both guys have made really good progress," Saban said. "They're very good athletes.
"... I think some of the other guys have certainly shown us that they have ability. I think when they get in a competitive situation, they completely just dumb down. They can't focus. They're supposed to slant, they don't slant. So, you can see the talent, you can see the ability, but they've got to develop confidence when they hear a call that this is what I do and trust in that and believe in that. And right now in practice, it's starting to happen.
"But the next step is we've got to get it in a competition situation."
Contact Charlie Potter by 247Sports' personal messaging or on Twitter (@Charlie_Potter).
*** Take advantage of 30% OFF our Annual VIP Pass for the first year ***
Related Posts
No response for this article yet.