3 minutes reading time
(645 words)
Alabama LB Cameron Latu showing potential at TE this spring
TUSCALOOSA, Ala. -- Spring is a time for experimentation.
It allows Nick Saban and his coaching staff to see if a player might have a better opportunity to contribute at another position, he said, or bolster the depth for a group that was lacking beforehand.
A couple of Alabama football players have spent time at different positions during the Crimson Tide's spring practice, including redshirt freshman linebacker Cameron Latu working at tight end.
"Obviously, losing Hale (Hentges) and Irv (Smith Jr.), we've got some experience issues at tight end and also some depth issues," Saban said. "Having another guy suspended for four games next year at that position, I mean, you're taking three out of the first four guys, so we need to get some people there. We've been encouraged by the progress that (Latu)'s made at that position."
Hale Hentges and Irv Smith Jr. were Alabama's first-team tight ends the last two seasons, and both are no longer on campus with Hentges exhausting his eligibility and Smith entering the NFL draft a year early. That left the Tide with four scholarship tights on the roster for the spring in Miller Forristall, Kedrick James -- who will be suspended -- Major Tennison and Michael Parker. 
The tight end UA signed in 2019, Jahleel Billingsley, won't join the team until the summer.
That's why Latu has spent the last eight spring practices, including Saturday's scrimmage, with the tight ends. And according to Forristall, Latu has shown it could be more than just an experiment.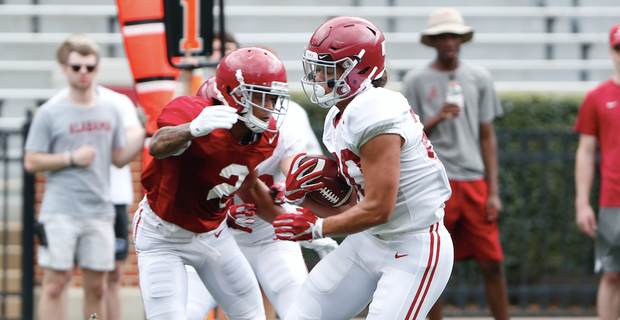 Alabama CB Patrick Surtain II (left) attempts to tackle TE/LB Cameron Latu. (Photo: Courtesy of Alabama Athletics)
"People forget, he came in as like a 5-star athlete, outside linebacker," Forristall said Friday. "He's going to be really good at whatever he does. I think he can play tight end, he can play outside linebacker. I wouldn't be surprised if he stayed at tight end because he's going to be really, really good at whatever he does, whether it be outside linebacker, tight end. He's done great, transitioned to the room, really good guy. I love having him in there. It's been a pleasure."
Latu joined the Alabama program as a Top247 recruit out of Salt Lake City, Utah, a season ago. He was the No. 3 player in Utah, the No. 7 weak-side defensive end and the 131st overall player in the 2018 recruiting cycle, according to the industry-generated 247Sports Composite.
Latu appeared in two games for the Crimson Tide last year -- the first two against Louisville and Arkansas State. He collected his first career tackle in the season opener against the Cardinals, and because of the new redshirt rule, he was able to maintain a year of eligibility by playing in four games or less. And now ahead of his second year, he's helping out the tight end group.
The redshirt freshman hauled in at least one pass during Alabama's first scrimmage Saturday.
He could always switch back to outside linebacker, even as soon as today, but the 6-foot-5, 247-pound has shown he's capable of making the transition to offense. As a player that has experienced a position change in the past, Forristall has helped guide Latu along the way.
"We all try to do our parts to help the new guy in the room, try to help him, lead him along," Forristall said. "As an older guy, you kind of have that duty. They did the same thing for me when I first got here, so I don't see why it would be any different. But Cam has done a good job." 
Latu and company will be back on the practice field later this afternoon at 3:30 p.m. CT.
Contact Charlie Potter by 247Sports' personal messaging or on Twitter (@Charlie_Potter).
*** Take advantage of 30% OFF our Annual VIP Pass for the first year ***
Related Posts
No response for this article yet.