4 minutes reading time
(766 words)
Alabama's 2019 offseason to-do list
The offseason has arrived, and the countdown to Alabama's 2019 season is getting shorter and shorter. But what are some of the things the Crimson Tide coaching staff and players need to do before the upcoming season arrives in order to get back to the College Football Playoff?
Below, BamaOnLine takes a look at bullet points on Alabama's offseason to-do list.
Hip hip hooray?
Head coach Nick Saban underwent hip replacement surgery last week, and less than 48 hours after the robotic procedure, the 67-year old was back at work. An avid golfer, Saban was forced to withdraw from the Chick-fil-A Peach Bowl Challenge and will likely miss the Regions Pro-Am next week, though he still might make an appearance. It's not surprising that the 13th-year head coach was adamant about getting back on his feet as quickly as possible, but it's also important that he heals properly in order to be ready for the season.
"It's more than he just wanted to get back to work. He's back to work with a purpose," head trainer Jeff Allen told ESPN's Chris Low. "He feels like he owes this place and his players his total effort. He demands way more of himself than he does of anybody else."
Stay healthy
Speaking of surgeries, Alabama will also look to avoid any injuries this offseason. Last year, the Crimson Tide lost linebackers Terrell Lewis and Christopher Allen to ACL injuries before the 2018 campaign even started. Saban mentioned some players could have shoulders scoped after spring practice, and freshmen Darrian Dalcourt and Jeffery Carter were possibilities there, BamaOnLine has learned, along with redshirt senior Matt Womack. But between now and the start of preseason camp later this summer, staying healthy will be a top priority for the Tide.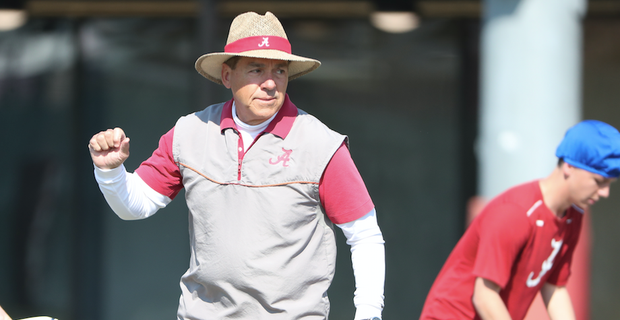 Alabama head coach Nick Saban (Photo: Courtesy of Alabama Athletics)
Get returning players comfortable
This is a two-part bullet point. The first aspect is leadership, which is something Saban placed an emphasis on this summer. All four of Alabama's captains from last year are gone, and a lot of third-year players are going to have to step up into leadership roles -- if they haven't already. A perfect time for them to become more comfortable in that role is during summer workouts and conditioning when the coaching staff isn't as hands-on. It will be up to the seniors and juniors.
Along with players that are embracing new leadership responsibilities, there are several players and coaches that are still getting acclimated to life in Tuscaloosa. The Crimson Tide had 15 early enrollees on campus for spring practice, and while some of them looked like immediate contributors, others were still adjusting. The summer gives them a chance to do that. The same can be said for the six new coaches that were hired and jumped right into 15 spring practices.
Get summer enrollees up to speed
Most of Alabama's 2019 signing class went through spring drills in March and April, but there are still 12 more signees that are waiting to graduate from high school before joining the football program, including 5-star running back Trey Sanders. Multiple times during the spring, Saban said the remaining signees are going to have opportunities to contribute to the team this fall.
"We're going to have a lot more young guys come in that hopefully can make a contribution," he said. "I think of the 12 guys we have coming in, nine of them are defensive players and some of those guys are going to add depth to the team -- in the secondary, up front, maybe at linebacker. So, there's a lot of opportunity there. We've got a tight end in coming. That's an area where we need some help. A couple of running backs on offense where we need help. … We're going to do a good job of trying to teach those guys what we can during the summer."
Recruit, recruit, recruit
Finally, what is a to-do list for Saban and Alabama without recruiting? As of May 1, the Crimson Tide has 16 commitments in its 2020 class and is ranked No. 2 nationally behind LSU, per the industry-generated 247Sports Composite. The assistant coaches have been busy on the trail, and camps will soon start taking place on UA's campus. It's an area that Saban make a priority throughout the calendar, so if these bullet points were ranked, this would certainly be at the top.
Contact Charlie Potter by 247Sports' personal messaging or on Twitter (@Charlie_Potter).
*** Take advantage of 30% OFF our Annual VIP Pass for the first year ***
Related Posts
No response for this article yet.