1 minute reading time
(282 words)
Alabama to redshirt Jalen Hurts for 2018 season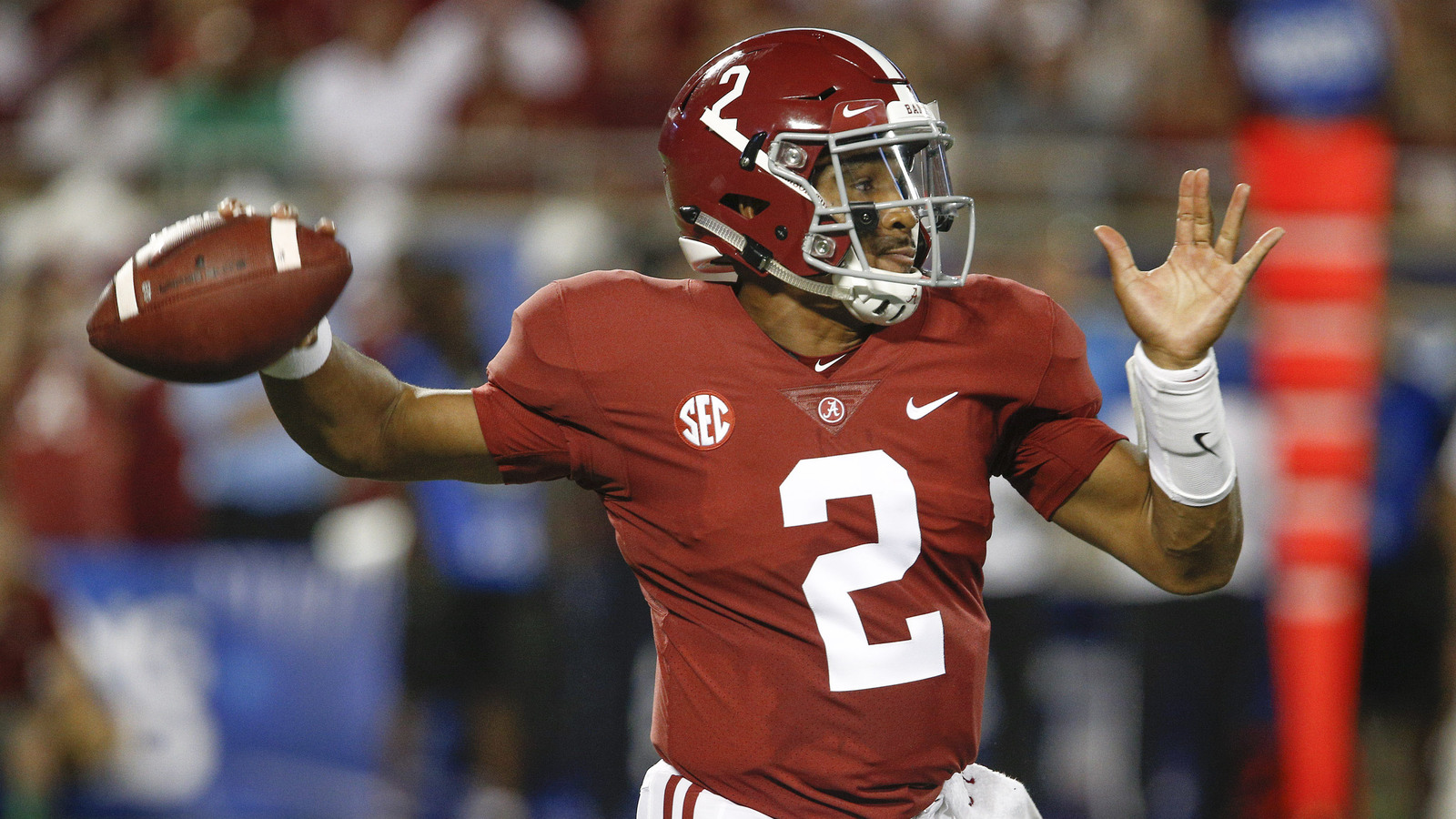 Reinhold Matay-USA TODAY Sports
The Alabama Crimson Tide no longer have too many quarterbacks. According to Pat Smith of "The Paul Finebaum Show" and Aaron Suttles of The Athletic, Jalen Hurts will redshirt for the 2018 season.
"Our own Aaron Suttles tells us expect Jalen Hurts to be redshirted this season unless Tua is injured."
This might seem harsh on the surface, but this should benefit Hurts in the long run. Because of the new redshirt rule, he can play in up to four games while maintaining his eligibility. He's due to graduate in December, but now he can transfer after graduation without facing a penalty. Then, he can play for another school immediately in 2019. And after that, he'll still have two years of eligibility at quarterback.
Not a bad gig, right?
In his first two years at Alabama, Hurts went on to complete 61.6% of his passes while racking up 40 touchdowns to just 10 interceptions along the way. In this season's opener against Louisville, he went 5-of-9 for 70 yards.
But make no mistake about it, this teams belongs to Tua Tagovailoa. Announcing his presence on the game's biggest stage a season ago, Tagovailoa went 14-of-24 with 166 yards, three touchdowns and a lone interception against Georgia in an eventual National Championship triumph. Against Louisville last week, he went 12-of-16 with 227 yards and two touchdowns. he would also add 26 yards on the ground (5.1 YPC) and a touchdown.
So it looks like head coach Nick Saban has made his choice.  And at the end of the day, it's the right choice. Jalen Hurt's career his far from over. It's just that he's going to, in all likelihood, have to pursue it elsewhere.
Related Posts
No response for this article yet.