3 minutes reading time
(680 words)
Buffalo assistant, director of operations join Oats at Alabama
Nate Oats' first staff at Alabama is slowly coming together.
Assistant coach Bryan Hodgson has been removed from the Buffalo website and has changed his Twitter profile to read "Assistant Men's Basketball Coach at The University of Alabama. #Rolltide"
"Bryan Hodgson came with me from Buffalo," Oats said Monday. "Bryan and myself, for the most part, recruited the entire roster at Buffalo. He's an unbelievable recruiter. We were getting Top100 players at Buffalo, so I can't wait to see what we do down here. When you walk in with this on, you get some credibility right out of the gate playing in an unbelievable league. He's been my right-hand man for four years. He's coming. We're getting the support staff put together."
Hodgson flew to Tuscaloosa, Ala., with Oats last Wednesday and has since been recruiting for the Crimson Tide. In four seasons, Hodgson helped guide the Bulls to a trio of NCAA Tournament appearances. He led the Buffalo recruiting efforts and oversaw the 2018 class that was ranked 76th nationally, according to the 247Sports Composite -- the highest ranking in program history.
Along with Hodgson, Oats is bringing his director of operations Adam Bauman to Tuscaloosa. Like Hodgson, Bauman has edited his Twitter bio to reflect the career change. Prior to his stint at Buffalo, Bauman was a video coordinator at Mississippi State from 2012 to 2015.
This move comes after Alabama's previous director of operations Colton Houston announced he is starting an analytics consulting company that will work with teams on scheduling and scouting.
Buffalo strength and conditioning coach Mike Snowden is still listed on the Bulls' coaching staff and hasn't made any changes to his social media profiles, but Oats said he will be making the trip from Western New York to West Alabama to join the former Buffalo coach. After seven years of active-duty military in the Navy, Snowden's last coaching stop was at his alma mater, George Mason.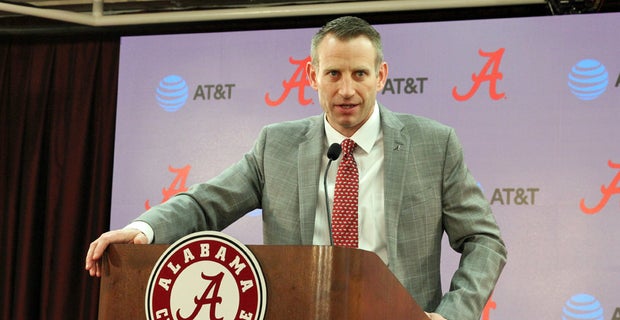 Alabama head basketball coach Nate Oats (Photo: Denon McMillan, 247Sports)
Lou DeNeen had been the strength coach at Alabama since the final years of Anthony Grant's tenure.
"I've got the support staff pretty well -- we've got a new strength coach," Oats said at Baumhower's Victory Grille. "I brought my guy from Buffalo. He was unbelievable. That was part of it. I got two new assistants in my last two years, and we had the best two years of Buffalo basketball history. I got a new assistant and a new strength coach, and they'll both be coming down."
Saying goodbye to Buffalo on Tuesday, Oats hopes to have his first coaching staff finalized in the next week or so. That first staff will likely include at least one of the assistant's from last year's team -- John Pelphrey, Antoine Pettway and Yasir Rosemond. Pettway and Rosemond have been out recruiting with Oats since he took over, so it will likely be one of them.
"I'll say this -- they've got three really good assistants here that I'm getting to know pretty well," Oats said. "I can't keep them all. I'll probably keep at least one just to keep some continuity. We'll figure it out from there. The Final Four, there's a lot of jobs going around. We'll see what happens. I'm in the process of sorting through all that.
"The roster is the most important thing to me right now. Obviously, the staff helps with the roster, so I'm getting a feel for the current staff as we go through practice and sort through re-recruiting the roster, and then I'll make some decisions here in the next couple of weeks. But I don't want to rush anything. I don't think it's fair to them or the players that I just come in and fire everybody because they don't deserve that. They're good guys that have worked here. It's just unfortunate that stuff didn't quite go right." 
Contact Charlie Potter by 247Sports' personal messaging or on Twitter (@Charlie_Potter).
*** Take advantage of 30% OFF our Annual VIP Pass for the first year ***
Related Posts
No response for this article yet.