3 minutes reading time
(642 words)
Freshman WR John Metchie named MVP of Alabama's A-Day Game
TUSCALOOSA, Ala. -- Alabama true freshman wide receiver John Metchie was named the Dixie Howell Memorial Most Valuable Player of the A-Day Game Award on Saturday afternoon.
Metchie capped a strong spring by leading all players in receiving yards with 133 on five catches and targets at Bryant-Denny Stadium. His performance helped lead the White team (first-team defense, second-team offense) to a 31-17 win over the Crimson team in the spring scrimmage.
But the promising freshman faced the second-team defense, which was made up of several of his fellow early enrollees. Therefore, Nick Saban tried to pump the brakes on the Metchie hype.
"He did a good job," Saban said in a press conference. "But again, what's the level of comp, you know? I mean, would he catch all of those passes if 2 or 7 or somebody's covering him? I don't know, aight. But when he does that, then that's good. But relative to what he had to do today, he did an outstanding job. He made some good catches, didn't drop the ball. He plays fast. He's got some strength. I think this guy's going to help us next year, and I think he'll be a good player for us."
But Saban wasn't done there.
"I'm only saying this, aight, because you all have a tendency to make somebody a star, aight," Saban said after a pause. "And when you do that, you create a problem for us as coaches. Do you understand that? So, can just make sure we're just -- it is what it is and let's not go down that road after one spring game. Does that make sense to anybody besides me?"
The nation's No. 40 wide receiver, per the 247Sports Composite, has impressed all spring long, including when he scored two touchdowns in the first scrimmage two weeks ago. He didn't find the end zone in the A-Day Game, but Metchie led a second-team offense, which also featured Jaylen Waddle, with 133 receiving yards. That was also more than Jerry Jeudy, Henry Ruggs III and DeVonta Smith, who started for the Crimson team (first-team offense, second-team defense).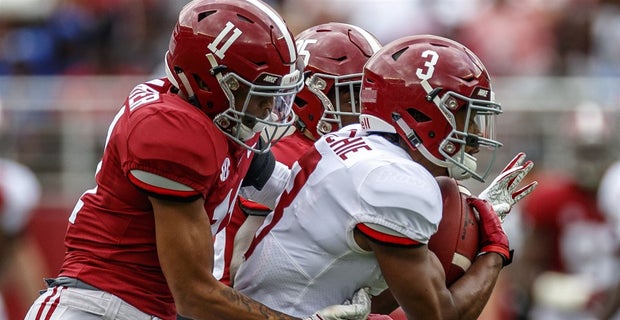 Alabama freshman wide receiver John Metchie (Photo: Stuart McNair, 247Sports)
Born in Taiwan before moving to Ghana and eventually to Canada from the age of six until high school, Metchie has played well in his newest home. And on Saturday, he showed what he can bring to an already talent-rich offense in 2019 -- what he did for the entirety of the spring.
"In practice, he pretty much goes off every day," safety Xavier McKinney said. "To me, he's like another Waddle. I definitely expected that to happen. I talked to him before the game and I told him I needed at least two touchdowns. He definitely goes out there and he plays hard and makes plays."
DeVonta Smith added: "He's played well. Just the things that he's done just getting into the playbook, learning the playbook, that helped him out a lot. … He's fast, he's physical, he's strong. Someone like him, you don't expect him to be as strong as he is. He's real strong."
Alabama won't play in another game until August 31 when it opens the 2019 season against Duke in Atlanta. But Metchie's A-Day performance, Saban knows, will be one that will be widely discussed and dissected throughout the offseason. If anything, though, it reveals that the Tide has more weapons for Tua Tagovailoa to throw to than the returning starters from 2018.
"There's a lot of competition," Smith said after the game. "Just knowing that everybody, we have each other's back. And just having that depth, it just makes everybody feel more comfortable."
Contact Charlie Potter by 247Sports' personal messaging or on Twitter (@Charlie_Potter).
*** Take advantage of 30% OFF our Annual VIP Pass for the first year ***
Related Posts
No response for this article yet.