3 minutes reading time
(559 words)
Heisman hopefuls: Week 3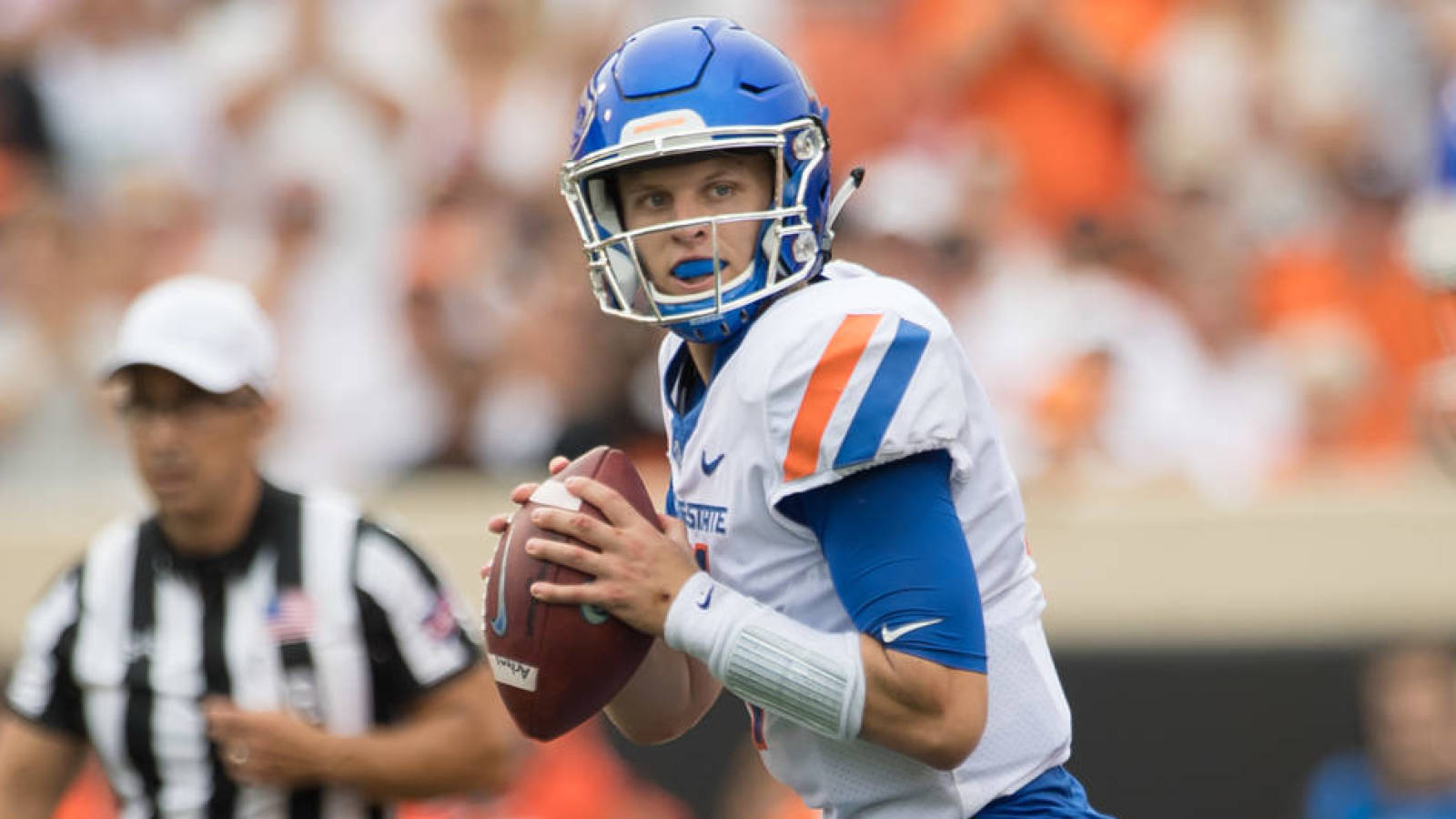 Rob Ferguson-USA TODAY Sports
Week 3 means no more cupcake non-conference matchups. Now we find out who really can stand up to the pressure of high-stakes games where division and conference titles can be won and lost.
The new sheriff of Oklahoma's offense is still thriving, but we have four new players who have made this watch list with performances that lit college football on fire this past weekend. Whether they flame out or continue to burn is left to be seen, but here are five players who improved their Heisman cases the most in Week 3.

Kyler Murray, Oklahoma
For the second straight week, Murray showed off his cannon arm and ability to run the ball. Not only did he pass for 348 yards and three touchdowns, but he scampered his way to 77 rushing yards against Iowa State. Murray's dynamic skill set allowed the Sooners to avenge a heartbreaking loss to the Cyclones last year. The junior quarterback has 10 total touchdowns and looks like he'll only improve on that Heisman resume as the season continues.
Justice Hill, Oklahoma State
When Oklahoma State lost Mason Rudolph to the NFL, many thought the Cowboys would struggle. But who needs Rudolph when one of the best running backs in the country is still around?
Rudolph might be with the Pittsburgh Steelers, but Hill (and his 1,467 yards from last season) is back and looking hungry. He gained 123 yards and scored a touchdown against a traditionally strong Boise State team. According to ESPN, Hill has scored a touchdown in nine straight games. If he continues to build on the streak, he could rush his way to a Heisman Trophy.
Brett Rypien, Boise State
Rypien took a step back last year, throwing for only 2,877 passing yards with 16 touchdowns. He came back this year with a purpose.
The senior quarterback has thrown for 1,047 yards through three games with 10 touchdowns. This past weekend against Oklahoma State, he threw for 380 yards and three scores. The Broncos might not be the national championship contenders they were in the past, but they can still earn a spot in a great bowl game in January if Rypien keeps up his aerial assault on opposing defenses.
Jerry Jeudy, Alabama
While Tua Tagovailoa and Jalen Hurts compete for playing time at quarterback, Jerry Jeudy feasts at the wide receiver position. It doesn't matter who is throwing to him — he's producing.
The sophomore wideout already eclipsed his three-game yard output from last year, putting up 287 yards and six touchdowns. Against SEC rival Ole Miss this week, he grabbed two scores with 136 yards receiving. The focus may be on Tagovailoa as a potential Heisman candidate, but it might be Jeudy who will take it away from him.
Alan Bowman, Texas Tech
From Graham Harrell to Patrick Mahomes II, Texas Tech's history for talented gunslingers runs deep. Alan Bowman looks like the latest gunner behind center.
Starting as a true freshman, Bowman has been slicing defenses with the Red Raiders' high-octane offense. Against Houston he put on a show, throwing for an eye-popping 605 yards and five touchdowns. Through three games, the native Texan has 1,160 passing yards and 10 scores. While Texas Tech has had talented quarterbacks, none of them has won a Heisman Trophy. Bowman could be the first if he continues having games like he did against the Cougars.
Related Posts
Comments
No comments made yet. Be the first to submit a comment
You are here:  

Heisman hopefuls: Week 3