4 minutes reading time
(739 words)
How Tua Tagovailoa can better protect himself in 2019
TUSCALOOSA, Ala. -- Tua Tagovailoa put together a record-breaking season in 2018. But in all likelihood, it could have been even more impressive had Tagovailoa stayed healthy the entire year.
This time last year, the stunning sophomore was dealing with a hand injury after the first day of spring drills. During the season, he sustained a lingering knee injury in Week 6 at Arkansas and an ankle injury that knocked him out of the SEC Championship Game against Georgia.
With that idea in mind, have Alabama head coach Nick Saban and new offensive coordinator Steve Sarkisian reworked the Crimson Tide's offense to reduce the exposure of the quarterback?
"No," Saban said earlier this spring. "I mean, we can seven-man protect every time and send three guys out so that they could double cover them all."
About the answer one would expect, right?
But in fairness, Alabama's offensive line kept most of the pressure off Tagovailoa and the other quarterbacks last season. The Crimson Tide ranked 12th nationally in sacks allowed, giving up 16.0 in 15 games. That total was second-best in the SEC behind Missouri (13.0 in 13). 
So, preventing some of those injuries from happening rests on the shoulders of the quarterback.
"To me, it's the responsibility of the quarterback sometimes to protect himself," Saban said. "We have to get five guys out in pass patterns and have five-man protection, we have six-man protection, we have seven-man protection, we move the pocket, and we're going to do the things that we think we need to do to help our team win and help Tua be successful." 
It will only take small tweaks.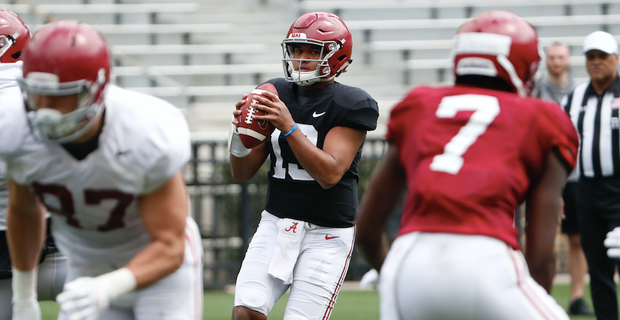 Alabama quarterback Tua Tagovailoa (Photo: Courtesy of Alabama Athletics)
That includes things like throwing the ball away when things break down and not trying to make a play out of every single play, Saban said. The now-junior signal caller added he needs to learn when to slide and avoid taking unnecessary hits during the spring and over the summer.
"Playing quarterback, they're not all going to be designed runs, but you also have to extend plays, as well," Tagovailoa said. "I think what Coach Saban's trying to say is when I do extend plays, if it's first down and the sticks are right there and I see someone else, I don't gotta put my head down and try to get another first down. I can just slide and then we've got three more downs hopefully -- two more downs to get the first down. So just little things like that with protecting myself."
As far as designed quarterback runs go, those have been few and far between for Tagovailoa. In this version of the Crimson Tide's offense, they will still exist, but coming from the West Coast and wanting to get the ball out quickly, Sarkisian is teaching his quarterbacks to read the field and process what they see in swift fashion before taking off with the football this spring.
"This year Coach Sark is just trying to help us as a quarterback group work on our full-field progressions with our pure progression reads," Tagovailoa said. "We didn't have to run as much this year as far as what we have in our playbook now. … It's really full-field progression reads.
"Last year, we worked more on RPO, and we had that opportunity to perfect it. Now we're trying to protect full-progression reads, so reading the entire field this year. I think implementing pure progression reads and RPOs is really going to be big for us this season."
Protecting the quarterback is always going to be a top priority. But jeopardizing an offense that returns its starting quarterback, three starting receivers, two starting offensive linemen and a bevy of other experienced players is not something Saban plans on doing this offseason.
"I don't know how we can adapt our schemes so that we can guarantee the quarterback is never going to get hit," Saban said. "I think they've been trying to do that for years and years and years in the NFL, and until they change all the rules nobody could ever figure it out. So, for you to expect me to be able to figure it out? I appreciate your confidence, but I'm not capable."
Contact Charlie Potter by 247Sports' personal messaging or on Twitter (@Charlie_Potter).
*** Take advantage of 30% OFF our Annual VIP Pass for the first year ***
Related Posts
No response for this article yet.