3 minutes reading time
(699 words)
Looking At Alabama QB Situation Behind Tua
Alabama's football team went into spring practice – and into the A-Day Game – with no doubt as to who the number one quarterback is and will be in the 2019 season. Tua Tagovailoa was one of the nation's best quarterbacks for the Crimson Tide last season and is  projected as a likely Heisman Trophy candidate this year.
But Alabama doesn't have the proven quality backup quarterback it had last season in Jalen Hurts, now a graduate transfer earning rave reviews at his new spot as the likely starting quarterback (and possible Heisman Trophy competition for Tagovailoa) at Oklahoma.
One of the many goals (stated or not) for Alabama this spring was to begin the process of determining the primary backup to Tagovailoa. The candidates include Mac Jones, a third-year sophomore who was No. 3 last fall, and two 2019 signees who joined the Tide for spring practice and were on public display in Saturday's A-Day Game.
Statistically that was Jones. He completed 19 of 23 passes for 271 yards and two touchdowns with one interception and was sacked four times for the winning White team (second offense and first defense). The White took a 31-17 win.
Tua Tagovailoa played more than expected, perhaps, and completed 19 of 37 yasses for 265 yards and one touchdown and one interception playing against the first defense.
In relief of Jones, Taulia Tagovailoa completed 6-9 passes for 93 yards with one interception and one touchdowns. Behind Tua, Tyson was good on 1-5 for 8 yards and also suffered an interception.
Alabama Coach Nick Saban discussed the quarterbacks, including a warning to "not read too much into" the A-Day scrimmage.
"The good guys play against the good guys," he said. "The coverage was tighter, the tackling was better, everything was better when the ones were playing against the ones. When the twos were playing against the twos, not quite so much. So some plays get made because the guys are open. The windows are bigger. Mac played well. He took advantage of those situations.
"But I don't think you can read too much into how guys did in the game.
You have to look at it to playing at the level of the comp(etition) when you look at a play. Who you are playing against? That makes a difference in how successful they are."
But he did say that Mac Jones "did fine. One of the biggest things Mac has to learn to overcome is after a bad play he kind of hangs on to it for awhile, he doesn't always go to the next play. I think he did that well today."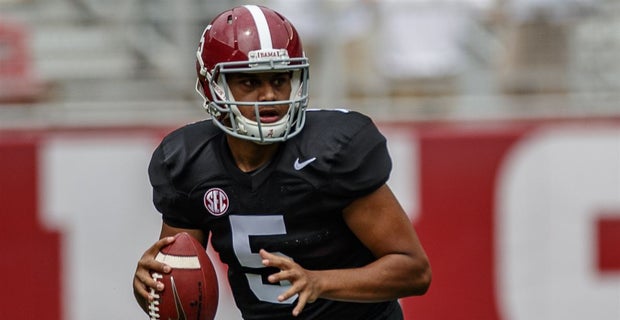 Tailua Tagovailoa had highlight TD pass (Photo: Stuart McNair, 247Sports)
As to the freshmen on that stage:
"There was some anxiety out there. Taulia threw a pick, but I thought he did some thinks well. He's sort of naturally instinctive and made some quick decisions.
"Paul is a little more anxious. I think he knows what to do. I think there's a little anxiety there sometimes, and it's not really good for performance when you have a lot of anxiety.
"These guys have to learn, grow, and develop and continue to work with them.
"We're excited to have them all here and think they can improve and become pretty good players for us."
Taulia also got a little critique from older brother Tua.
"It's hard as a freshman," he said. "I was a freshman once coming into A-Day, but I think they did a good job for the time that they had to go out there and compete. We're going to go back to the board and see what we can all work on. Not only as a team, but also as quarterbacks."'
Taulia's highlight play was a rollout to his left and throw back across his body for a 29-yard third quarter touchdown to Jaylen Waddle, who made a nice catch on a low throw.
Tua said, "I thought that was a nice ball on the run. Looked pretty natural, looked nice. I thought he could have got it up and made the catch a lot easier. I thought it was a tremendous catch by Jaylen Waddle."
Related Posts
No response for this article yet.