2 minutes reading time
(470 words)
NCAA Takes Look At Injury Reports
It was a big deal — make that a REALLY big deal — when sports gambling, including gambling on college sports, was expanded from Las Vegas. Now, only the most naive would suggest that there isn't gambling on Alabama football in Tuscaloosa and Birmingham and everywhere else in the nation regardless of the presence of a gleaming casino with a sports book. There is not in Alabama, but projections are that sports books will be available in some 30 states within five years. (Alabama will probably become No. 50 a few years after Utah makes it 49.)
With the expansion, there is more than ever a concern about corruption, to the extent that according to a report by CBSSports.com's Dennis Dodd something called the NCAA Gambling Working Group will propose that schools reveal the status of injured football players each week — "available," "possible," or "unavailable" — but without revealing the type of injury.
Obviously, a coach could announce "possible" on all of them without revealing much of anything.
The point, though, is that sports injuries never seem to be that much of a secret. The NFL routinely has a reveal each week ("probable," "doubtful," or "out"). As for the college game, no one ever seems to be caught off guard by the absence of a key player on Saturdays.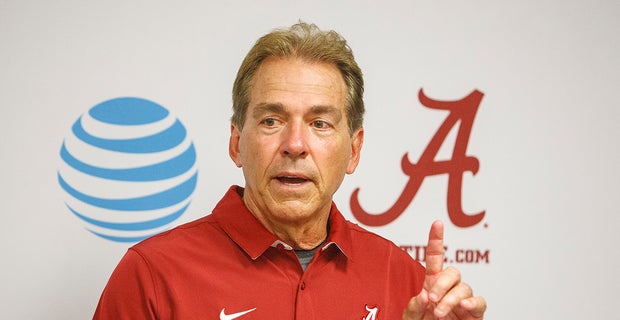 Nick Saban (Photo: Stuart McNair, Scout.com)
 At Alabama, Coach Nick Saban has an almost weekly announcement regarding injuries and some expectation of a player's availability. (Of course, his most notable injury announcement concerned his own recent hip replacement procedure.) Many coaches nationwide have spoken out against the suggestion that injuries be revealed as giving away the game plan to the opposition.

There's also the issue of medical privacy that applies to everyone and how that regulation could be circumvented for student-athletes.
Also, might some coaches fail to be honest in the weekly reports, and if so would there be any consequences.
The idea — as preposterous as it might have seemed just a few years ago — is that an NCAA regulation would level the playing field for gamblers. Conventional wisdom is that the major players in college football gambling have their sources almost everywhere to be aware of injuries, but the poor schmucks (most of those who bet) are in the dark. There is also the realization that college athletics has not been without its scandals related to gambling for many, many years. Athletes are not permitted to gamble, but among the most notorious black marks on college sports have involved point shaving by players.
Credit the NCAA for being concerned enough about corruption in the sport to at least begin a process to address the situation.
Reportedly, there are plans to have some system in place at least on a trial basis in the coming year.
Related Posts
No response for this article yet.