3 minutes reading time
(563 words)
Nick Saban feels better about depth at wide receiver this spring
TUSCALOOSA, Ala. -- Alabama's three starting receivers, as well as its top reserve, are back for the 2019 season. Jerry Jeudy, Henry Ruggs III, DeVonta Smith and Jaylen Waddle will lead the Crimson Tide's passing game, along with Tua Tagovailoa, for the second year in a row.
Alabama only lost scholarship seniors Derek Kief and Xavian Marks this offseason, but the top four players have returned for another season and so has all of its reserves at the receiver position.
Head coach Nick Saban shared exactly which young receivers have shown promise this spring.
"I think Xavier Williams has made a lot of progress. I think that (John) Metchie has shown flashes and doing things really, really well. I think Slade Bolden has made some plays, and (Tyrell) Shavers is better," Saban said following Wednesday's 10th spring practice. "So, I feel much better about the depth at that position than in the past, and I think that's a good thing.
"And it also helps on special teams because a lot of those guys are good special teams players."
Williams and Bolden made their Crimson Tide debuts in last year's season opener but because of the new redshirt rule, they were able to maintain a year of eligibility and enter their second seasons in Tuscaloosa as redshirt freshmen. The duo has been working at split end this spring.
Alabama only signed one wide receiver in its top-ranked recruiting class in 2019, and that was John Metchie. The nation's No. 40 wide receiver, per the 247Sports Composite, has impressed during his first spring scrimmage this past Saturday as he recorded a pair of touchdown receptions.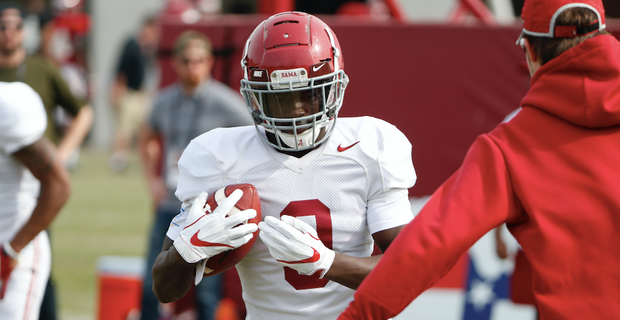 Alabama redshirt freshman wide receiver Xavier Williams (Photo: Courtesy of Alabama Athletics)
After giving baseball a try earlier in the spring, Tyrell Shavers is solely focused on football. The 6-foot-6 wideout appeared in all 15 games last season and could see his role increase in 2019.
"You've got to have a big guy that you can find down in the red zone or somebody that can do the dirty work for the group," Ruggs said. "That's what Tyrell is, and I'm pretty sure he'll show that."
Alabama had the nation's No. 6 passing offseason in 2018, averaging 323.6 yards per game. Jeudy, Ruggs, Smith and Waddle made up a large portion of that. But with tight end Irv Smith Jr. turning pro and a West Coast coordinator in Steve Sarkisian now calling the plays, there is a potential for more receivers to get involved this fall. And players like Ruggs are all for that.
With so many contributors back and the young players at the position another year older, the receiver room features a close-knit group that wants to see everyone flourish in this balanced offense.
"As a group, we're brothers," Ruggs said. "If we ever need one another we'll call each other and we always stay together. If one person wants to work out and you call somebody, we'll end up with everybody, just about. That's just how we are and we get along really well.
"I say that's what makes us better because we critique each other and one guy can't get complacent about things that he does well."
Contact Charlie Potter by 247Sports' personal messaging or on Twitter (@Charlie_Potter).
*** Take advantage of 30% OFF our Annual VIP Pass for the first year ***
Related Posts
No response for this article yet.