6 minutes reading time
(1157 words)
Notebook: Young ILBs, QBs still need work after second scrimmage
TUSCALOOSA, Ala. -- After Alabama's first spring scrimmage a week ago, Nick Saban said "we have a lot of work to do" regarding the inside linebackers and their mental errors on the field.
Outside of rising junior Dylan Moses, the position group needed some work. So, along with the Crimson Tide's defensive line, Saban and company moved some players around this week resulting in more consistency in the practices following Scrimmage 1, the head coach believed.
With the focus on the inside linebackers the last week -- and really throughout spring practice -- Saban was asked what he saw from the younger defenders during Saturday's second scrimmage.
"I saw some guys flying around," Saban said. "I saw some guys miss some tackles. I didn't feel like we tackled really well, especially the second team. First team did a pretty good job. But people weren't running their feet on contact, trying to cut tackle, trying to butt people to the ground. And I think they're finding out that if they don't tackle them correctly they're not going to get them on the ground, not when you play against good players.
"So, I think there was improvement there, but certainly the whole idea of playing defense is to tackle the guy with the ball. So, you can do everything right, but if you don't tackle the guy with the ball, that's why you're out there."
Moses has stepped into the Mike linebacker role this offseason after serving as the Will a year ago alongside departing junior Mack Wilson. Barring injury, Moses will start and quarterback the defense in 2019, but his running mate for the upcoming season is still an unanswered question.
For most of the spring, Joshua McMillon has been by Moses' side during drills with young guys like Markail Benton, Ale Kaho and Jaylen Moody behind them. True freshman Shane Lee has also shown some promise during his first handful of practices as one of 15 early enrollees. From that group, Alabama needs someone to step up and exhibit more consistency the rest of the offseason.
But they aren't quite there yet after 12 spring practices and two closed scrimmages.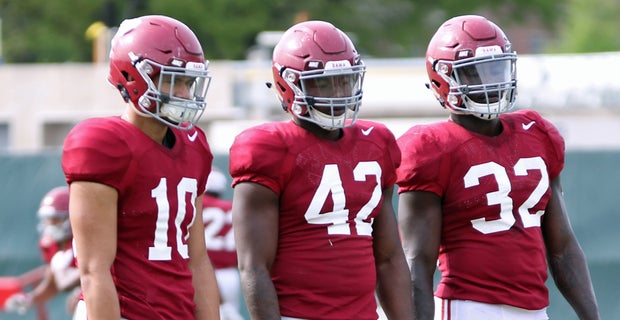 Alabama inside linebackers Ale Kaho (10), Jaylen Moody (42) and Dylan Moses (32). (Photo: Denon McMillan, 247Sports)
"The guys that have played around here and been good players know how to compete," Saban said. "They've been in big arenas before. They have mental toughness. They play with discipline. We have high exceptions for how those guys play, and those guys don't disappoint us. And they didn't disappoint us today.
"But the big thing we wanted to see today is we have a lot of young players on our team that have a chance to contribute to the team and play winning football. I think the biggest thing that we've been trying to emphasize with them is the mental part of the game is so important. Your ability to focus, mental intensity. Your ability to prepare properly, so you know what to do, how to do it, why it's important to do it that way. And we were anxious to see more guys able to go out there and play with the kind of intangibles that would allow them to play winning football.
"Now, I haven't watched the film yet, but I wasn't totally pleased with the way some of those made improvement and came along. Look, it's a work in progress. So, wherever they are, we're going to keep working with them to try to get them where they need to be, but we were hopeful that we would make a little more progress."
QBS HAVE SLOPPY SCRIMMAGE
Saban officially named Tua Tagovailoa the Tide's starting quarterback after scrimmage No. 1, to no one's surprise. The junior signal caller is coming off a record-breaking sophomore season and will once again lead an offense that returns plenty of weapons to its high-powered arsenal.
Much like the inside linebacker position, though, quarterback has an intriguing and important battle brewing behind its clear-cut starter. With Jalen Hurts at Oklahoma, Alabama is tasked with finding a new backup quarterback this offseason, and players like Mac Jones, Taulia Tagovailoa and Paul Tyson are the primary candidates competing for the No. 2 spot during the spring.
Jones has received most of the reps with the second-team offense in scrimmages while Taulia has seen some, as well. But the former threw multiple interceptions in Saturday's scrimmage, per sources, in what was a turnover-heavy afternoon inside of Bryant-Denny Stadium.
Following the second scrimmage, Saban assessed the quarterbacks' performances.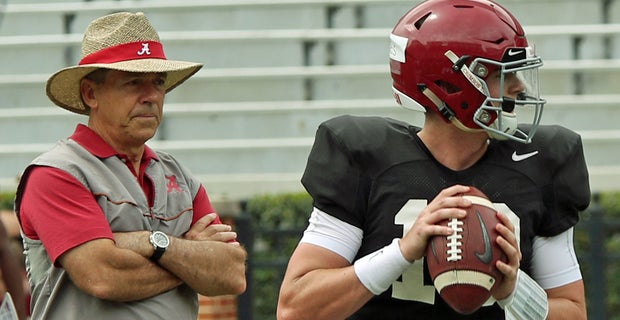 Alabama head coach Nick Saban watches quarterback Mac Jones prior to scrimmage No. 2. (Photo: Denon McMillan, 247Sports)
"I think the quarterbacks played OK," Saban said. "We turned the ball over a lot more today. But I think we had some, what I call, 'bad interceptions' off of people's hands, tipped balls, things like that that certainly they count as interceptions but sometimes they're not all the quarterback's fault.
"We had a couple other not as good as decisions as we'd like. But they made explosive plays on offense. I thought the first group on both sides of the ball played fairly well. But after that, we got a lot of work to do with the depth that we have on our team."
FRESHMAN RBS SET TO COMPETE
Sticking with the theme of young players, Saban touched on UA's younger running backs.
Juniors Najee Harris and Brian Robinson have received rave reviews from the head coach all spring long, but beyond those two, there are no experienced tailbacks on Alabama's roster. Redshirt freshman Jerome Ford has shown flashes this spring, including last week's scrimmage, but he will be tested by freshmen Trey Sanders and Keilan Robinson when they enroll this summer.
"They're making progress," Saban said of the young running backs. "I mean, do they have things to work on? Absolutely. Do they have the ability to make plays? I think so. Do we have some guys coming here that are going to get an opportunity to compete with them? I think so. But I think that's one of the things -- we've got nine players coming on defense and three more guys coming in on offense, and all of those guys are going to get every shot over the summer and fall camp to be able to compete with the guys that are here.
"So, nobody's going to be entitled to anything when it comes to next fall. I know that guys, all you care about is the depth chart. We don't have a depth chart. Everybody's going to compete, and hopefully, we'll be able to get those guys to be able to play winning football at running back past the first two guys, as well."
Contact Charlie Potter by 247Sports' personal messaging or on Twitter (@Charlie_Potter).
*** Take advantage of 30% OFF our Annual VIP Pass for the first year ***
Related Posts
No response for this article yet.