10 minutes reading time
(1911 words)
Ranking SEC coaches by name recognition
ByKirk McNair Apr 2, 4:30 PM
Many years ago I was making the rounds of the Waldorf Astoria in New York with Alf Van Hoose, the late sports editor of the Birmingham News. We were there for the annual National Football Foundation College Football Hall of Fame induction banquet, at that time a black tie, stag affair attracting virtually all of the head coaches and athletics directors in the nation.
Prior to the banquet we were visiting various rooms hosted by the likes of ABC and Sports Illustrated. We had been to a reception in the elegant apartment of W.W. "Foots" Clements, a Tuscaloosa County native who had been a back-up end to Don Hutson and Paul Bryant at Alabama and had risen to CEO of Dr Pepper. (There are apartments in the Waldorf and Clements' was across the hall from the widow of Gen. Douglas MacArthur.)
We planned to make one last stop before the banquet and joined a group boarding an elevator. A well-dressed woman was already on the elevator. Noting that the hotel was full of men in tuxedos, she asked if it was "some sort of football thing."
A small man in our group replied, "Yes ma'am, it is."
"Are you coaches?" she asked.
"I am," the little man continued, "the coach at the school you think of when you think of college football."
She thought for a moment and then guessed, "Wisconsin?"
That was hilarious to all on the elevator except the nice woman and Notre Dame Coach Lou Holtz, well known for his vanity.
Names are dropping almost daily from those intending to make a run for President of the United States. For all but a few there is a pressing need: Name Recognition.
All major college football coaches have name recognition to some extent, at least within their own fan bases. Some extend further.
This is more than a popularity contest. The best known coaches are almost always, also, the most successful coaches, and success breeds success in terms of recruiting and fan support.
This suggestion at a ranking of the football coaches in the Southeastern Conference based on name recognition will not have a surprise ending. Nor would that be the case if this was a like ranking of college football coaches across the nation.
There is more to the name recognition derby than just winning. Dabo Swinney of Clemson gets in near the top with his two national championships, as does relative newcomer Lincoln Riley with two Heisman Trophy winners in the last two years and the addition of former Alabama quarterback Jalen Hurts for this season.
People are talking about former national championshiup coaches Les Miles and Mack Brown getting back in the game. Miles won his title at LSU and is now at Kansas. Brown was the championship coach at Texas and is now at North Carolina.
Jim Harbaugh, the self-promoter at Michigan, and Mike Leach, the innovative thinker on a variety of football and non-football subjects at Washington State, are well known even with relatively modest achievements.
Brian Kelly has status as the coach at Notre Dame. Location also counts for Tom Hermann at Texas.
Clay Helton at Southern Cal and Willie Taggert at Florida State are well-known, in part because of unsatisfactory results at football factories.
Lane Kiffin is evidence that you don't have to be at football central to be well known as his interesting career has made him a point of interest, even now at Florida Atlantic.
Though not unheard of, it is perhaps unusual for there to have been no turnover in head football coaching positions in the SEC following last season. (There were five teams with new coaches last year.) Thus, it seems timely to make a ranking of SEC head football coaches based on name recognition – which somewhat parallels success. We would not presume as others do to rank coaches based on competency.
14. Matt Luke, Ole Miss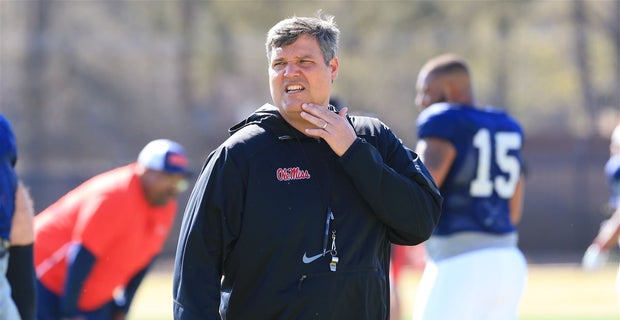 (Photo: Chase Bowen, 247Sports)
Nothing good would have come from Matt Luke following the lead of his predecessor, Hugh Freeze, in gaining name recognition through NCAA recruiting violations and the disclosure that "prospects" of a different sort were also part of the recruiting trail for Freeze. A former walk-on player at Ole Miss who has made his way up the ranks. Luke could be a longtime fixture in Oxford.
13. Barry Odom, Missouri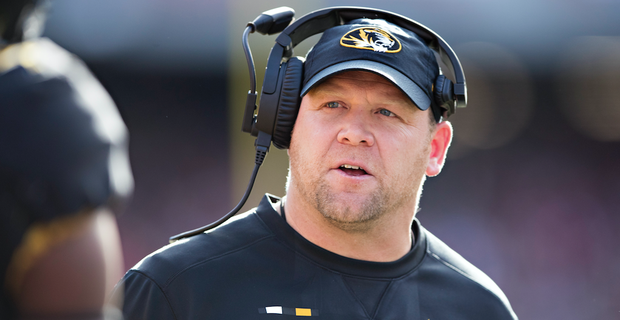 (Photo: Wesley Hitt, Getty)
Another of those alumni who rose to be head coach, Barry Odom took over for longtime coach Gary Pinkel, who retired after the 2015 season because of illness. Odom developed an outstanding quarterback in Drew Lock and made some waves for the upcoming season by having attracted former Clemson quarterback Kelly Bryant to continue as a Tiger, but in Columbia.
12. Derek Mason, Vanderbilt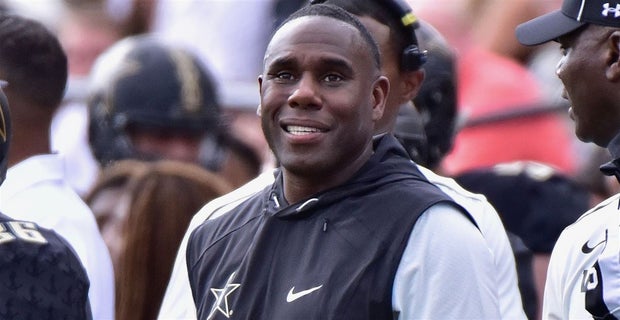 (Photo: Frederick Breedon, Getty)
Were it not for relatively low expectations, the job of head football coach at Vanderbilt would be the most difficult in the SEC. Sub-standard facilities and high academic standards are a tough combination to overcome. It is difficult to remember the names of many former head coaches at Vandy, but Derek Mason has made something of a name for himself simply by having defeated Tennessee three consecutive years.
11. Joe Moorhead, Mississippi State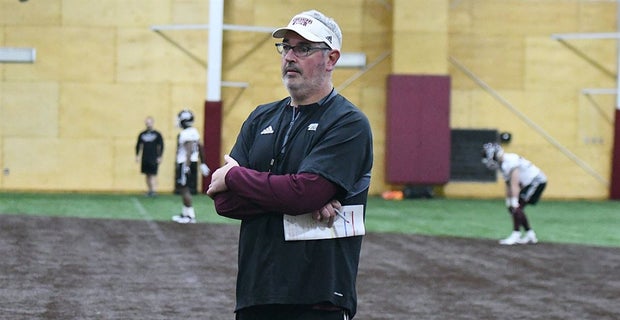 (Photo: Gene Swindoll, Gene's Page, 247Sports)
Impressive coaching credentials for Joe Moorhead were somewhat overshadowed in his selection as Mississippi State coach last year because his resume was built at teams in the Northeast, including Penn State where he served as offensive coordinator before landing the job in Starkville. He started at the bottom of the name recognition barrel, but is known as an astute football man.
10. Chad Morris, Arkansas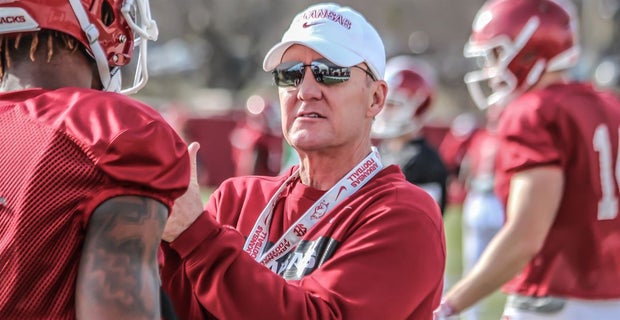 (Photo: Trey Biddy, 247Sports)
Since joining the SEC in 1992, Arkansas has had an interesting array of coaches who made names for themselves in a variety of ways, including Chad Morris's recent predecessors Bret Bielema, John L. Smith, hog-riding Bobby Petrino, Houston Nutt, Danny Ford, and the combo of Jack Crowe and Joe Kines. Morris seems cut out to get the Razorbacks into respectibility with his longtime Texas high school connections and reputation for offensive fireworks, but it will be a building process.
9. Mark Stoops, Kentucky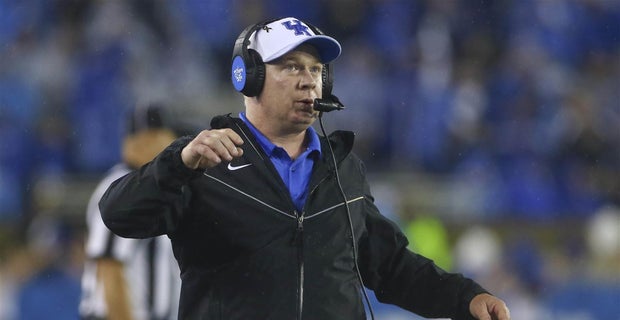 (Photo: Mark Zerof, USA TODAY Sports)
Two difficult challenges for the head football coach at Kentucky are making in-roads into celebrity status in Lexington regardless of who is coaching the basketball team and challenging the all-time record of 60 career victories by the best football coach in Wildcats history, Paul Bryant. Going 10-3 at UK last year was an excellent achievement. Mark Stoops has a leg up on name recognition coming from the well-known Stoops coaching family, notably brother to former Oklahoma head man Bob Stoops and current Alabama analyst Mike Stoops.
8. Will Muschamp, South Carolina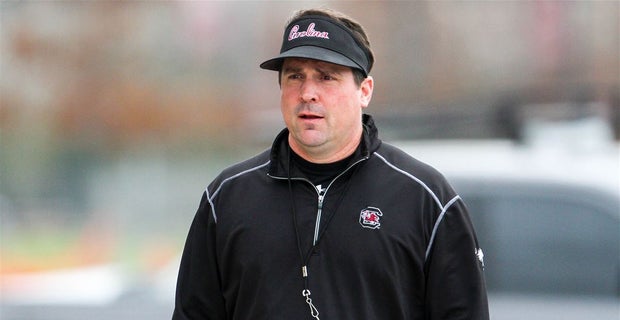 (Photo: Katie Dugan, 247Sports)
A man who has been head football coach at two SEC schools is going to have a reputation, and that is the case for Will Muschamp. His career was placed in jeopardy when he replaced the ailing Urban Meyer at Florida in 2011 and produced a record of only 29-21. Muschamp replaced another Florida legend – and also a relative South Carolina success – when he took over for Steve Spurrier at South Carolina. That he comes from the Saban coaching tree is a boon to his recognition, but his Gamecocks have been inconsistent.
7. Jeremy Pruitt, Tennessee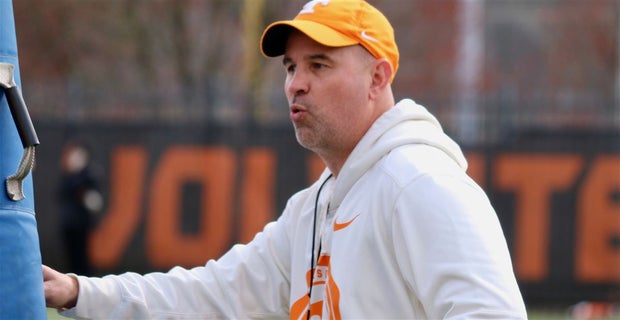 (Photo: Wes Rucker, 247Sports)
Once-proud Tennessee football found itself in a seemingly endless downward spiral and took exrtreme measures prior to the 2018 season – installing retired football coach Phil Fulmer as athletics director and hiring Alabama's defensive coordinator, Jeremy Pruitt, as head coach. Though Pruitt has a somewhat thin coaching resume, the Vols hope that some of the Saban magic can resurrect the Vols. Pruitt is tough looking and tough talking, but it was unrealistic for much more to be expected of him than his 5-7 (and loss to Vanderbilt) first season.
6. Gus Malzahn, Auburn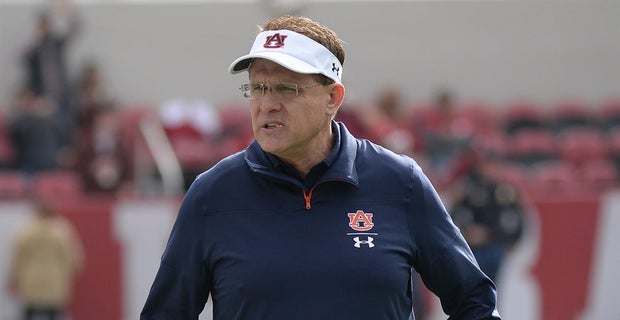 (Photo: Jason Caldwell/Inside The Auburn Tigers/AUTigers.com)
Some think that Gus Malzahn has the toughest football coaching job in the SEC because he is in the same state with Alabama and has as his regular SEC East opponent Georgia. He gets a boost in name recognition, though, because of so many citations of the Alabama-Auburn rivalry as being the nation's most (fill in the blank, i.e., important, fierce, nasty). He also benefits from having appropriated credit for the Gene Chizik-Cam Newton 2010 national championship. All things in Auburn football tend to be measured against Alabama, and Malzahn does have to his credit being the only current SEC coach to have two wins against Saban. As for name recognition, it helps that ESPN brings him aboard as a commentator every year or so when Alabama is playing in national championship games.
5. Dan Mullen, Florida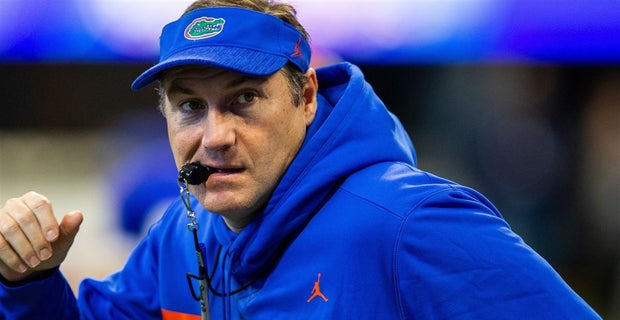 (Photo: Davey Miller)
Another of those coaches who has been the head man at two SEC schools, and is held in high regard for achievement both at Mississippi State, where he coached nine years and turned in seven winning seasons, and at Florida, where he was 10-3 in his first season in 2018. His has a reputation as a coach who develops quarterbacks, including Tim Tebow and Chris Leak when he was an assistant to Urban Meyer at Florida and Dak Prescott and Nick Fitzgerald at Mississippi State. With both Florida State and Miami struggling in talent-rich Florida, Mullen could have the Gators at a high level very quickly.
4. Jimbo Fisher, Texas A&M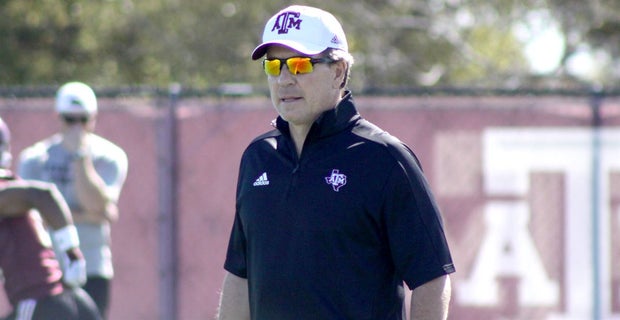 (Photo: Brian Perroni, 247Sports)
Want to get your name out there? Sign a 10-year contract guaranteeing you $75 million dollars. That was plenty enough to entice Jimbo Fisher from Florida State to Texas A&M. Fisher has a national championship (after replacing Bobby Bowden at FSU) in 2013 and also has that "Saban coaching tree" tag. Many expect Fisher to make Texas A&M the top competition for Alabama in the SEC West in upcoming seasons.
3. Kirby Smart, Georgia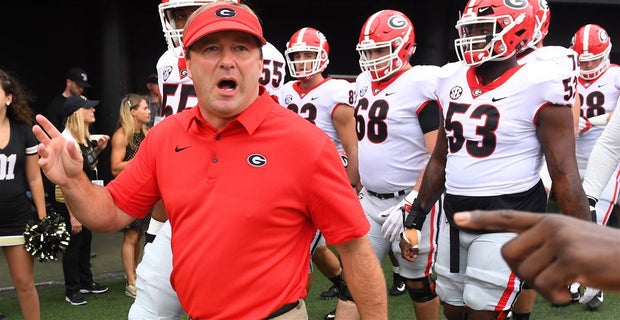 (Photo: Christopher Hanewinckel, USA TODAY Sports)
As for now, that top competition for Saban and Alabama is coming from Kirby Smart. He's got the name recognition for taking over at his alma mater, for having been a key member of Saban staffs (at LSU, Miami Dolphins, and Alabama), and for putting his last two teams in extraordinary head-to-head games against Bama – the 2017 national championship game and the 2018 SEC title game. There is also a lot of conversation about Smart for his recruiting success.
2. Ed Orgeron, LSU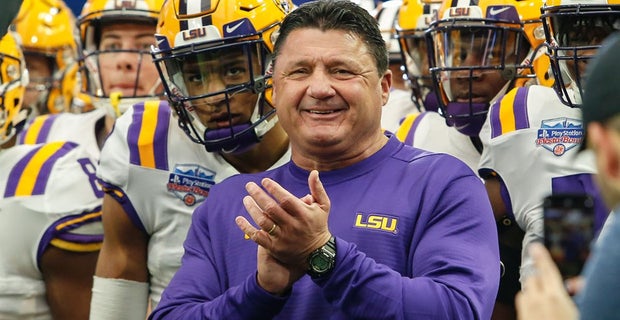 (Photo: Icon Sportswire, Getty)
Remember, this list is about name recognition, and what college football follower could not be intrigued by Ed Orgeron at LSU? He is Louisiana through and through, although he was once a head coach at Ole Miss (2005-07) and interim head coach at Southern Cal (2013). Orgeron has competed hard against Alabama and Saban both in recruiting and in games, which in the eyes of the passionate LSU faithful is seen as good against evil (though Alabama and onetime LSU coach Saban are winning those battles).
1. Nick Saban, Alabama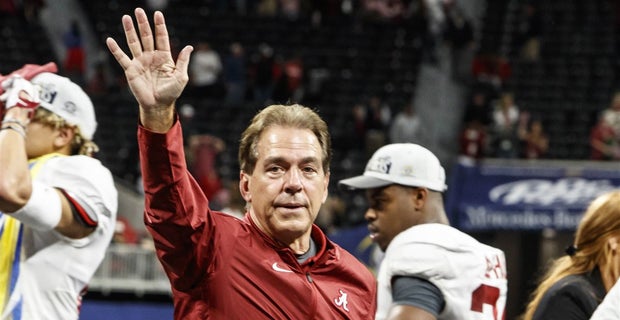 (Photo: Stuart McNair, 247Sports)
The woman from Wisconsin probably knows who Nick Saban is. His teams have dominated on the field for more than a decade and he dominates almost any conversation regarding college football. As promised, no surprise at another No. 1 for Saban whose tenure in Tuscaloosa has been the most  achieving in college football history.
Comments (2)
">247Sports
Related Posts
No response for this article yet.