4 minutes reading time
(816 words)
Recent Alabama practices feature opponent prep, 'Poor mes'
TUSCALOOSA, Ala. -- Nick Saban was pleased with how his Alabama team responded on the practice field Monday following the first scrimmage of the spring. Wednesday? Not so much.
"To summarize the week, I thought the players were really good on Monday," Saban said. "We had to go inside because the field was a little too wet. Today, every now and then, as a coach you feel like people get the 'Poor mes.' If you know what the 'Poor mes' are, they're exactly what I said. 'Poor me, my leg hurts. Poor me, my shoulder hurts. Poor me, it's hot out here today. Poor me, I don't feel like practicing. To me, I'm not big on the 'Poor mes.'
"I like people not to do what they feel like doing but to choose to do what they need to do to get better, and that has been very, very good all spring. Today, it could have been better. I think practice went better as we went. We need to keep working on that."
Early in Wednesday's practice, Saban said the players sent him a signal that the "mental toughness" and "ability to sustain in difficult circumstances" need to be points of emphasis this offseason.
The Crimson Tide is two-thirds of the way through its spring season and will have one more practice Friday, April 5, before returning to Bryant-Denny Stadium for its second scrimmage this Saturday.
While the "Poor mes" surfaced Wednesday, the 13th-year head coach has been relatively happy with his team's performance up to this point of the spring. On a team that's going to rely on many of its young players this fall, it's important for all of the members of Alabama's 2019 squad to play through the excuses and mistakes in order for them to be ready for the upcoming season.
That starts on the practice field and carries over into the game-like scrimmages.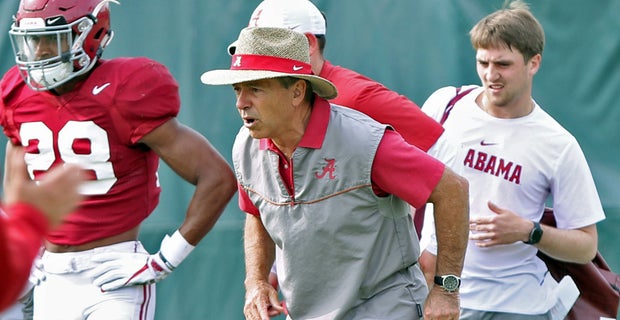 Alabama head coach Nick Saban (Photo: Denon McMillan, 247Sports)  
"I think you learn a lot about individual players' ability to go play," Saban said. "I think good coaches are trying to reinforce players in practice after every play, so they're telling them they did this well or you need to do it this way or you made a mental error, you're getting corrected or you did a good job or whatever. So, you're trying to reinforce guys on every play. Well, sometimes are kind of depending on that reinforcement all the time in practice, and in the game, there's no coach out there.
"I used to coach like that when I was an assistant, and we'd have a scrimmage as the Cleveland Browns, and (Bill) Belichick would chew my butt out, man. He'd say, 'Let the players play.' I was like, 'Wow, I've never had my butt chewed out before for coaching, teaching.' But I have to say the same things sometimes to our coaches now, aight, because there's a time where you've just got to let the players play. Because in a game, they've got to know what to do, they've got to know how to do it, they can't depend on somebody else to make a call for them, they can't depend on somebody else to recognize for them.
"So, we actually do stuff in practice now and we do team ... I make the coaches get off the field, make the calls and let the players play. And when you get in the scrimmage then they're more ready for the scrimmage because they've got to go out there and execute and make own calls and do things on their own. So, that's the next step of guys being ready to contribute and play. It's different to be able to do it in practice than it is to be able to do it in the game."
The Tide still has five more spring practices to go, including a pair of scrimmages, but the games are slowly approaching, too. Alabama's season opener against Duke in Atlanta is now less than five months away. Because of that, Saban and company started preparing for a few of the teams on their 2019 regular-season schedule during the back half of its 15-practice spring season.
"We have spent time this week on other opponents," Saban said. "We started that this week, which we usually do this time of year. Things that we don't really see much from the offense and things that the offense sees that they don't really see from the defense. So, that's something that's been very beneficial, I think situationally to a lot of players. That's a really beneficial thing and it takes a lot of preparation but our coaches have done a really good job of that."
Contact Charlie Potter by 247Sports' personal messaging or on Twitter (@Charlie_Potter).
*** Take advantage of 30% OFF our Annual VIP Pass for the first year ***
Related Posts