2 minutes reading time
(363 words)
Report: Jalen Hurts, Alabama have redshirt agreement for this season
Originally posted on Larry Brown Sports  |  By Larry Brown  |  Last updated 9/7/18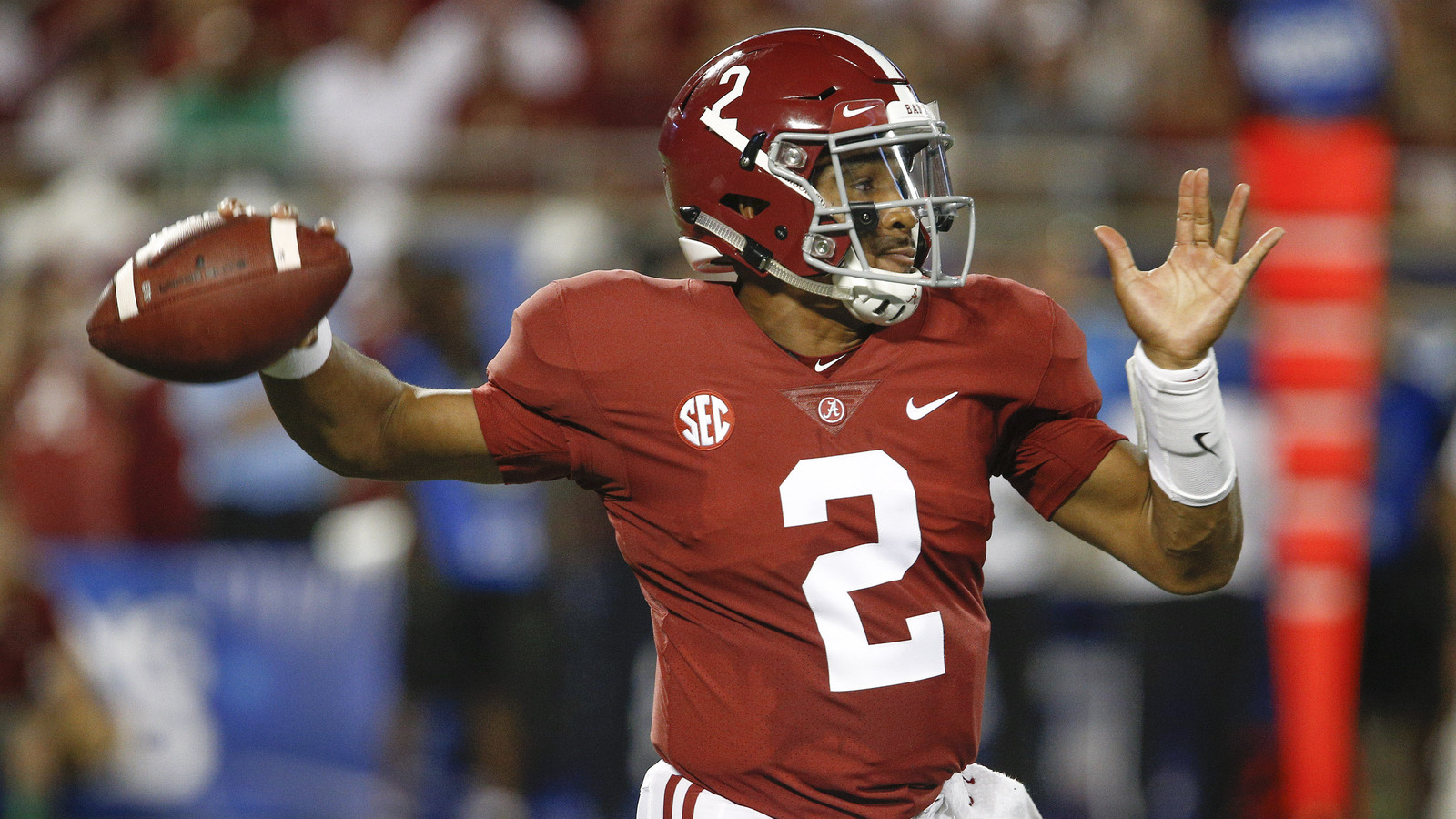 Reinhold Matay-USA TODAY Sports
Alabama and Jalen Hurts have an agreement for 2018 that seems to keep all parties' best interests in mind, according to a report.
Aaron Suttles, who was an Alabama beat reporter for the Tuscaloosa News and now writes for The Athletic, said on his "3 Man Front" radio show on WJOX Friday that Hurts and Bama have an agreement for this season.
According to Suttles, Hurts would be expected to redshirt this season as long as Tua Tagovailoa is not injured.
There are new redshirt rules this season which allow a player to appear in four games and still take a redshirt year. According to this report, so long as Tagovailoa stays healthy, we should not expect to see Hurts in more than four games.
If Hurts were to redshirt this season, he'd be able to leave Alabama as a graduate transfer after the season and still have two seasons of eligibility left elsewhere. This reported agreement seems to serve the interests of both parties perfectly. Hurts is good enough and talented enough where he should be a starting quarterback for a major college program. Alabama should be playing Tagovailoa because he's better than Hurts, but they also want to keep Hurts because they can contend for a national championship with him at QB if something happens to Tagovailoa.
The only question is whether this report is indeed accurate. Nick Saban has been extremely careful to emphasize the importance of both quarterbacks to the team, even getting angry with a reporter asking about the subject. He's insisted that both quarterbacks will continue to play. He also said the redshirt rule will not affect how he uses Hurts.
We will know before too long whether Hurts plays too much to maintain the option to redshirt this year. However, the possibility of him leaving as a graduate transfer after the season seems quite real.
Crimson Tide News

Delivered to your inbox

You'll also receive Yardbarker's daily Top 10, featuring the best sports stories from around the web. Customize your newsletter to get articles on your favorite sports and teams. And the best part? It's free!
Related Posts
No response for this article yet.