2 minutes reading time
(308 words)
Saban to use both Jalen Hurts and Tua Tagovailoa vs. Louisville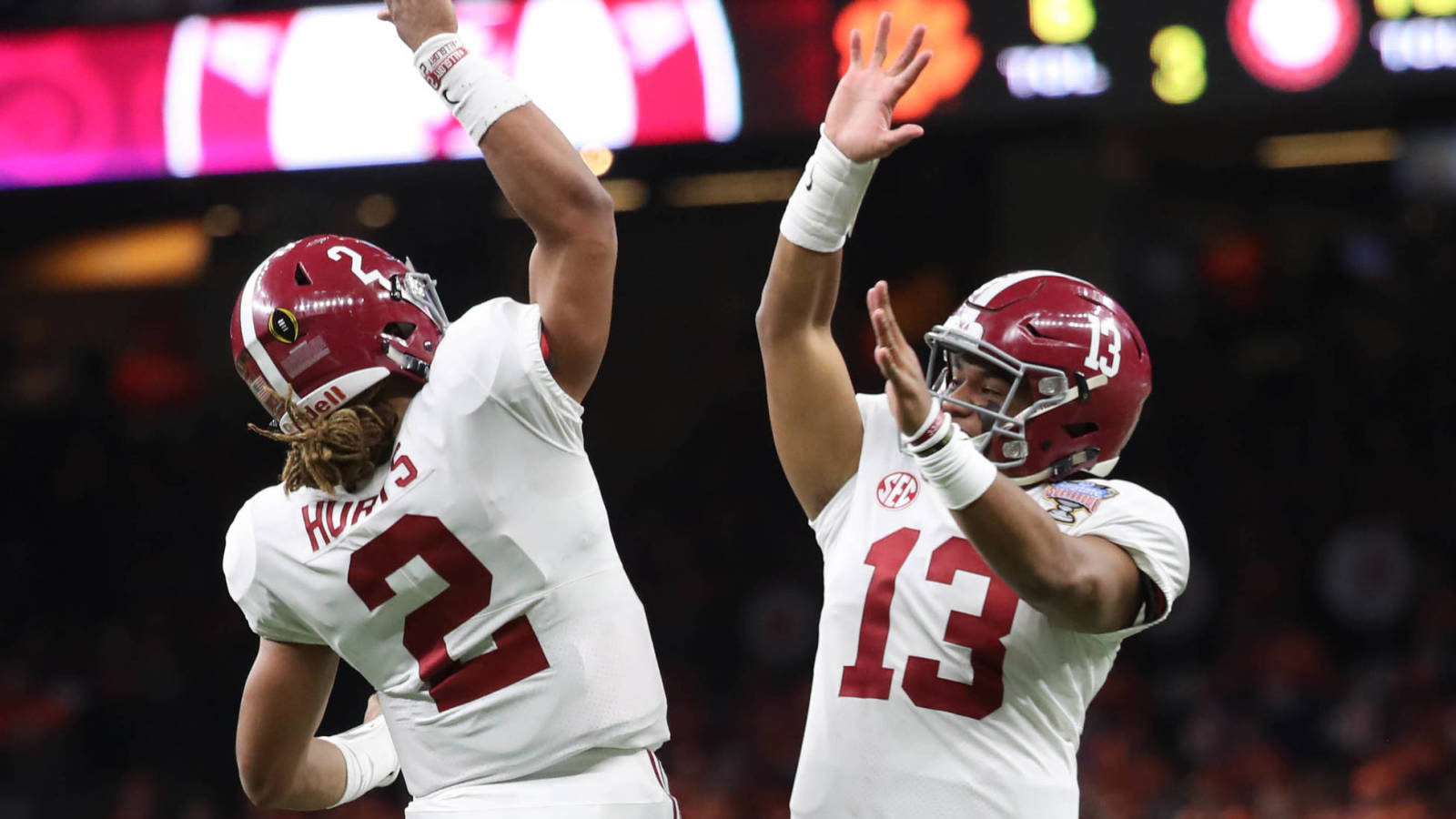 Kevin Jairaj-USA TODAY Sports
It looks as though Nick Saban is incapable of making a choice. Alabama's head coach will use both Jalen Hurts and Tua Tagovailoa at quarterback in their season opener on Saturday.
"I think we have two guys that are weapons and they've both played well, so the plan is to play both guys in the game," Saban told ESPN's Chris Fowler. "So the only issue is who plays first, and we'll decide that when the time comes."
But eventually you have to decide, right? Competition is all well and good, but a quarterback rotation doesn't often work. So, yes, Saban will ultimately have to hurt somebody's feelings. Now we know that's not a worry for him. We just don't know how long he's going to ride this idea.
"Just like every position, there's good competition at quarterback," Saban said back on August 21, via the ESPN.com report. "And nobody's backing away from that competition."
Tagovailoa only got to throw 77 passes last season, completing 63.6 percent of them. But he would also ultimately lead Alabama back against Georgia, winning the national championship in the process. He would average 4.9 yards per rush attempt as well, adding two more touchdowns along the way. 
Hurts, however, is entering his third year with the Crimson Tide. Through the first two, he's completing just under 62 percent of his passes, throwing for 40 touchdowns and just 10 interceptions. Plus, he's a threat on the ground, averaging 5.2 yards per carry while racking up just over 1,800 yards.
So, yes, both players have plenty to offer. And both players have made positive contributions to this institution. It's that somebody is going to want that full-time job eventually. And whether Saban likes it or not, he'll have to make a choice. He'll have to make a decision and stick with it.
Not that that's anything new to him.
Related Posts
No response for this article yet.