3 minutes reading time
(538 words)
Safety Jared Mayden showing encouraging progress this spring
TUSCALOOSA, Ala. -- The secondary will be one of Alabama's most experienced position groups in 2019 as five defensive backs that started in its dime package in at least six games are back.
Most of the attention has been on players like cornerbacks Trevon Diggs and Patrick Surtain II or safeties Xavier McKinney and Shyheim Carter that are familiar names to football fans.
But one of the players having a quietly productive spring is safety Jared Mayden.
"Jared has really done a nice job for us," coach Nick Saban said. "He really showed up well in the scrimmage, played really well. Did a good job of tackling, played with more toughness in the game and he's been pretty consistent. I think he has a pretty good understanding of what is expected of him. I'm very encouraged with his progress and very happy with his performance so far."
Mayden was the Crimson Tide's sixth defensive back last season, entering games as a safety in dime formations while McKinney moved down to Money. With Deionte Thompson declaring for the 2019 NFL Draft, Mayden could take over as a full-time safety, though Alabama has options.
The rising senior appeared in 13 contests a year ago and recorded 18 tackles, one sack and two pass breakups. Entering his final season in crimson, Mayden is making the most of his current opportunity for a bigger role as a potential signal caller of the secondary alongside McKinney.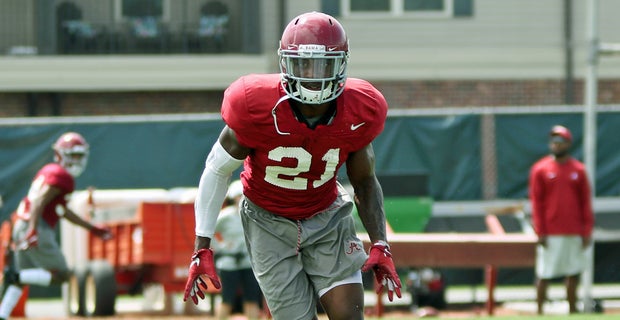 Alabama safety Jared Mayden (Photo: Denon McMillan, 247Sports)
"Jared's doing great," McKinney said. "Everybody is doing pretty well.
"Of course, we still have a lot of stuff to improve on, but I think Jared has done a great job. That's my boy. He's done a great job in communicating and doing his job and making sure he's in the right place at the right time. He's doing a great job, and I'm trying to keep him -- just like he's trying to keep me -- at that top level so we can get better as the year goes on."
Mayden was a 4-star recruit out of Sachse, Texas, during the 2016 cycle. He was the nation's No. 13 cornerback, No. 23 player out of Texas and No. 145 overall prospect, according to the 247Sports Composite. He has waited his turn, and 2019 might be his most involved season yet.
Having already spent three years in the Tide program, Mayden has an upper hand on some of his younger competition at the safety position this offseason. With Alabama holding its second scrimmage Saturday, April 6, the senior will look to continue his strong start to the spring
"He's an older guy, so he already knows how things work around here," McKinney said. "He knows the plays, so there's not really much you can't do with him. He knows everything. He's just out there just playing ball."
Mayden and UA will participate in their 11th spring practice later this afternoon. Scrimmage No. 2 will once again be closed to the public but will take place at Bryant-Denny Stadium after noon.
Contact Charlie Potter by 247Sports' personal messaging or on Twitter (@Charlie_Potter).
*** Take advantage of 30% OFF our Annual VIP Pass for the first year ***
Related Posts
No response for this article yet.