8 minutes reading time
(1645 words)
The 2018 college football awards preview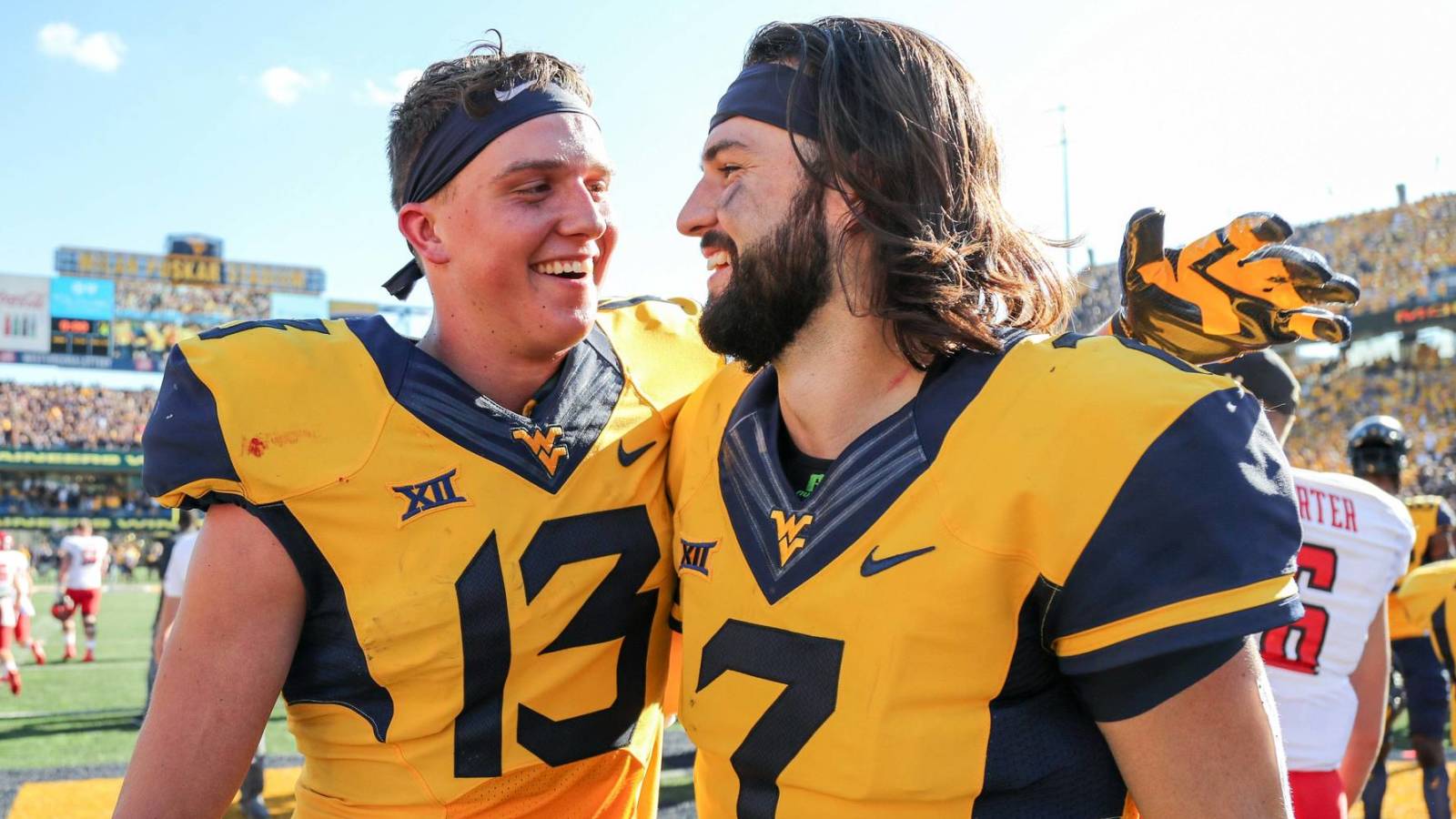 Ben Queen-USA TODAY Sports
With the start of the college football season comes the age-old query: which athletes will make the biggest impact at their respective positions? There's still a lot of football to played before we know for sure, but there are already plenty of clues when it comes to predicting who might take home some hardware come December. 
(This article covers all non-Heisman awards for the 2018. You can check out our piece on the 2018 Heisman favorites here.)
☆            ☆           ☆           ☆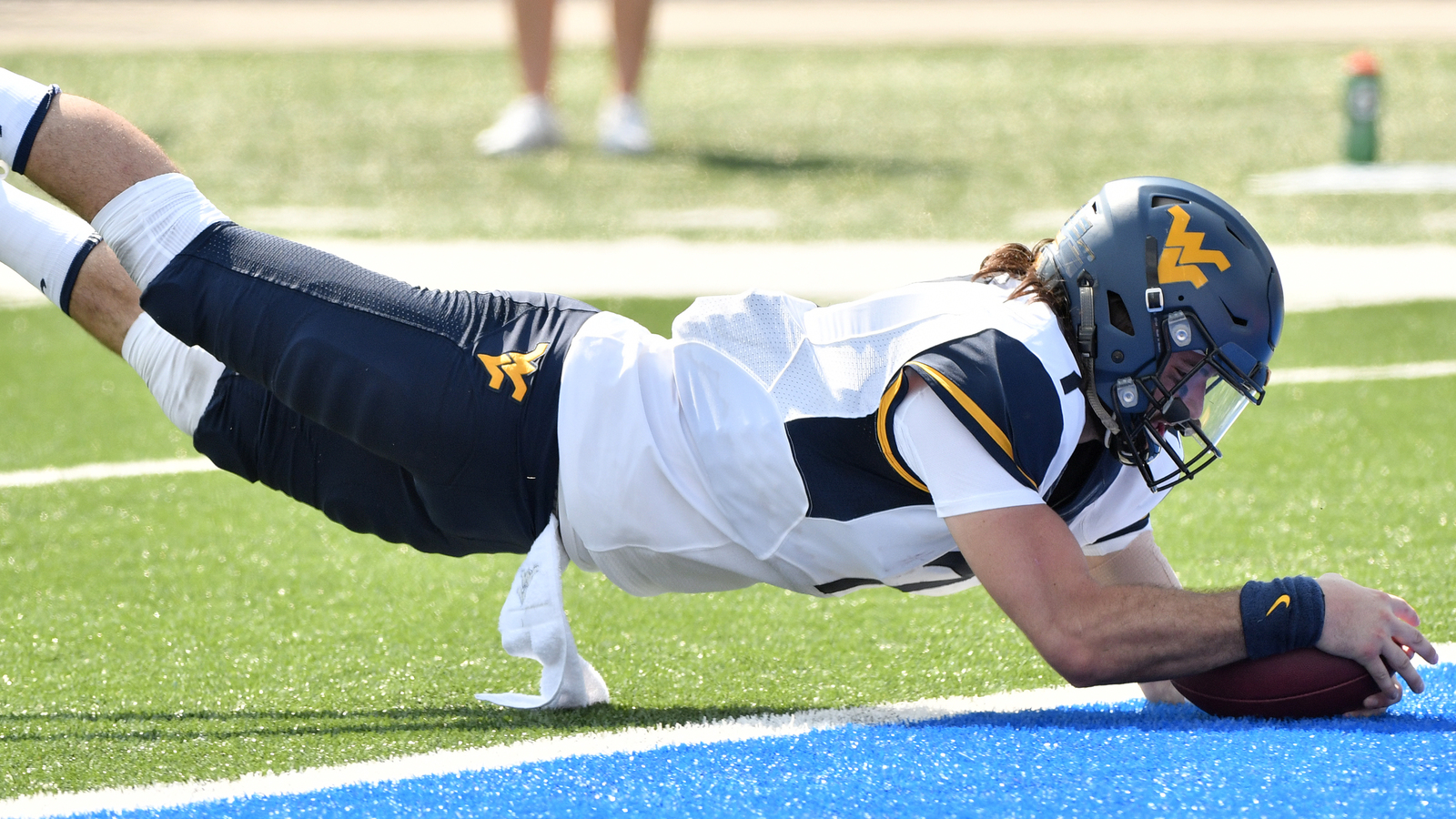 Ed Zurga/Getty Images
Davey O'Brien Award, best quarterback 
The favorite: West Virginia's Will Grier is something of trendy pick to set the QB standard in 2018, and all the reasons for that are legitimate. Grier put up big numbers despite missing the final two games of 2017, and enters this campaign surrounded by returning starters. That established team chemistry and a relatively friendly schedule to start the season could help iron out any kinks by the time the Mountaineers get into the tougher part of conference play.
The best of the rest: One of the most familiar names among returning quarterbacks is Trace McSorley of Penn State. His two years in a row of very good (if not always winning) postseason performances for the Nittany Lions have helped take away some of the sting of being a Penn State fan this decade. Without Saquon Barkley in the mix, look for a heavy pass game in State College. A little further South, a pair of second-year quarterbacks is attracting attention in the SEC — expectations are high for both Auburn's Jarrett Stidham and Georgia's Jake Fromm after both shined in 2017.
Honorable mentions: McKenzie Milton (UCF), Khalil Tate (Arizona), Tua Tagovailoa (Alabama)
☆            ☆           ☆           ☆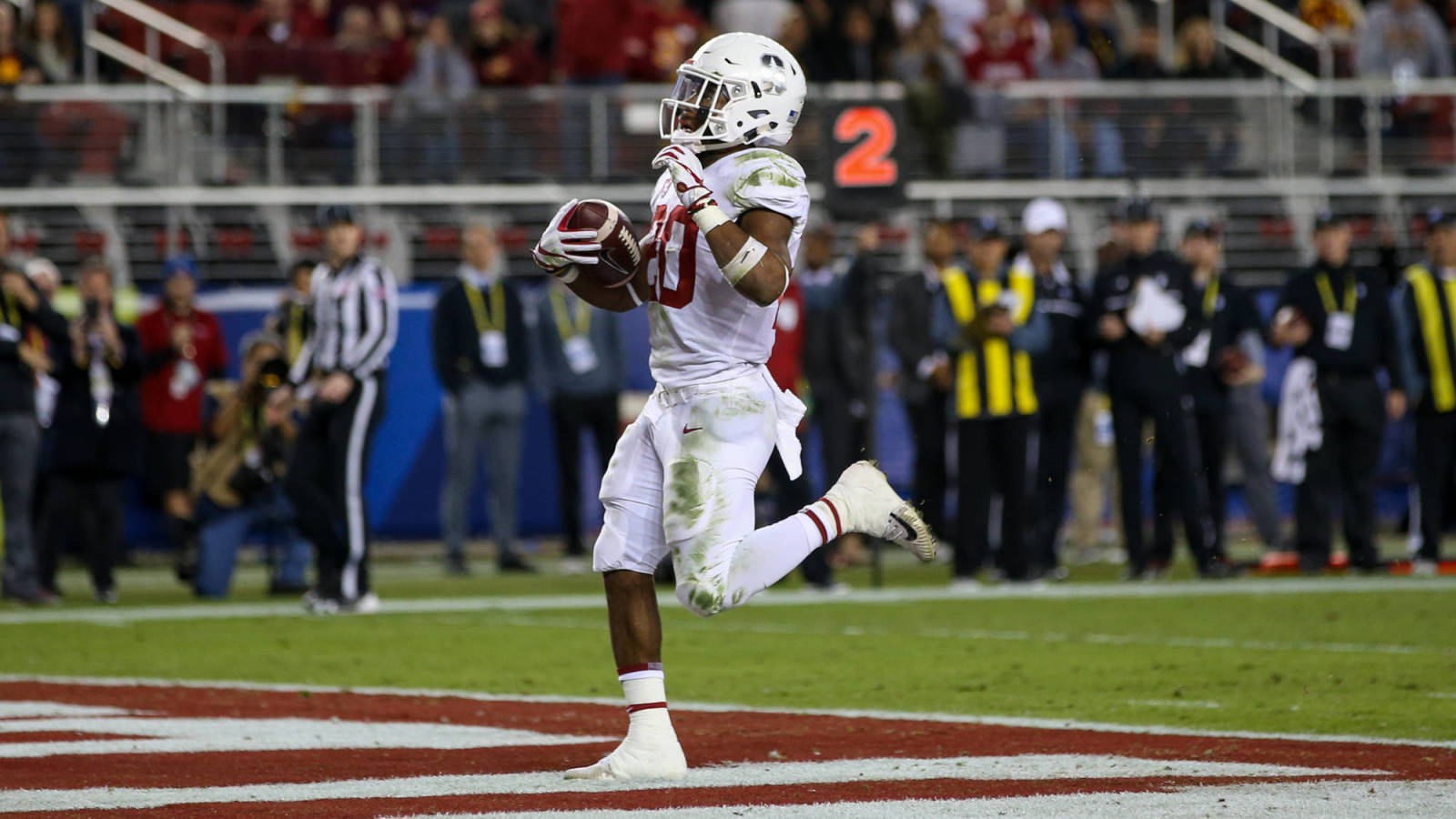 Icon Sportswire/Getty Images
Doak Walker Award, best running back 
The favorite: Leave it to The Beatles to sum this one up: "All you need is love." In this case, that would be Stanford stud Bryce Love. Not only was he last year's Doak Walker recipient, but was also the Heisman runner-up in 2017. If anything, he should be better this season. In 2017 Love was plagued by an ankle injury that he's now had plenty of time to rest and rehab, and the Cardinal offensive line could be one of the nation's best.
The best of the rest: It's essentially a tie for runner-up between Wisconsin's Jonathan Taylor and Ohio State's J.K. Dobbins. These two exploded onto the Big Ten scene as true freshmen last year, and there's no reason to think each can't be even better after a year to get the hang of college ball, and gain some big-game experience.
Honorable mentions: D'Andre Swift (Georgia), AJ Dillon (Boston College)
☆            ☆           ☆           ☆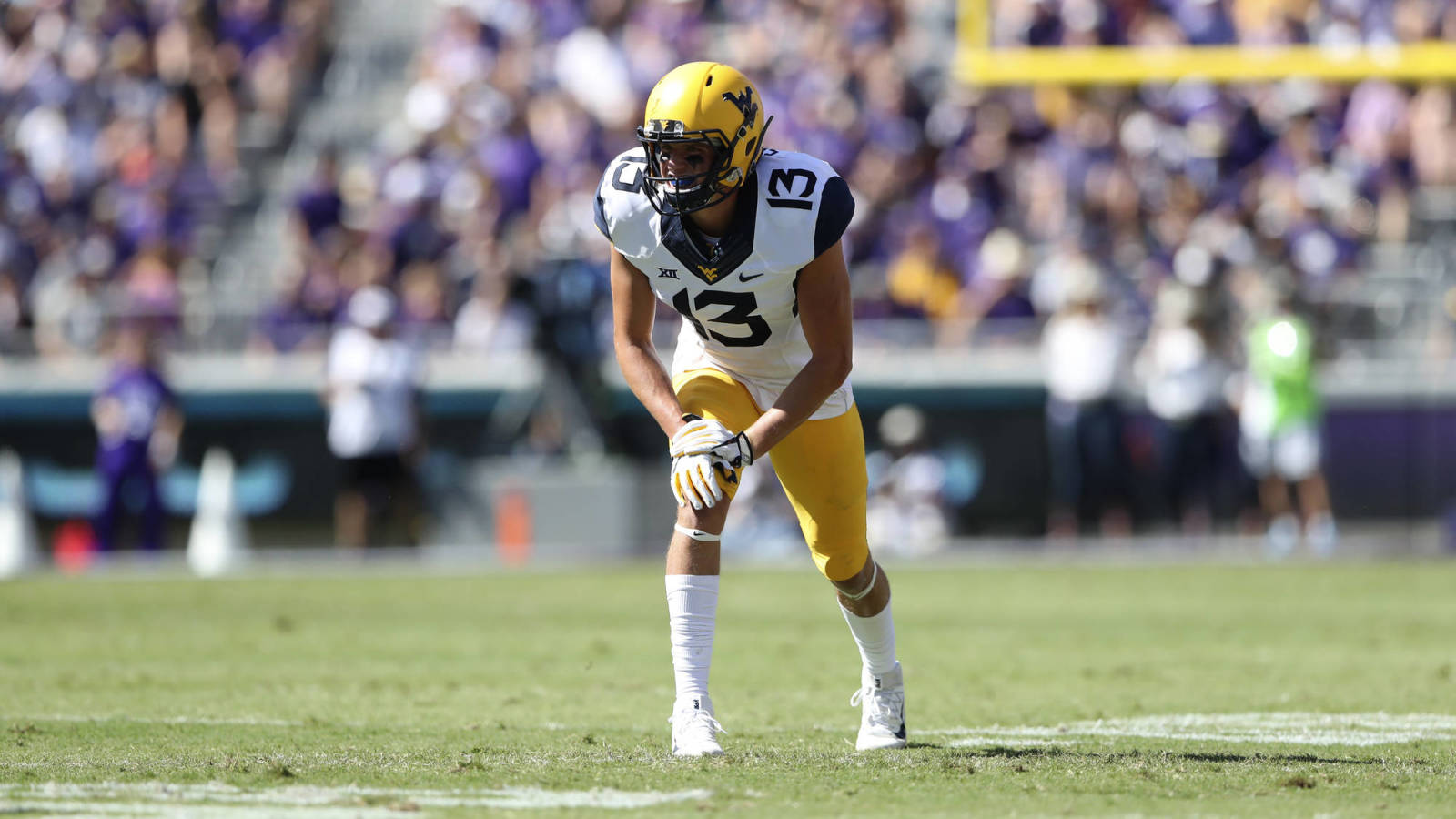 Kevin Jairaj-USA TODAY Sports
Biletnikoff Award, best receiver 
The favorite: 2017 Biletnikoff finalist David Sills V is back and poised for an even bigger season than the one that saw him lead the nation in touchdown receptions at West Virginia. That's thanks to a handful of factors, including the aforementioned Will Grier, and outstanding slot receiver in Gary Jennings who will help draw defensive attention away from Sills. But mostly, Sills' size, speed, and ability to get open in the red zone make him one of the toughest matchups in the game.
The best of the rest: Last year everyone was talking about South Carolina's Deebo Samuel until he sustained a season-ending injury in the third game of the season. Now that he's healthy, the chatter has resumed and Samuel will be eager to prove he can produce in his senior season. Another to watch is Ole Miss wideout A.J. Brown, who set a new school record for receiving yards (1,252) as a sophomore last year. If the plethora of pundits who have weighed in are to be believed, he's a first-round NFL draft pick in the making.
Honorable mentions: Anthony Johnson (Buffalo), N'Keal Harry (Arizona State)
☆            ☆           ☆           ☆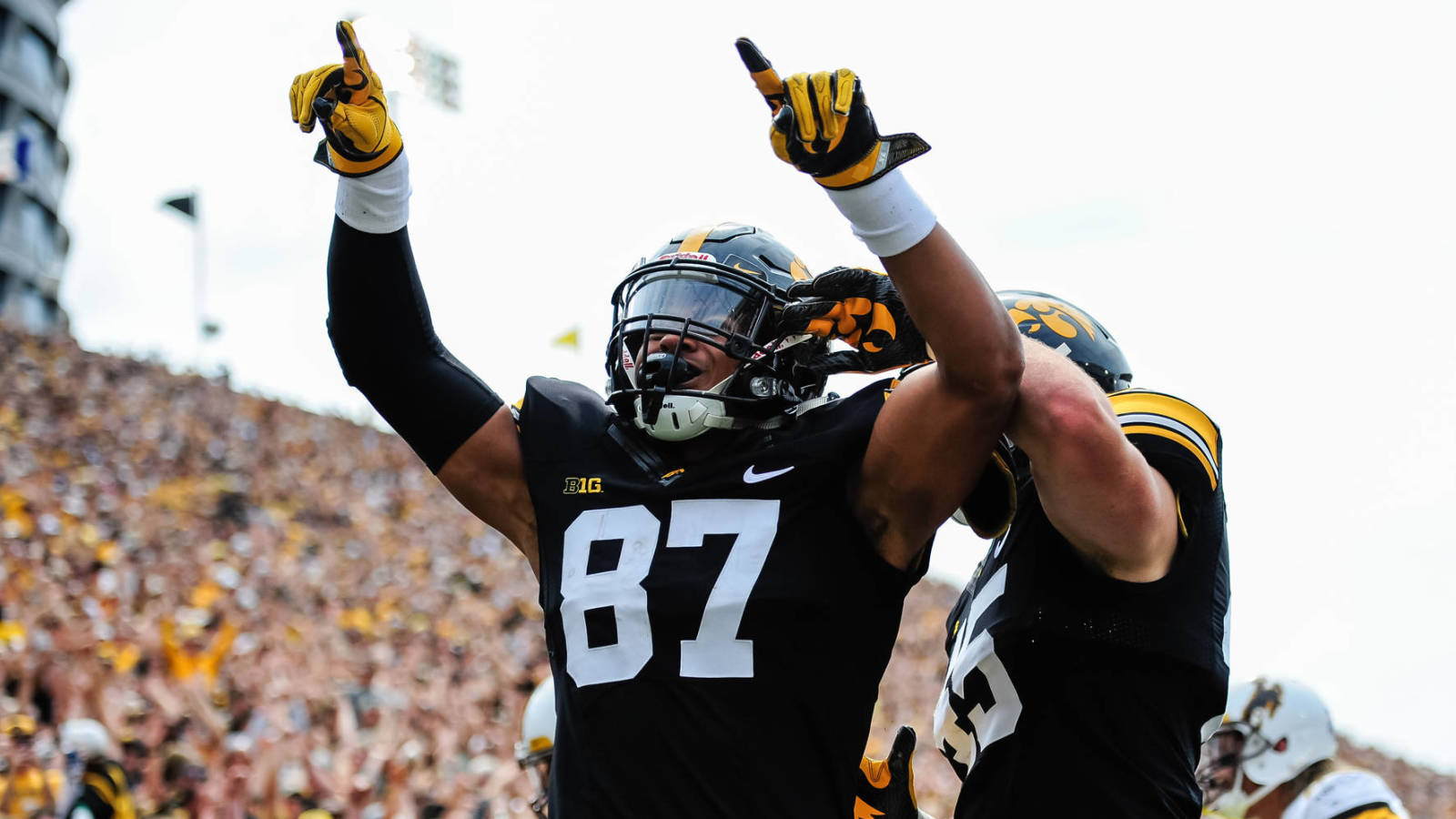 Jeffrey Becker-USA TODAY Sports
John Mackey Award, best tight end 
The favorite: If there's any head coach with a reputation for developing stud tight ends, it's Iowa's Kirk Ferentz. The latest Hawkeye to create big buzz is junior Noah Fant, who last season led all players at the position with 11 touchdowns and 16.5 yards per catch. If he can make some strides on blocking ability and match his 2017 scoring output, Fant should run away with the Mackey Award.
The best of the rest: Did I say Fant's 11 touchdowns led the nation among tight ends in 2017? Well, that's true, but Mizzou's Albert Okwuegbunam tied that mark, while showing a steady increase in productivity as the season progressed. He's a big part of the reason for the hype around the Tigers' offense heading into the season. And speaking of hype, a lot of eyeballs are on UCLA's Caleb Wilson. That's because in just five games before getting injured last season, he put up 38 catches for 490 yards (to compare, Fant had 30 catches for 494 yards on the season). The combo of a healthy Wilson and new head coach Chip Kelly is an intriguing one for Bruins fans.
Honorable mentions: Kaden Smith (Stanford), C.J. Conrad (Kentucky)
☆            ☆           ☆           ☆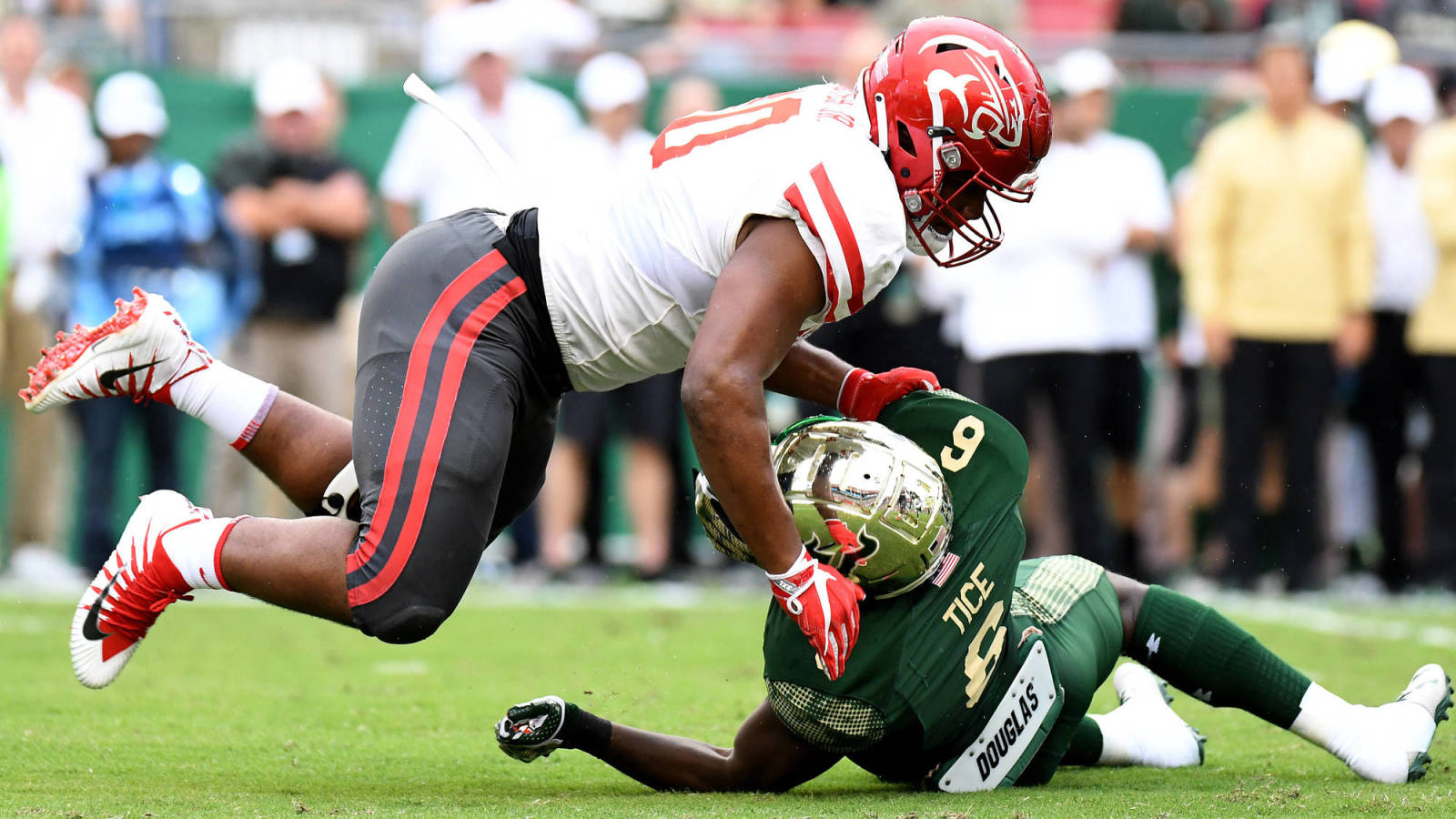 Jonathan Dyer-USA TODAY Sports
Outland Trophy, best interior lineman
The favorite: The Outland is another of the awards this season where last year's winner is this year's favorite. Houston's Ed Oliver is back, and likely will be even better in 2018. A defensive tackle who elicits frequent double and triple-teams from the opposing O-line, Oliver's an easy choice to repeat as Outland winner—and if he does he'll be the first player to do so since Dave Rimington in 1981-82.
The best of the rest: It's not often a tackle is the biggest star on offense, especially when it comes to a vaunted program like Alabama. But that just might be the case this year for junior Jonah Williams, who allowed only 2.5 sacks in 2017 (on 831 snaps). Up at Washington, the Huskies are rejoicing the imminent return of Trey Adams, who missed half of 2017 with a torn ACL. If he is in fact healthy enough to open the season, Adams' size and blocking ability are nothing short of elite.
Honorable mentions: Mitch Hyatt (Clemson), Toa Lobendahn (USC)
☆            ☆           ☆           ☆
Bednarik Award, defensive player of the year
The favorite: Hopefully you haven't tired of hearing the name Ed Oliver yet, because it'll be a refrain all season long. If his 6.1 tackles for loss per game don't speak for themselves, his freakish athleticism and blink-and-you-miss-him speed will.
The best of the rest: The only reason Ohio State's Nick Bosa isn't the outright favorite for this award is the existence of Ed Oliver. Perhaps the most feared pass-rusher in the game this season, he does nothing but wreak havoc on Big Ten opponents. Then, there's Clelin Farrell. The only reason Clemson's Farrell isn't the outright favorite for this award is the existence of Oliver and Bosa. Farrell is the best player on a Tigers defensive line on which every single starter from last year will return, and on which every single starter is elite.
Honorable mentions: Christian Wilkins (Clemson), Raekwon Davis (Alabama), Rashan Gary (Michigan)
☆            ☆           ☆           ☆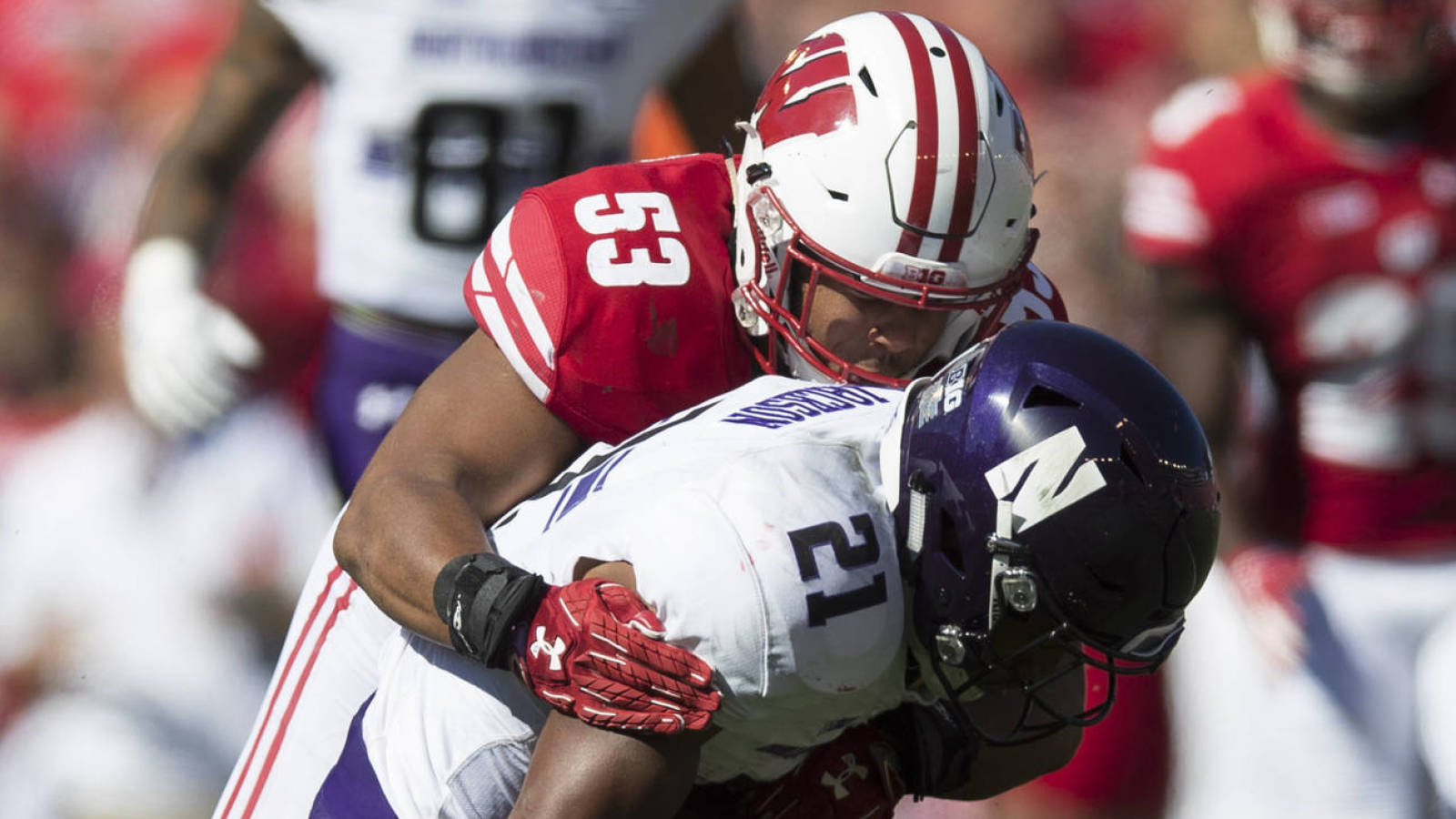 Jeff Hanisch-USA TODAY Sports
Butkus Award, best linebacker 
The favorite: The defensive line train is hype-heavy this season, but the linebacker spot also has an embarrassment of riches—and perhaps more potential than any other category for dark horses to emerge. But one name you can count on coming up again and again is Wisconsin's T.J. Edwards. One of the most experienced athletes of the bunch, the three-year starter has proven efficient against the run and highly effective against the pass. He's got the All-American status and a finalist finish in the 2017 Butkus voting to prove it.
The best of the rest: Edwards' fellow 2017 Butkus finalist Devin Bush of Michigan leads a Wolverines' defense that could be among the best in the nation. His top-flight speed and playmaking instinct set him aside from the pack. And you can't mention top-tier playmaking without a couple other names: Miami's Shaq Quarterman and USC's Cameron Smith. These two have steadily improved from year-to-year, become known for flashy, clutch stops, and should both be the unquestioned leaders of their units.
Honorable mentions: Devin White (LSU), Mack Wilson (Alabama)
☆            ☆           ☆           ☆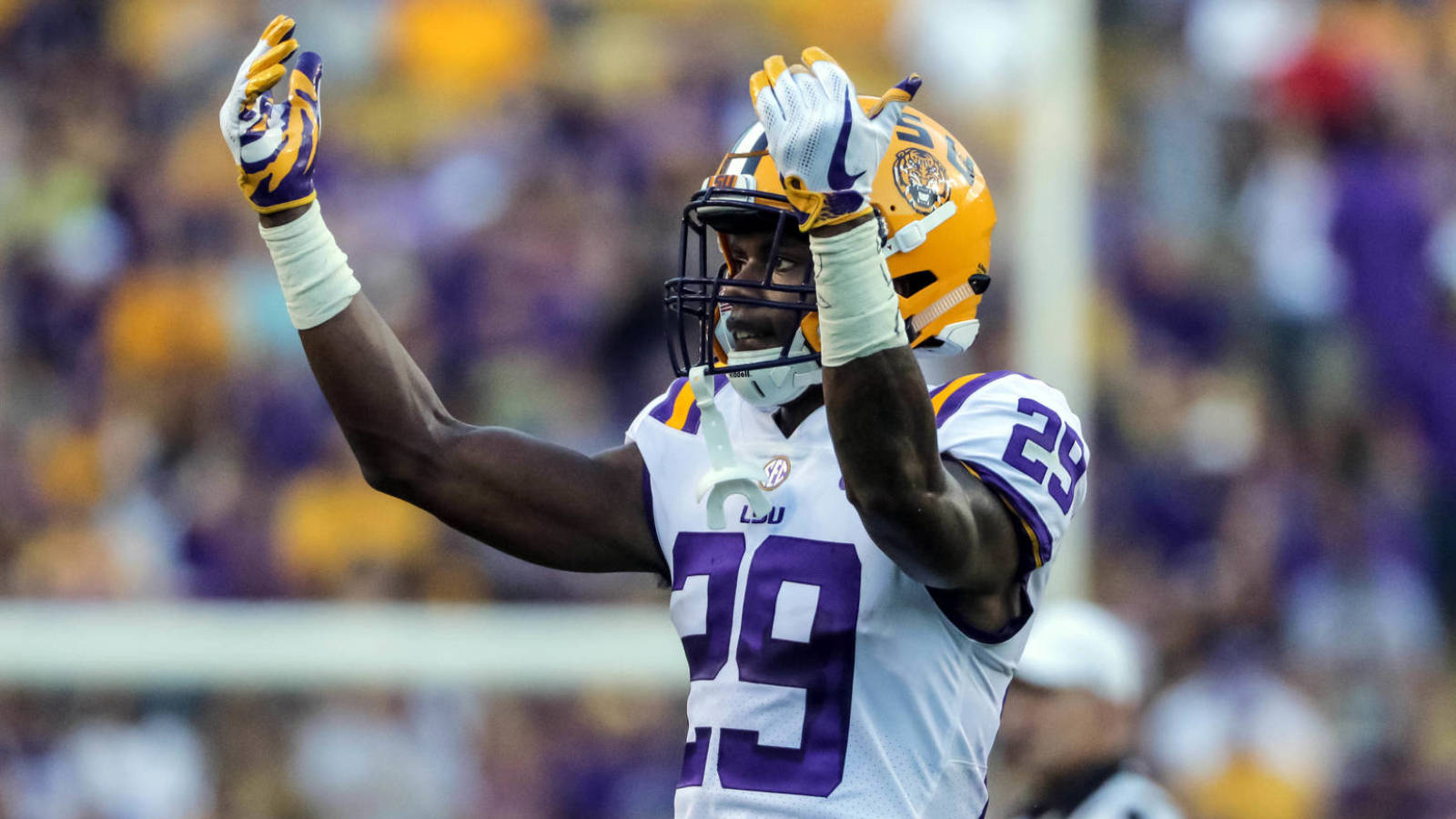 Derick E. Hingle-USA TODAY Sports
Jim Thorpe Award, best defensive back
The favorite: LSU churns out NFL-caliber DBs at a rate that seems to be unmatched by any other program. The latest in line is cornerback Greedy Williams, who lived up to his first name last year when it came to grabbing balls and breaking up passes (top 10 in the SEC in both categories). He's only a redshirt sophomore, but displayed the speed, athleticism, and leadership of an upperclassman in his breakout 2017 season.
The best of the rest: If corner Byron Murphy and safety Taylor Rapp can stay healthy, Washington just might have the best secondary of the season. Both were banged up for most of 2017, but when they did play, it was open season on ball carriers. Each are aggressive athletes who aren't afraid to break up plays in a variety of ways.
Honorable mentions: Jaquan Johnson (Miami), Deandre Baker (Georgia)
College Football News

Delivered to your inbox

You'll also receive Yardbarker's daily Top 10, featuring the best sports stories from around the web. Customize your newsletter to get articles on your favorite sports and teams. And the best part? It's free!
Related Posts
No response for this article yet.