4 minutes reading time
(892 words)
The nine schools that could still win the National Championship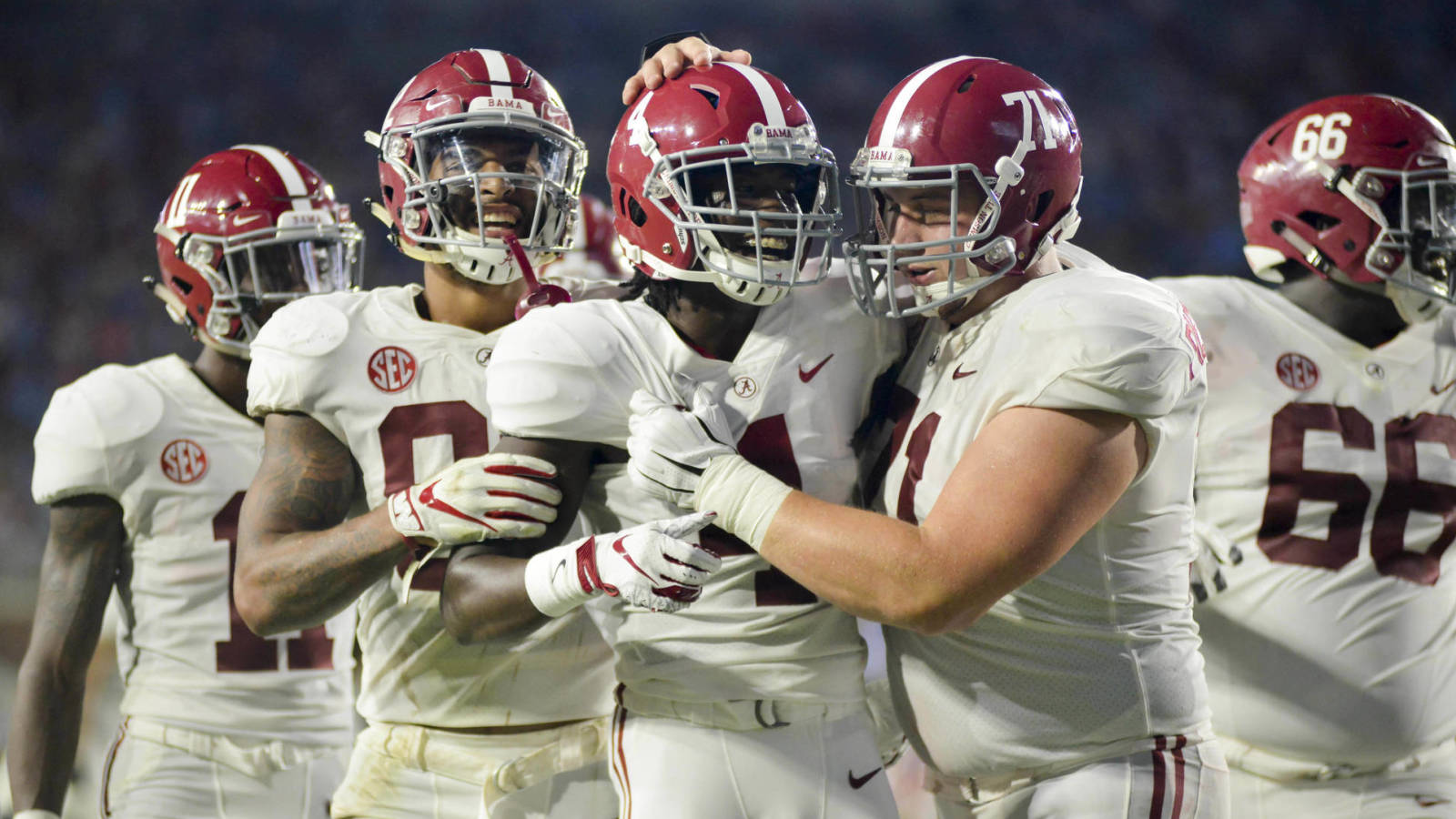 Matt Bush-USA TODAY Sports
Every year, more than 100 FBS college teams take the field, but most of them will never sniff the national championship. Eastern Michigan, for example, is just dreaming of a bowl game, not of making the playoffs. Even bigger teams, like, say, USC, aren't going to truly contend this year. There are only a handful of college teams that could plausibly win the title this year, and here they are. If you think we missed a team, you are going to have to try awfully hard to convince us of their title chances. We're looking at you, Wolverine fans. This isn't your year. Additionally, this doesn't seem like the season for a Group of Five team to crack the playoff — not with Houston and Boise State having already lost. Try to prove us wrong, Central Florida.
Alabama Crimson Tide
We have to start with Nick Saban and his Alabama team. The Crimson Tide are the defending champions, and it feels like they are defending every year, even when they aren't. Tua Tagovailoa has given Alabama a whole new look under center. The Tide have won titles with game managers. Now they have an actual dynamic playmaker who could win a Heisman. It's going to be immensely difficult for anybody to take down the Tide this year, and even if they lose a game, the benefit of the doubt could easily get them into the playoffs.
Clemson Tigers
At this point, Dabo Swinney has turned Clemson into Alabama East. The Tigers have a defensive line featuring three players (Dexter Lawrence, Clelin Ferrell and Christian Wilkins) who could be first round picks. Clemson has the best defense in college football, and Trevor Lawrence gives the Tigers another dynamic option at quarterback. Don't worry about the close call against Texas A&M. Clemson is just fine.
Georgia Bulldogs 
The Bulldogs are fortunate they get to play in the SEC East. It's basically a direct line to the SEC title game, and a win there would lock them into a playoff spot. Jake Fromm is great under center and has a year of experience under his belt. Kirby Smart's defense is also formidable. The team lost some weapons in the offseason, but a school like Georgia reloads at the skill positions every recruiting season.
Oklahoma Sooners
They lost Baker Mayfield, but so far Kyler Murray has been just fine. The loss of Rodney Anderson to injury is a concern, but the Big 12 is easily winnable. Who is going to challenge them? West Virginia? We'll believe it when we see it. The only question is the Sooners' defense, but that's mostly theoretical at this point. What if this is the year Oklahoma finally has a defense that can match up with Lincoln Riley's potent offense?
Ohio State Buckeyes
The Buckeyes managed to get past TCU without Urban Meyer, so the hard part is over. Even losing J.T. Barrett hasn't slowed down the offense, and Ohio State is loaded with talent on both sides of the ball. For all his moral faults, Meyer knows how to coach football. He's one of a handful of active coaches who have won a title. That's not irrelevant. Plus, losses by the likes of Wisconsin, Michigan, and Michigan State just make the path easier for the Buckeyes.
LSU Tigers
Heading into the season, Ed Orgeron was on the hot seat. Now, LSU is a legit title contender, having already defeated Miami and Auburn, the latter on the road just last week. The Tigers have a great defense — perhaps the best in the nation. If Joe Burrow can even be decent at quarterback, that may be enough.
Stanford Cardinal
The Cardinal are looking like the class of the Pac-12 this year, with all due respect to Washington and, perhaps, an upstart Oregon team. Bryce Love is off to a slow start, but we know what he can do when healthy. K.J. Costello gives Stanford its first legit quarterback since Andrew Luck graduated. The defense has looked great so far. The only fear is the schedule. Stanford has to visit Notre Dame, Washington and Oregon. If the Cardinal go undefeated, though, and they definitely have the talent and coaching to do it, they will definitely make the playoffs.
Notre Dame Fighting Irish
By the end of the year, that win over Michigan may look impressive, which will help Notre Dame's chances. Brian Kelly is a great, if divisive, coach, and this team has a ton of skill all over the field, especially on defense. The only question keeping the Fighting Irish from being a top-five team is at quarterback. Is Brandon Wimbush good enough to be the quarterback of a title-winning squad? We don't have a clear answer yet, but it's possible. This team with a good quarterback? It will be a force. 
TCU Horned Frogs 
Yes, TCU lost to Ohio State, but in doing so the Horned Frogs showed themselves to be title contenders. Ohio State could easily go undefeated. Losing to them will only slightly mar the Horned Frogs' resume. For a while, it looked like TCU was going to pull off the upset, and it's got the talent to make some noise if things break right. The Big 12 is winnable for the Frogs, and it wouldn't be surprising to see TCU win out. Gary Patterson has done great things with this program in the past. This could be his greatest feat yet.
Related Posts
Comments
No comments made yet. Be the first to submit a comment
You are here:  

The nine schools that could still win the National Championship