13 minutes reading time
(2512 words)
Top takeaways from college football Week 1
By the end of the season, what transpired in college football Week 1 may not feel as significant as it does after watching it all unfold the past few days.
Launching into the first weekend of college football can feel a bit like getting shot out of a cannon. So much is happening all at once, and it's all happening so fast.
Glorious chaos. We loved every minute of it — from Thursday night through the big games on Saturday evening.
Now, let's recap the biggest developments as we eagerly await the prime-time games on Sunday and Monday night.
UCF lives up to the Heupel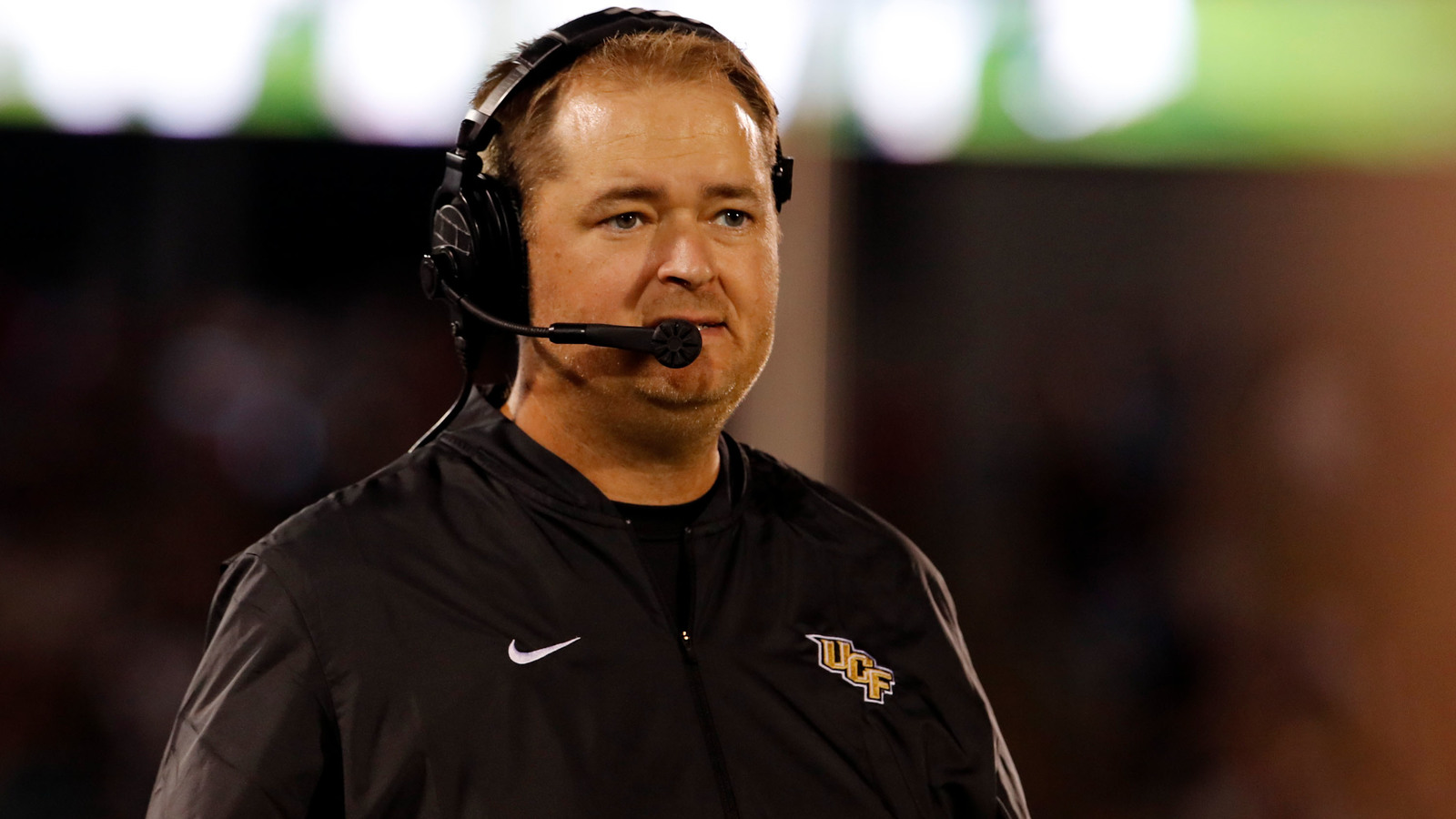 Aug 30, 2018; East Hartford, CT, USA; UCF Knights head coach Josh Heupel on the sideline as they take on the Connecticut Huskies in the second quarter at Pratt & Whitney Stadium at Rentschler Field. David Butler II-USA TODAY Sports
The Knights are under new management now that Scott Frost is in Nebraska. Yet come game day, they were just as impressive — at least in Week 1. New head coach Josh Heupel really had the offense dialed up nicely on Thursday night against UConn.
Quarterback McKenzie Milton had an outstanding game. He threw for 396 total yards and five touchdowns until taking a seat when the game was out of hand. In the end, the scoreboard read 56-17 in favor of the Knights.
Granted, UCF has plenty to prove still. The Huskies weren't exactly a daunting foe. But watching the offense make things happen so effortlessly on Thursday, it's clear the Knights are going to continue to be a problem for opposing defenses with Heupel calling the shots.
Jimbo's debut at College Station did not disappoint 
Aug 30, 2018; College Station, TX, USA; Texas A&M Aggies head coach Jimbo Fisher and players following Texas A&M's 59-7 win over Northwestern Wildcats at Kyle Field. Erik Williams-USA TODAY Sports
Jimbo Fisher's first game as the head coach at Texas A&M was a rousing success. Much to the delight of the home crowd at College Station, the Aggies jumped out to a 35-0 halftime lead over Northwestern State and didn't let up in the second half, winning 59-7.
This was a game the Aggies should have won in this fashion — make no mistake about it — but it's always important for a new head coach to put his stamp on the program early. Fisher did exactly that. We'll have a much better idea about how good Texas A&M really is next weekend, however, when the program hosts mighty Clemson.
Rondale Moore is the truth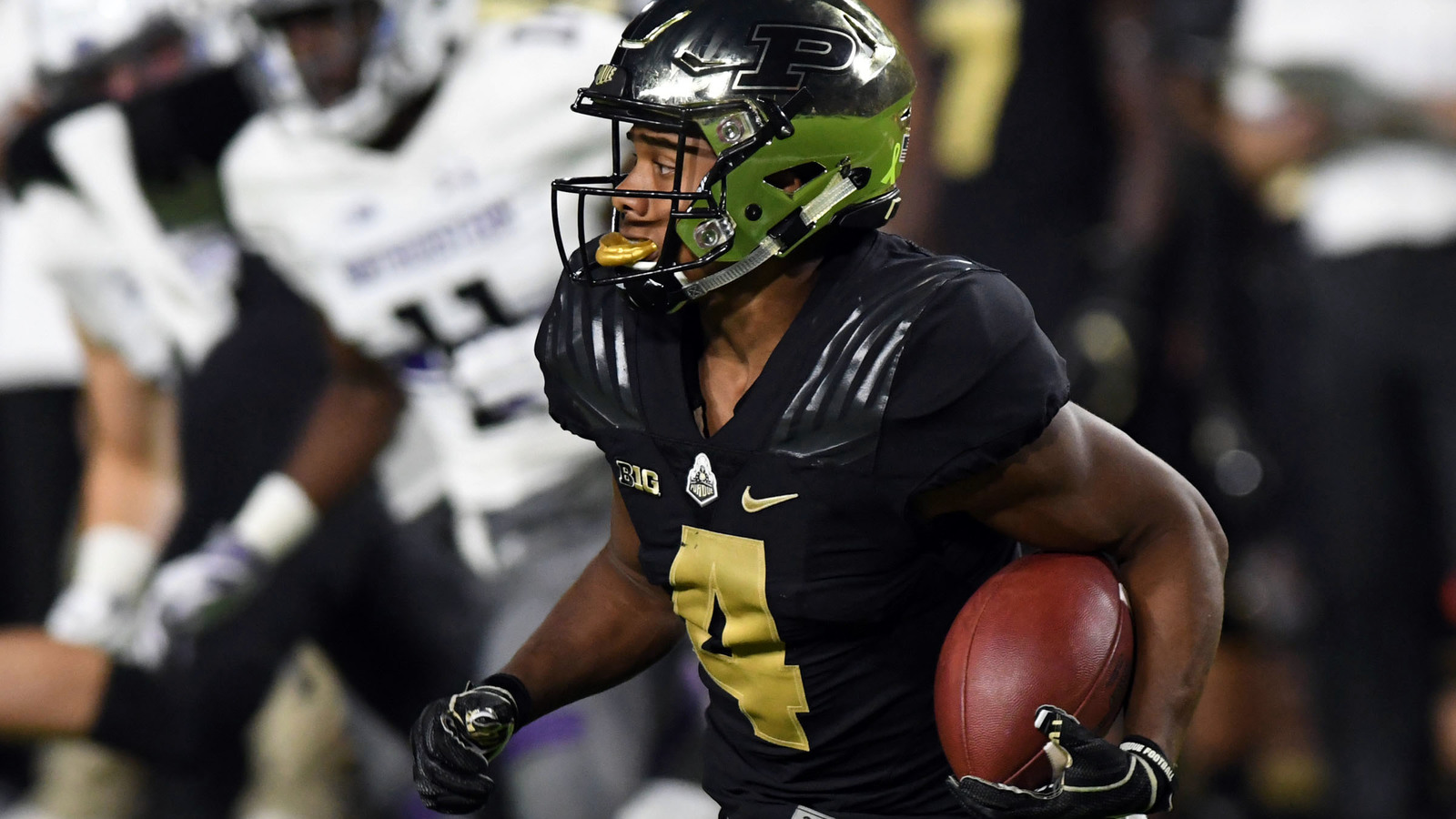 Aug 30, 2018; West Lafayette, IN, USA; Purdue Boilermaker receiver Rondale Moore (4) runs back a kick off in the first half against the Northwestern Wildcats at Ross-Ade Stadium. Thomas J. Russo-USA TODAY Sports
The Purdue Boilermakers lost to Northwestern Thursday night, but we cannot pin a single iota of blame on true freshman receiver Rondale Moore. The insanely fast young playmaker put on an absolute show, going for a school-record 313 all-purpose yards in the 31-27 loss to the Wildcats.
In the process, Moore dazzled the national audience with an ankle-breaking 76-yard run that showed off both his abilities in the open field, and his elite speed.
Michigan State lucky to escape with a win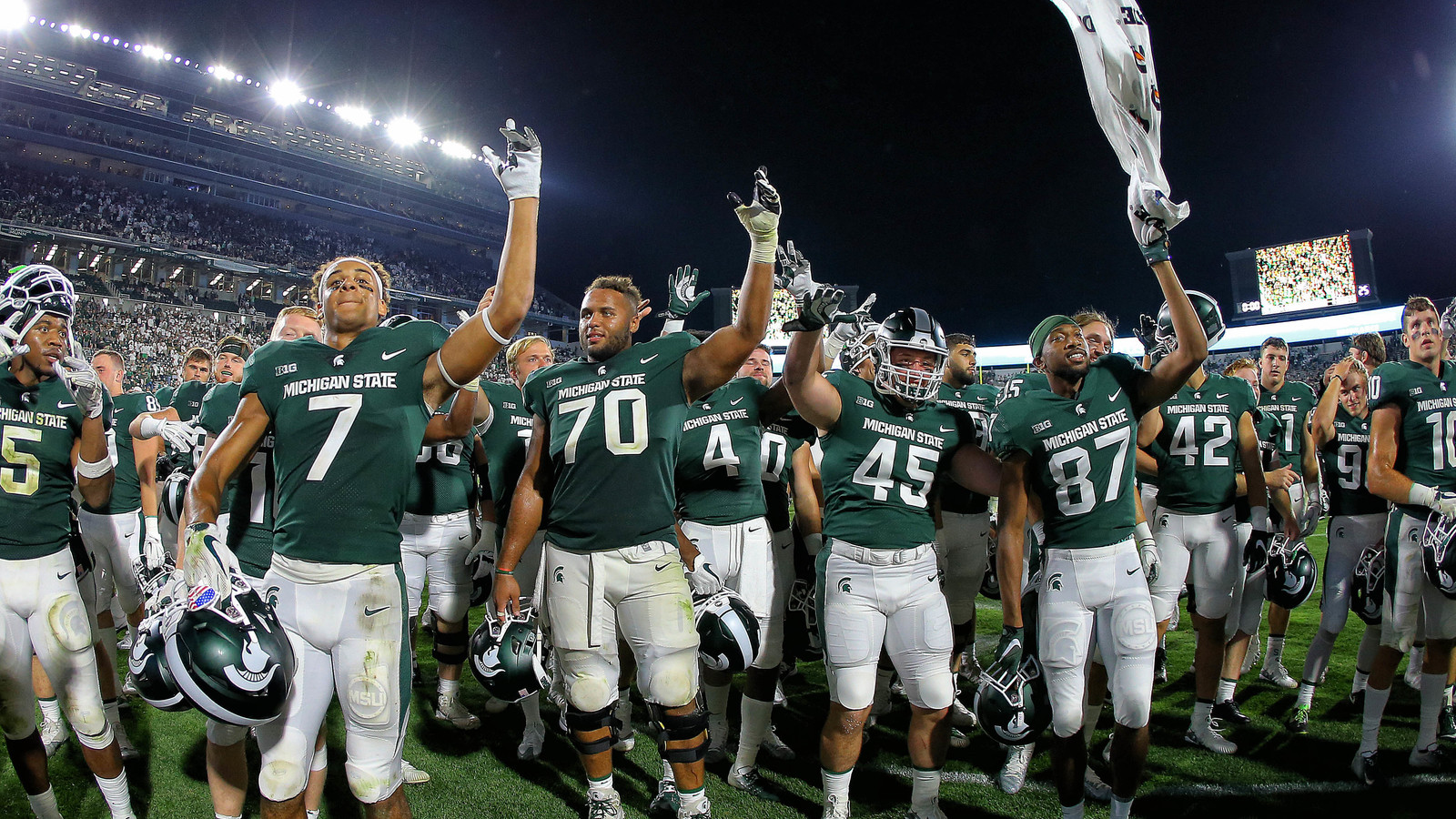 Aug 31, 2018; East Lansing, MI, USA; Michigan State Spartans celebrate a win over the Utah State Aggies after a game at Spartan Stadium.  Mike Carter-USA TODAY Sports
Utah State is no pushover, as we alluded to in our preview of college football Week 1. Yet it was pretty eye-opening to see Michigan State come within a few plays of losing its home opener to the Aggies. Penalties and other mental mistakes were abundant, and the Spartans twice had to settle for field goals after punching it to the Utah State one-yard line.
This type of effort won't lead to wins against Big Ten competition, and the Spartans know it. Last year, they were a surprise success story. That's not the case anymore, as the No. 11-ranked Spartans are on everyone's radar.
The Cardinal no longer Bryce Love or bust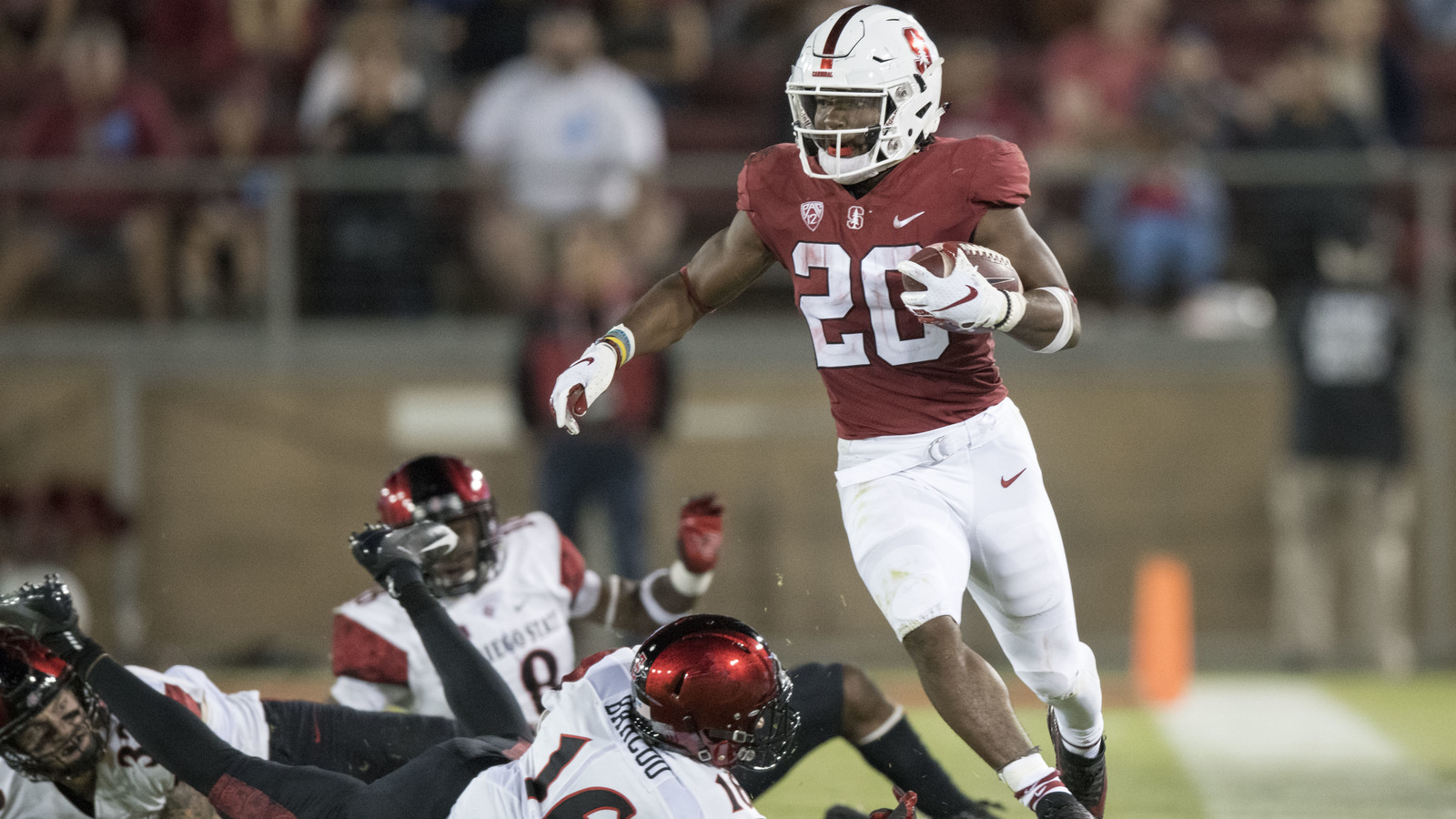 August 31, 2018; Stanford, CA, USA; Stanford Cardinal running back Bryce Love (20) runs past San Diego State Aztecs cornerback Luq Barcoo (16) during the fourth quarter at Stanford Stadium. Stanford defeated San Diego State 31-10. Kyle Terada-USA TODAY Sports
For much of last season, the Stanford offense was seemingly 100 percent reliant on Bryce Love to pull through with one of his signature monster games. Then K.J. Costello emerged as the starter toward the tail end of the season and started to get the passing game going. It's safe to say that trend has continued in 2018.
On Friday night, Love was pretty well shut down by the fierce San Diego State defense, going for just 29 yards on 18 carries. Yet Stanford still won easily, thanks in large part to Kostello going bananas to the tune of 332 yards and four touchdowns through the air. Much of that production went to receiver JJ Arcega-Whiteside, who hauled in six receptions for a staggering 226 yards and two scores.
Once Love gets going in this offense, the Cardinal are going to be quite formidable.
Trevor Lawrence makes his case to start for Clemson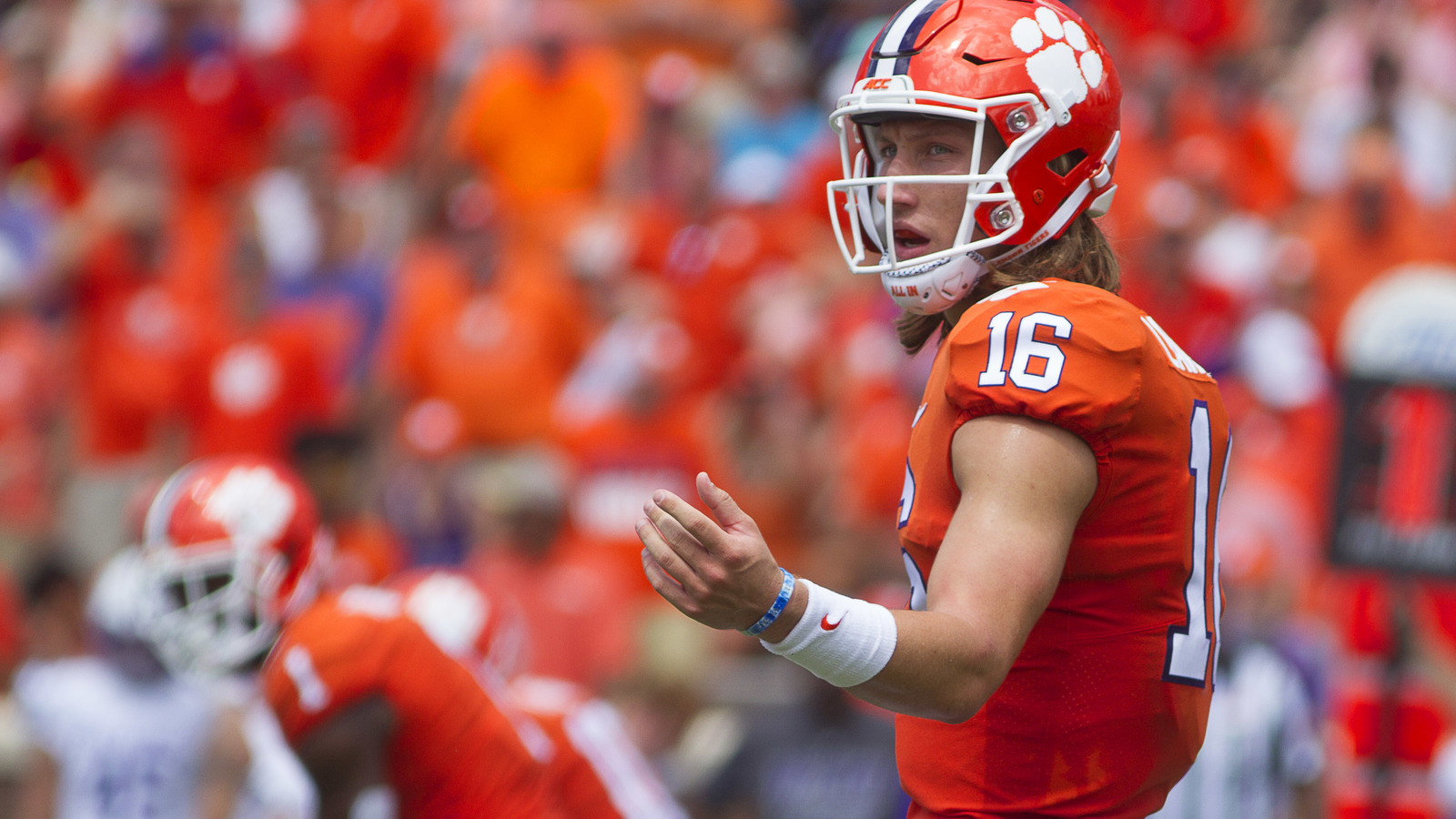 Sep 1, 2018; Clemson, SC, USA; Clemson Tigers quarterback Trevor Lawrence (16) looks to the sidelines during the second quarter against the Furman Paladins at Clemson Memorial Stadium.  Joshua S. Kelly-USA TODAY Sports
The outcome was never going to be in doubt Saturday as Clemson hosted Furman. The real intrigue, however, was seeing what the Tigers' offense would look like with Trevor Lawrence in the game compared to Kelly Bryant.
Bryant was rock solid. He made nary a mistake, completed a high percentage of his passes and scored twice — one rushing touchdown and one passing. Yet when Lawrence entered the game, Clemson's offense suddenly had a more explosive feel. He ended up throwing three touchdowns, completing 9-of-15 passes for 137 yards.
Dabo Swinney named Bryant the starter to open the season, and he might feel more comfortable right now with this arrangement. But Lawrence is surely pushing for the job, and from an outsider's perspective he's more than ready.
Lane Kiffin's Owls woefully unprepared for the Sooners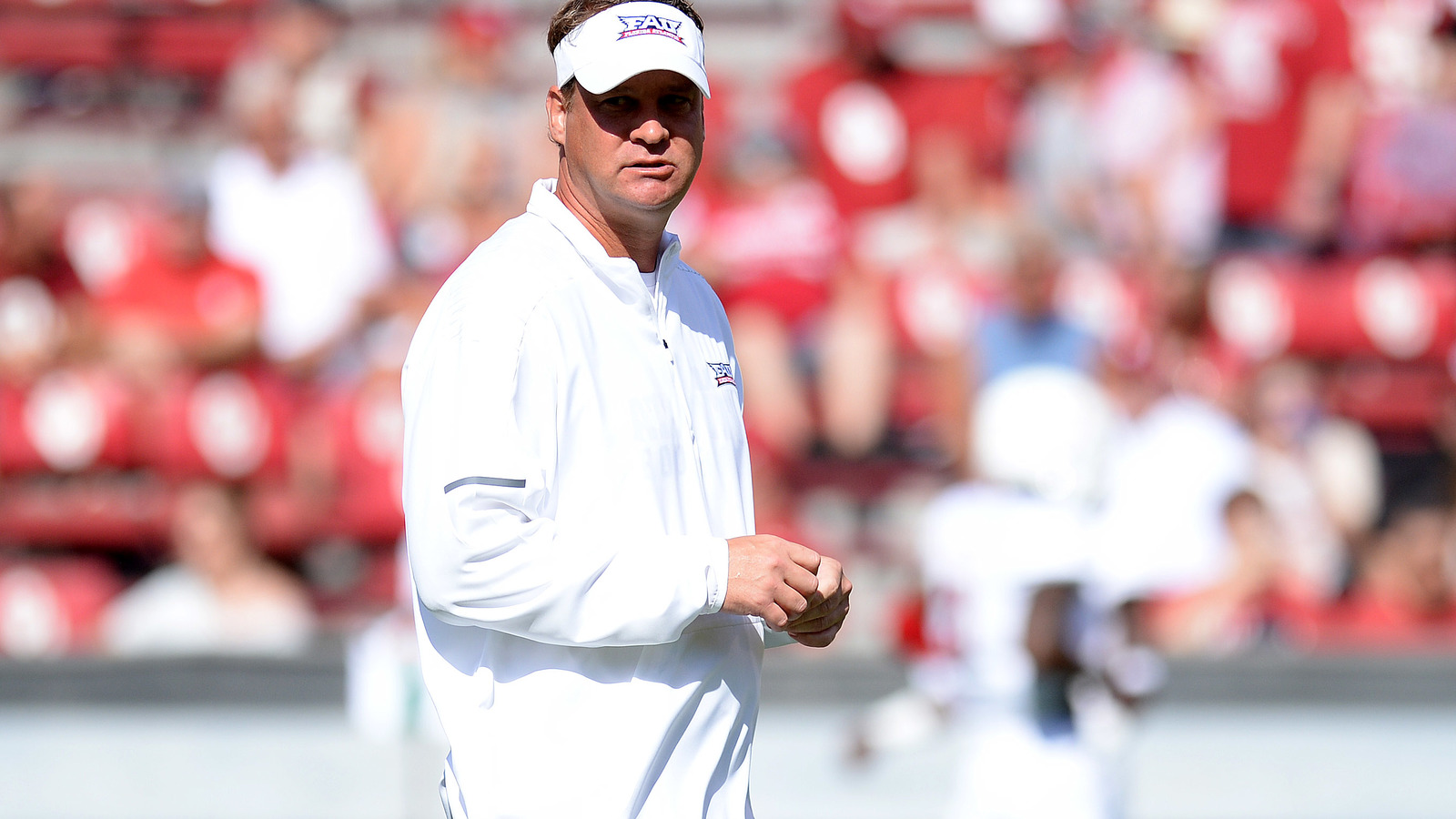 Sep 1, 2018; Norman, OK, USA; Florida Atlantic Owls head coach Lane Kiffin watches his team warmup prior to action against the Oklahoma Sooners at Gaylord Family - Oklahoma Memorial Stadium.  Mark D. Smith-USA TODAY Sports
We were so looking forward to watching two high-powered offenses throw haymakers Saturday as Florida Atlantic took on mighty Oklahoma. Instead, the Sooners treated the Owls like nothing more than a miniature speed bump.
From the game's very first play, it was clear Lane Kiffin's team was not prepared for this contest. By the time the finally Owls got on the board late in the third quarter, the game was already over. Kyler Murray led an absolute rout as the Sooners advanced to Week 2 with a way-too-easy 63-14 win.
It's not a big deal that the Owls lost. But how they lost is pretty notable. It's clear they still have a long way to go before they're ready to really compete with the nation's best.
Tom Herman's Longhorms thwarted by Maryland for second year in a row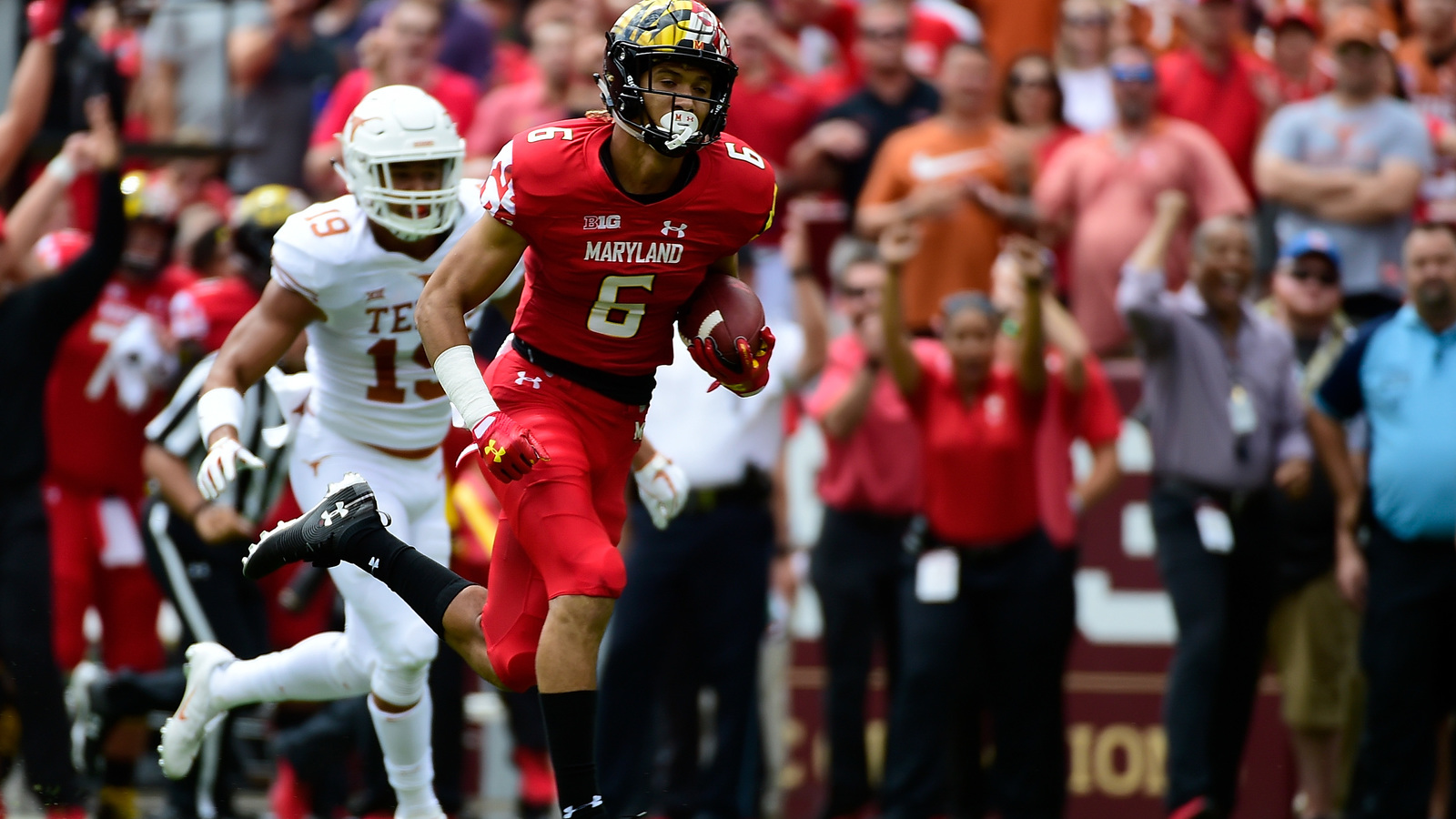 Sep 1, 2018; Landover, MD, USA; Maryland Terrapins wide receiver Jeshaun Jones (6) runs past Texas Longhorns defensive back Brandon Jones (19) for a first quarter touchdown at FedEx Field. Tommy Gilligan-USA TODAY Sports
Last year — Tom Herman's first at Texas — the Longhorns opened the season with a stunning loss to Maryland, which was a three-touchdown underdog. On Saturday, once again heavily favored to win, No. 23-ranked Texas fell to the Terps.
The Longhorns committed three turnovers in this game, the last of which sealed their fate as Sam Ehlinger threw his second interception while attempting to lead a game-winning drive.
Texas had no way to combat the pure speed Maryland featured, and true freshman Jeshaun Jones had a lot to do with that. He ended up scoring three touchdowns on his very first three touches as a collegiate athlete, scoring them three different ways.
Buckeyes just fine sans Urban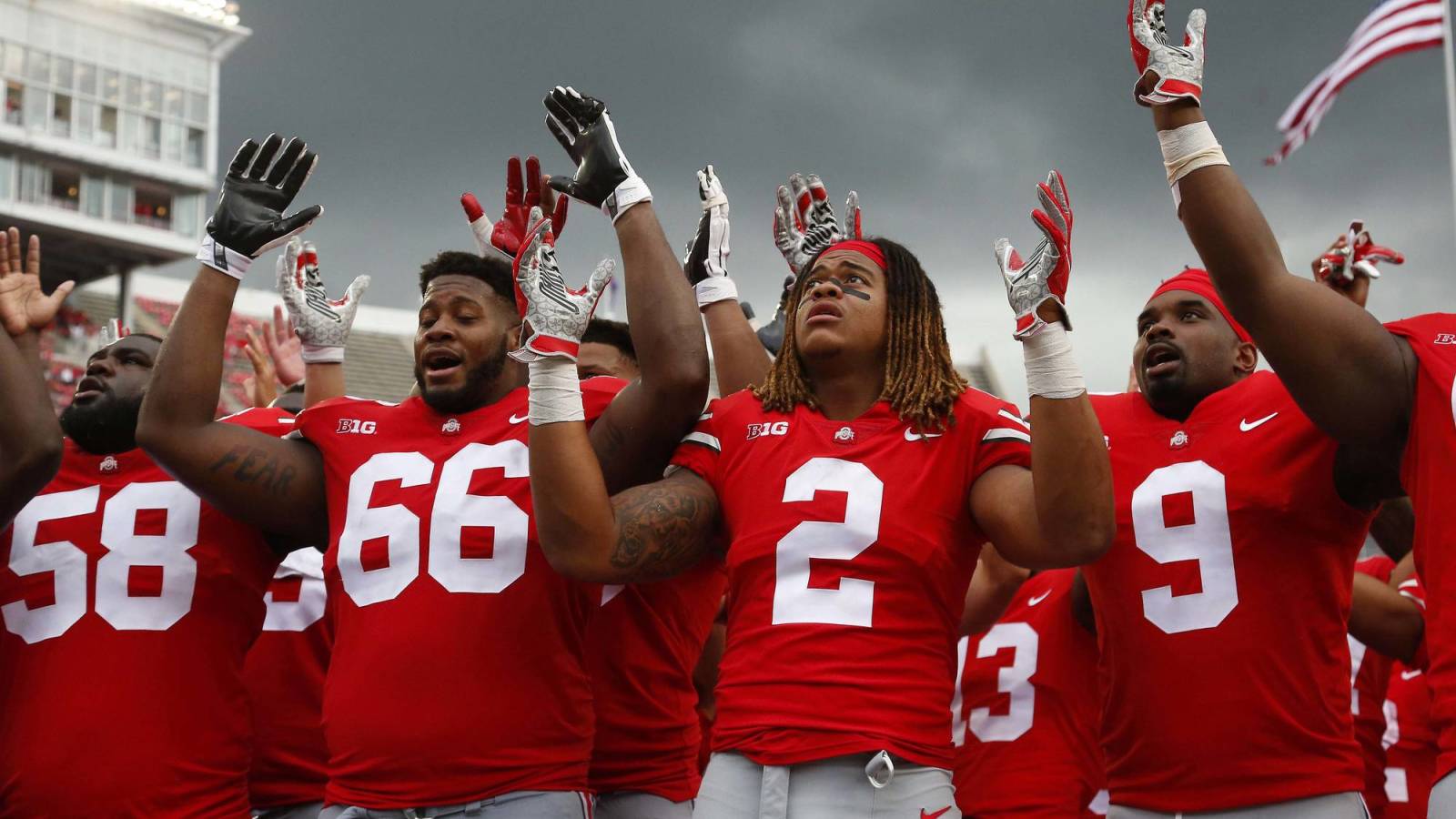 Sep 1, 2018; Columbus, OH, USA; Ohio State Buckeyes offensive lineman Joshua Alabi (58), and offensive lineman Malcolm Pridgeon (66) and defensive end Chase Young (2) and defensive end Jashon Cornell (9) following the game against the Oregon State Beavers at Ohio Stadium.  Joe Maiorana-USA TODAY Sports
No Urban Meyer? No problem for the Ohio State Buckeyes.
Listen, we all knew that Oregon State wasn't going to put up much resistance against the Buckeyes. From a pure talent point of view, these two programs aren't even in the same galaxy. Yet it was still a challenge for Ryan Day, the rest of the coaches on the staff and for the players themselves to play their best despite what's been a hellish past month for the program.
The Buckeyes put on an offensive clinic, scoring 10 touchdowns against the Beavers. Nick Bosa and his defensive teammates did plenty of damage on that side of the ball, too. TCU looms large in a couple weeks, but for now it's safe to say the program is going to get through Meyer's three-game suspension just fine.
Jarrett Stidham remarkably steady in Auburn's huge win over Washington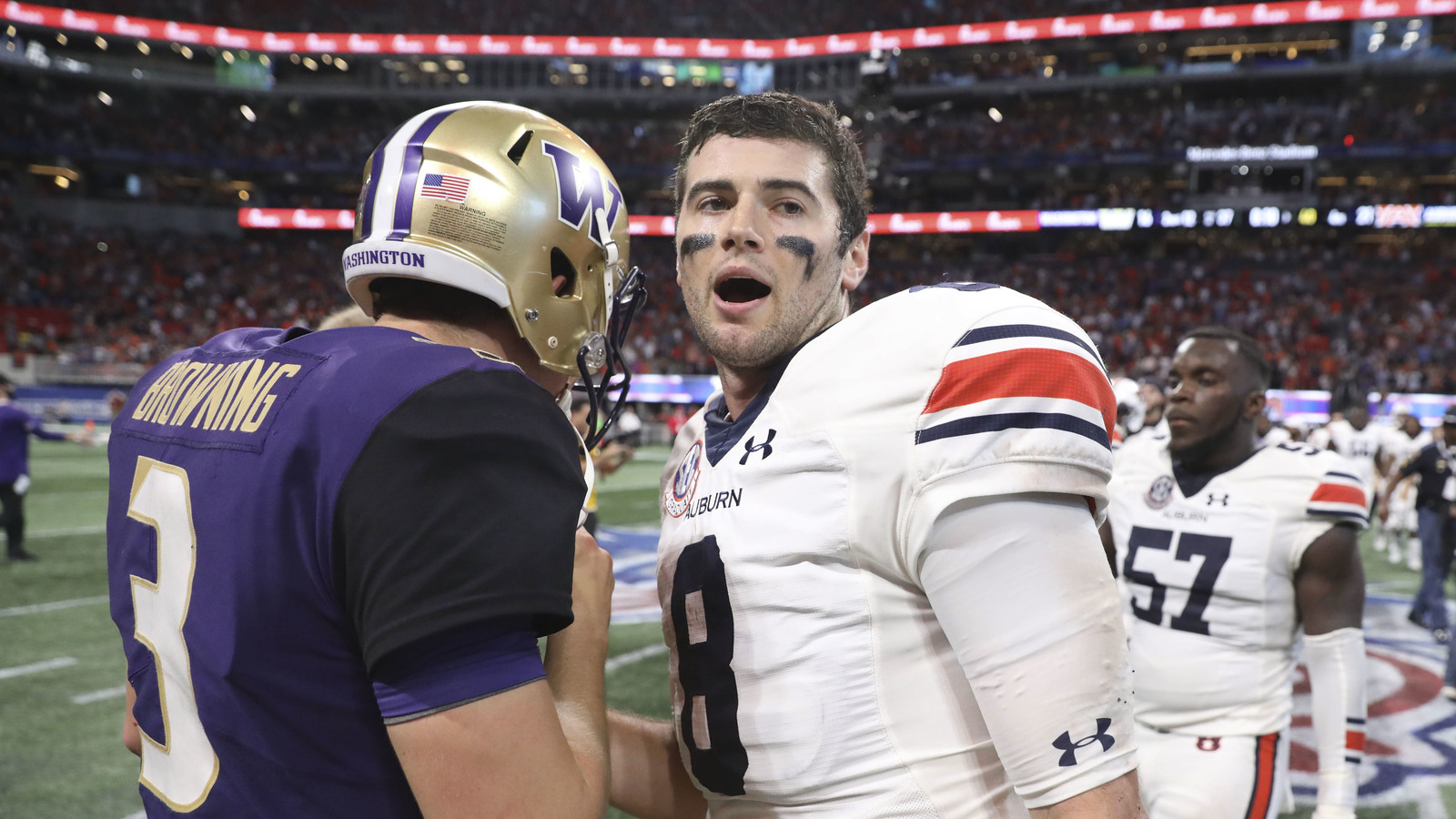 Sep 1, 2018; Atlanta, GA, USA; Auburn Tigers quarterback Jarrett Stidham (8) greets Washington Huskies quarterback Jake Browning (3) after their game at Mercedes-Benz Stadium. Jason Getz-USA TODAY Sports
Trace McSorley couldn't have picked a better time to shine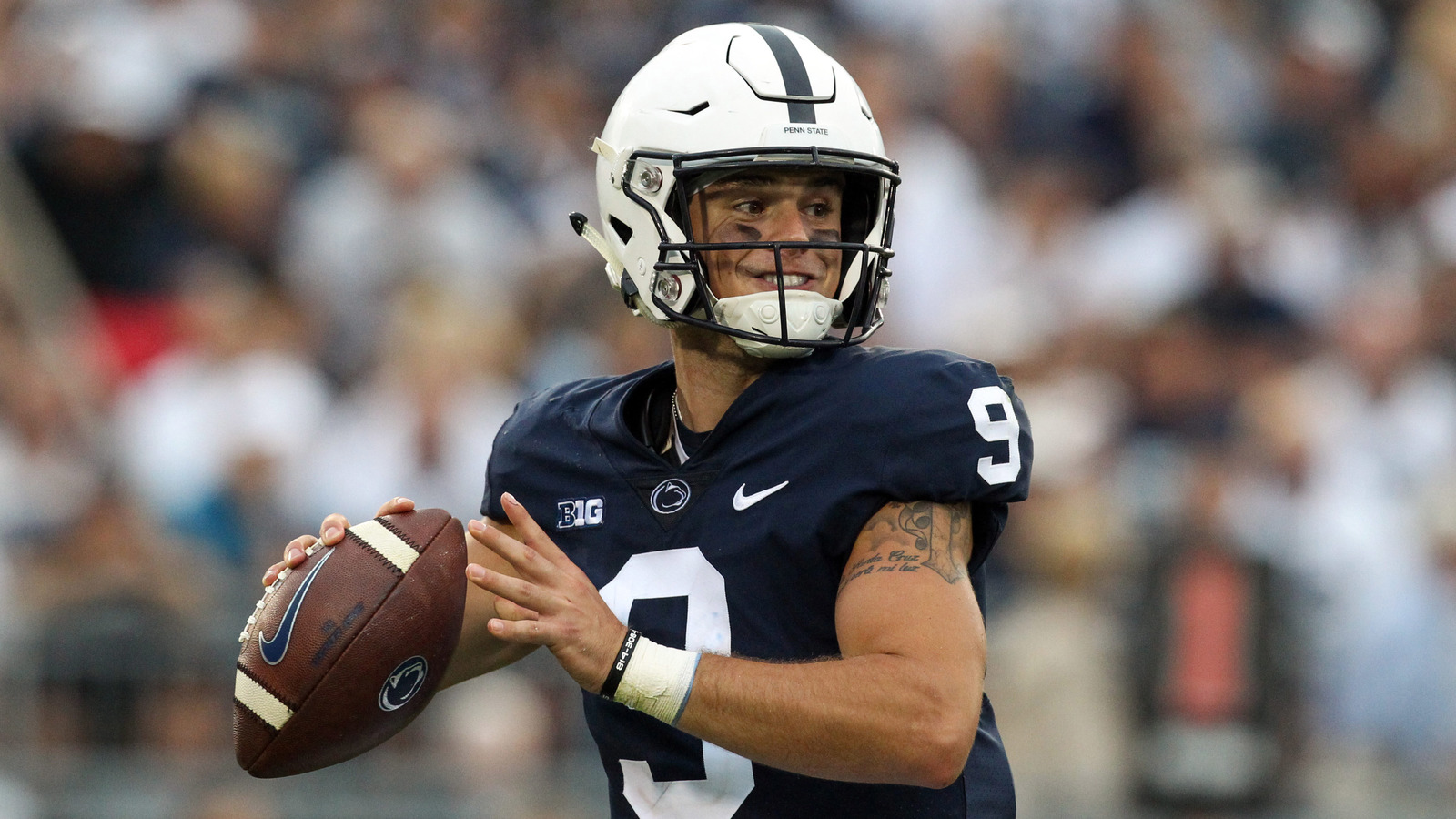 Sep 1, 2018; University Park, PA, USA; Penn State Nittany Lions quarterback Trace McSorley (9) looks to throw a pass during the fourth quarter against the Appalachian State Mountaineers at Beaver Stadium. Penn State defeated Appalachian State 45-38 in overtime. Matthew O'Haren-USA TODAY Sports
The Penn State faithful were nearly subject to a monumental upset at Happy Valley Saturday afternoon. Appalachian State put up a heck of a fight and had the lead, 38-31, with under two minutes remaining in regulation time after Jalin Moore ran it in from 16 yards out.
As we've seen from Trace McSorley in the past, however, he summoned up the hero gene he possesses and led the Nittany Lions on a seven-play, 48-yard touchdown-scoring drive, capping it off with his only passing touchdown of the game — a 15-yard strike to KJ Hamler that he threw while under some intense pressure.
All told, McSorley finished with 288 total yards and three touchdowns in the 45-38 overtime win.
Will Grier picking right back up where he left off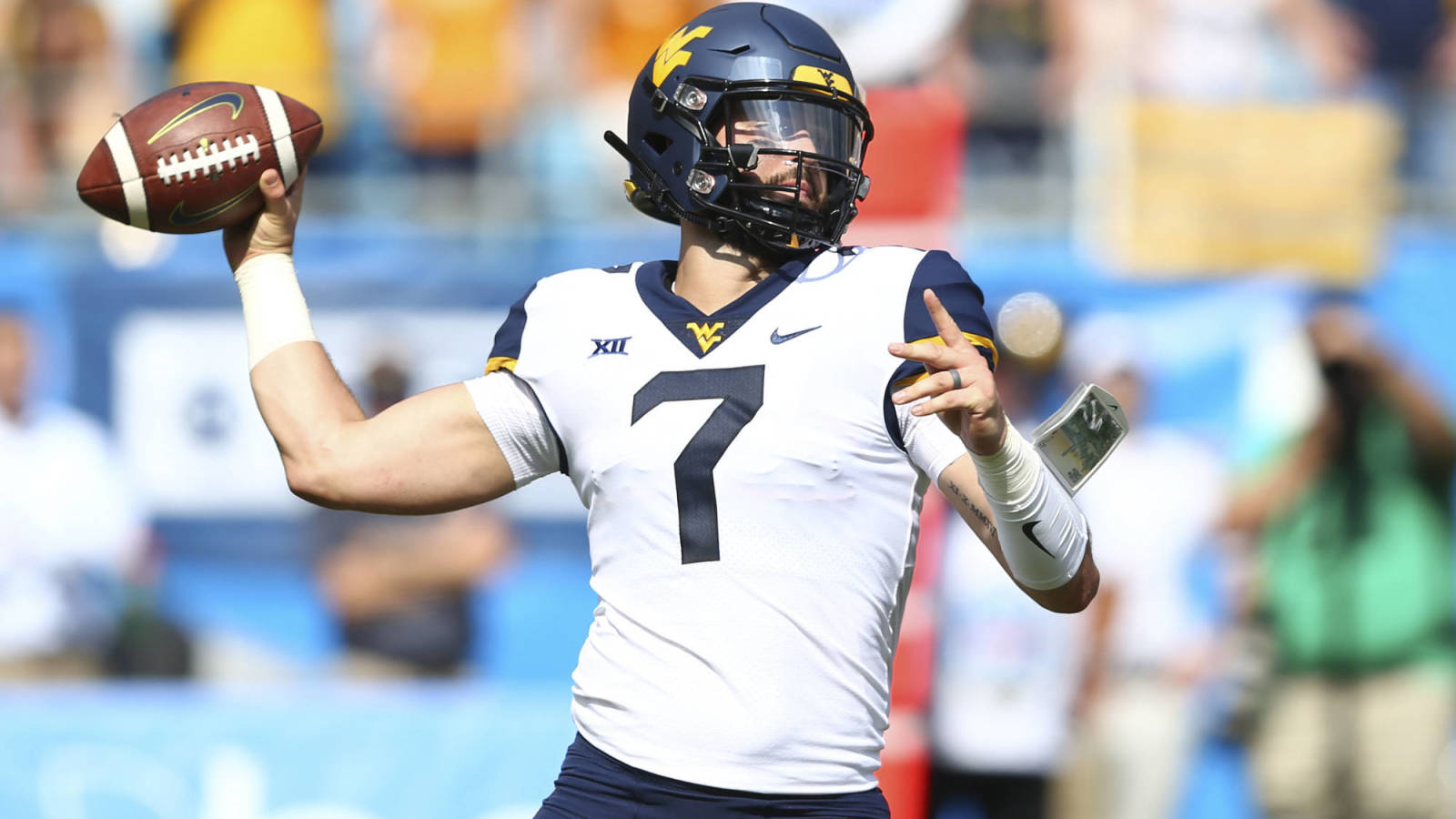 Sep 1, 2018; Charlotte, NC, USA; West Virginia Mountaineers quarterback Will Grier (7) looks to pass the ball in the first quarter against the Tennessee Volunteers at Bank of America Stadium. Jeremy Brevard-USA TODAY Sports
Before suffering the nasty finger injury that cut his season short last year, Will Grier was one of the hottest quarterbacks in the nation.
On Saturday, and on the road against Tennessee, Grier didn't have to knock off much rust. He was just money. Completing 25-of-34 passes, the senior quarterback tallied 429 yards and five touchdowns without turning the ball over once.
Not surprisingly, West Virginia routed Tennessee — easily walking out with a 40-14 victory.
Chip Kelly's UCLA debut didn't go well
September 1, 2018; Pasadena, CA, USA; UCLA Bruins head coach Chip Kelly following the 26-17 loss against the Cincinnati Bearcats at the Rose Bowl.  Gary A. Vasquez-USA TODAY Sports
The Bruins went into Saturday's game against Cincinnati as two-touchdown favorites. Then the game happened, and not a lot went right for Chip Kelly and Co.
Former Michigan quarterback Wilton Speight, who was recently named the starter, was forced out of the game with a back injury. In his stead, true freshman Dorian Thompson-Robinson really struggled with accuracy.
Then Kelly made an unconscionable choice to go for it on fourth-and-1 with well over five minutes left in the fourth quarter, down by two points. Thompson-Robinson was off the mark, and nine plays later that two-point lead turned into nine points after Cincinnati scored.
Just an ugly, ugly first game for Kelly in Pasadena.
Another year, another tepid offense at Michigan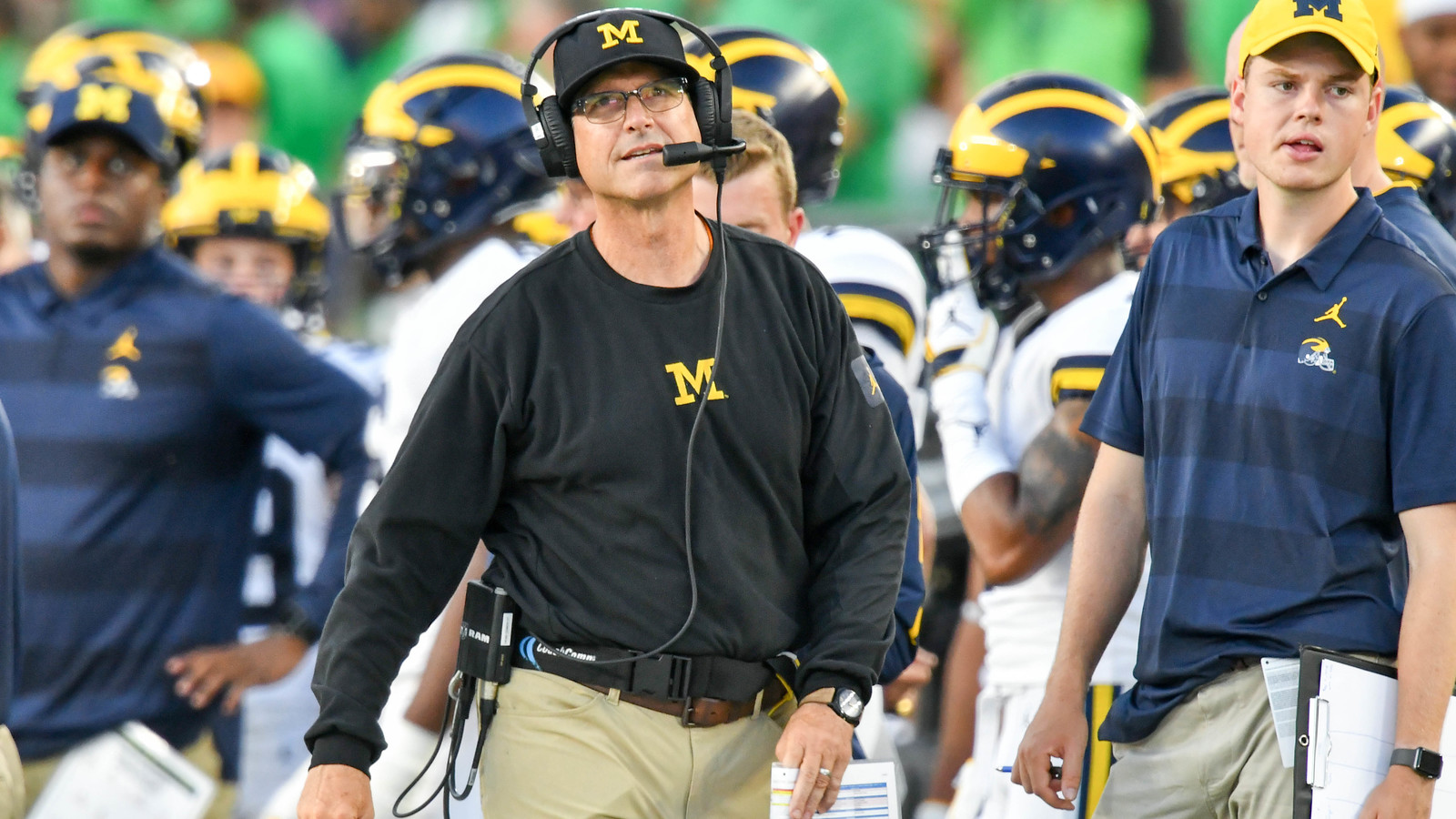 Sep 1, 2018; South Bend, IN, USA; Michigan Wolverines head coach Jim Harbaugh watches from the sideline in the first quarter against the Notre Dame Fighting Irish at Notre Dame Stadium. Matt Cashore-USA TODAY Sports
Maybe Notre Dame really is that good. The Fighting Irish held Michigan to just 10 points of offense (one of the Wolverines' touchdowns came on a kickoff return) and forced two turnovers on Saturday night in South Bend. So there's a chance that the Irish really are going to feature a dominant defense in 2018.
But given the way Michigan's offense has sputtered ever since Jim Harbaugh took over, we're not convinced that's the case.
Shea Patterson was billed as the answer to Harbaugh's quarterback woes. But through one game he looks eerily similar to the quarterbacks Michigan has trotted out there the past few years. The run game never got going Saturday night, either, and the offensive line was a mess.
In short, it looks like the Wolverines are right back where they were at the end of last year with a tepid offense that isn't going to do much damage on the scoreboard.
Keytaon Thompson took full advantage of Nick Fitzgerald's suspension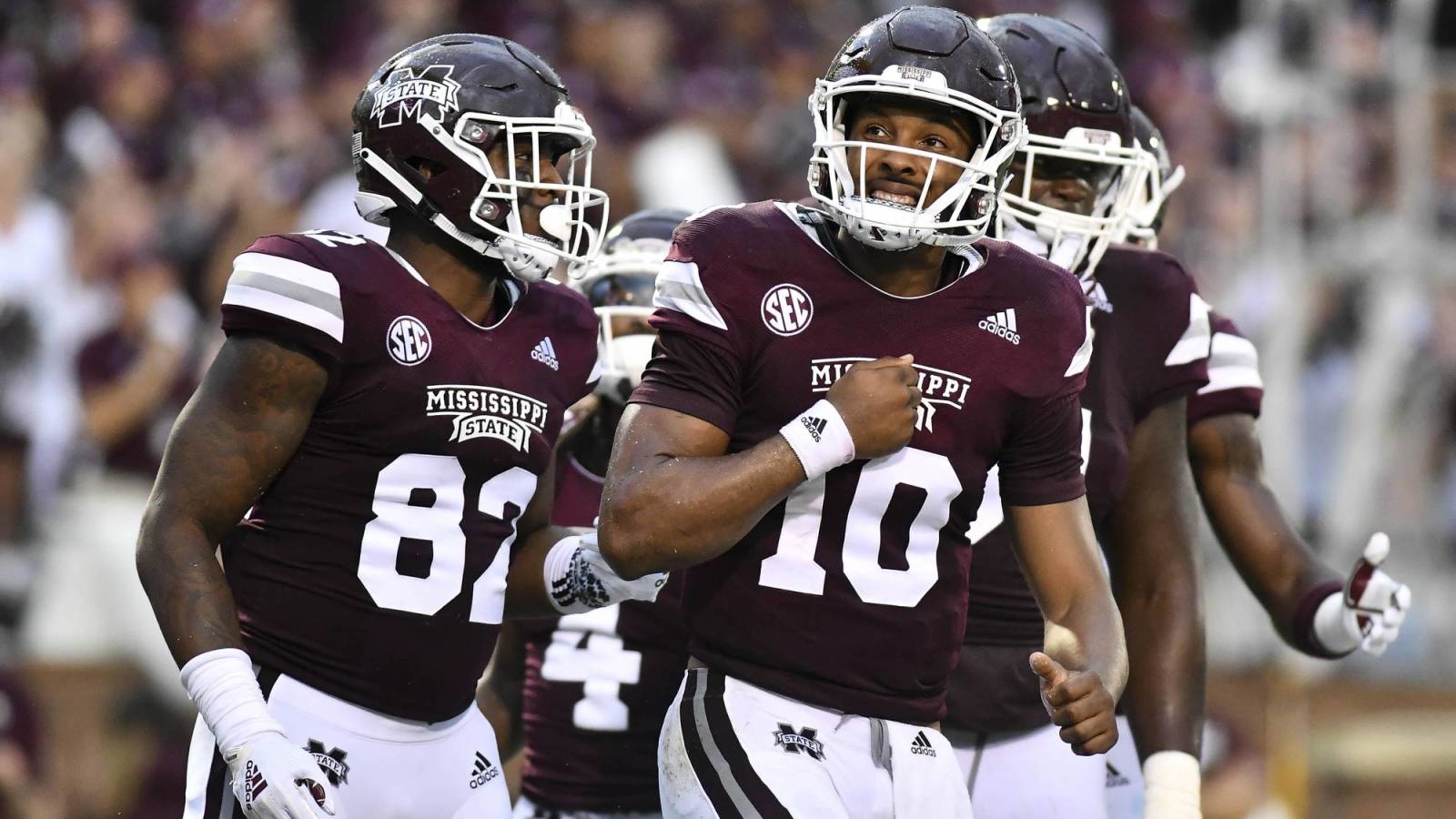 Sep 1, 2018; Starkville, MS, USA; Mississippi State Bulldogs quarterback Keytaon Thompson (10) reacts after a touchdown during the first quarter against the Stephen F. Austin Lumberjacks at Davis Wade Stadium. Matt Bush-USA TODAY Sports
Mississippi State will have Nick Fitzgerald back under center next weekend after he sat out Week 1 on a suspension for violating team rules. But with him out, young Keytaon Thompson gave fans plenty of reason to celebrate — not to mention peace of mind about what the Bulldogs could look like if Fitzgerald is injured at any point this year.
The 19-year-old dual-threat quarterback piled up seven touchdowns in Saturday's game against Stephen F. Austin — five through the air and two on the ground — along with 473 yards to help the Bulldogs romp in a blowout win to open the season.
Tua Tagovailoa is QB1 for Alabama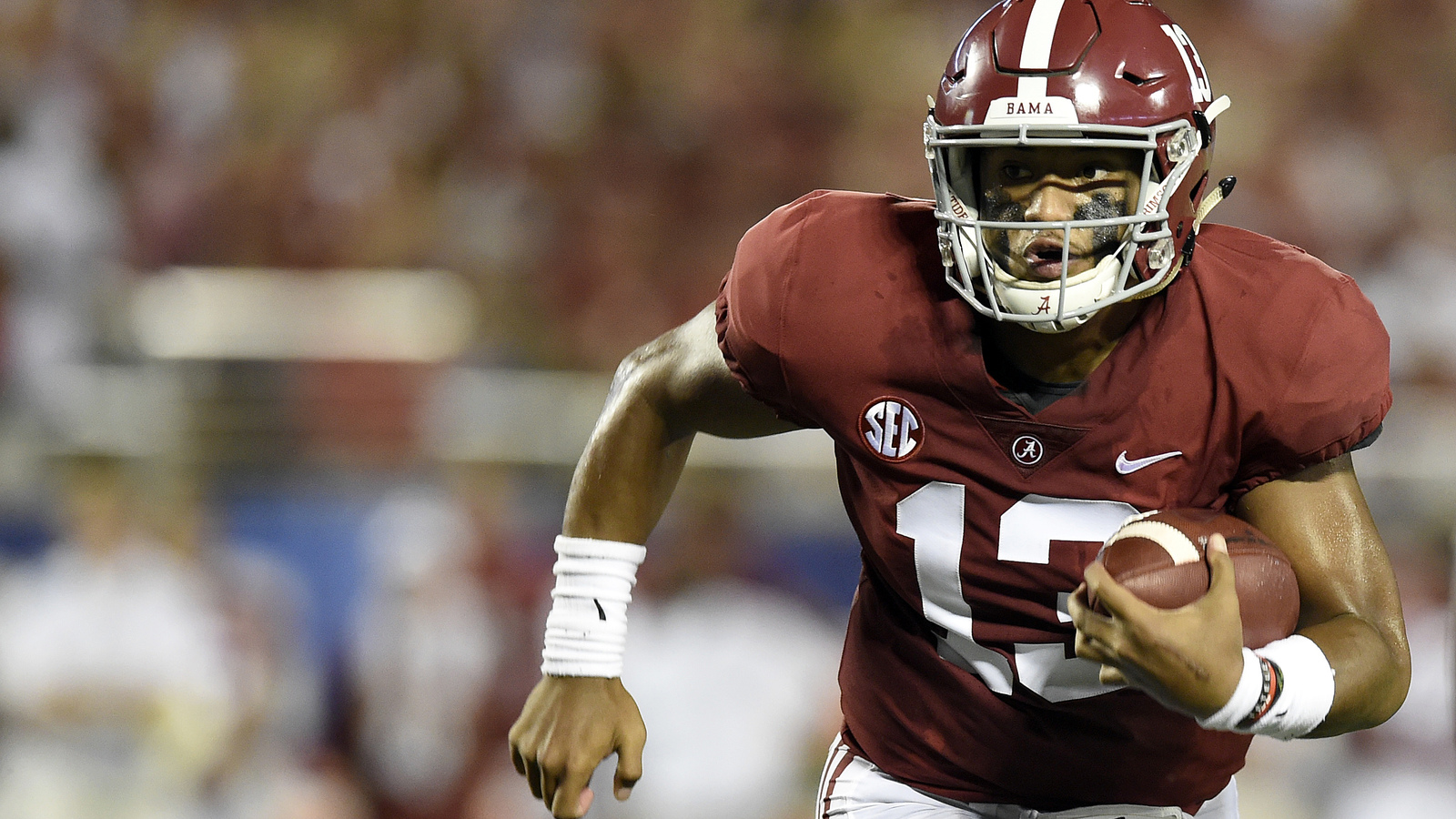 John David Mercer-USA TODAY Sports
One cannot objectively look at what transpired, both in the national championship game and Saturday night against Louisville, and say that Jalen Hurts should start under center for 'Bama.
Tua Tagovailoa is clearly the better quarterback. Both the eyeball test and the statistical results illustrate this point with crystalline clarity. During Saturday's game against the Cardinals, he was electric — completing 12-of-16 passes for 227 yards with two touchdowns while adding 26 yards and a touchdown on five carries.
Hurts, meanwhile, went for 70 yards on 5-of-9 passing and added just three yards on the ground.
The Crimson Tide don't need to see any more. Start Tagovailoa. He's your QB1, and it's not really close.
Related Posts
Comments
No comments made yet. Be the first to submit a comment
You are here:  

Top takeaways from college football Week 1