7 minutes reading time
(1398 words)
What Saban, Alabama players said about new coaches this spring
Alabama welcomed seven new assistant coaches to Tuscaloosa this offseason, and plenty was said about more of them during the Crimson Tide's 15 spring practices from March 8 to April 13.
We didn't hear from any running backs or outside linebackers, so there are no quotes on either Charles Huff or Sal Sunseri, but below is what Nick Saban and Alabama's players said about offensive coordinator Steve Sarkisian, defensive line coach Brian Baker, safeties coach Charles Kelly, offensive line coach Kyle Flood and wide receivers coach Holmon Wiggins in the spring.
STEVE SARKISIAN
Nick Saban: "My experience is the guy did a really good job when he was here. I have a tremendous amount of respect for him for what he did before he came here as an offensive coach. I don't think it's fair to criticize when a guy takes over a job one week before a game and has to go try to implement something because the circumstance we were in. I think if you look at the body of work with the Falcons, they were like sixth in the NFL in offense or whatever so there's got to be some level of expertise to allow them to do that. The players that I talked to there thought he did a really good job and was a good coach. He's, I think, a tremendous asset on our staff and we're very pleased and happy to have him. We had a whole list of people we went through to hire and I feel like we were really, really fortunate to get a guy that was offered the Arizona Cardinals offensive coordinator job to come to Alabama and had a successful stint in the NFL.
"We're going to run our offense do the things that we do. I'm sure that there are some things that they did in Atlanta just like there were some things when Brian Daboll came here that they did in New England that we implemented in the offense and those things were very helpful. We'll do the same thing. If Sark's got things that he thinks are going to be beneficial and fit in with the things that we're doing then we'll implement some of those things. He's got great knowledge and experience and the biggest thing is he's well organized and he's got good relationships with the players and he's a good teacher."
Tua Tagovailoa: "Well, I think you can't really compare all the coaches. you look at it more so as these guys have their own way of coaching, these guys have their own style and you just got to learn to go with it because at the next level it is not always going to be the same person. So, you've got to be able to adjust and you've got to be able to go with it as well. So, they all have different styles. Coach Locksley was one way. Coach Daboll was another way and with the offense we're running now it's different, too. It's just getting used to what they're doing and what they like and going with it.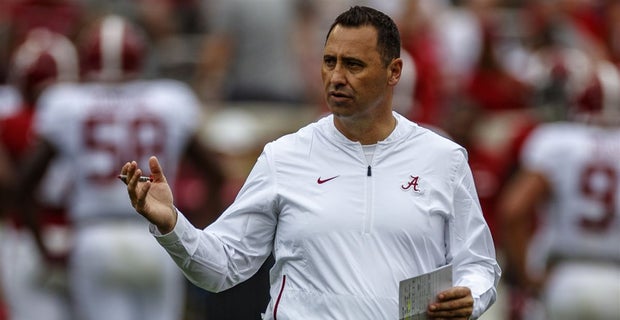 Alabama offensive coordinator Steve Sarkisian (Photo: Stuart McNair, 247Sports)
"It was really good (to see him back). He offered me while he was at USC and USC was my dream school, too. So, I will be forever grateful for that. But just the person he is. He is a good guy. He is a relationship person in the quarterback room with not only with me but everyone in there. It's a really easy learning environment." 
CHARLES KELLY
Nick Saban: "Charles Kelly was a guy that I've oftentimes considered being a coordinator here. I thought Pete did a really good job last year and should be the coordinator, but I also thought that Charles Kelly would be somebody who could do that because he's been in our system with other people, Jeremy at Florida State, Jeremy again at Tennessee. That's like having a coach that's been on our staff in terms of knowledge and experience and terminology. I just thought he was the best coach, best recruiter.
"I thought it was really really important that he's an Alabama guy. When I say Alabama guy, he's coached in this state, people in his family coached in this state. He knows the high school coaches in the state. I really felt like last year's staff we really didn't have that connection with some of those local folks like we've had in the past. I thought it was important to get somebody on our staff that had great relationships with a lot of people in our state. He checks all those boxes really well and is a great person and has done a really, really good job."
Xavier McKinney: "He's a great guy, a great coach. He helps me with a lot of stuff. He's actually made me a lot better, even with the little time that he's been here. It's always the little things that he teaches me that it kind of sticks with me and helps me out on the field. .. Yesterday, we were watching film and he was just talking about me coming out of my breaks and not being wide because when your hands go wide your feet go wide. That's just kind of the little things he tells me about to get me better." 
HOLMON WIGGINS
Jerry Jeudy: "He's a very good coach. He's already taught me a lot of things. So, like I said, It's always great to have a new coach, because they can teach you new things that you never knew before. ... You know you'd like to have the same receivers coach, but at the same time, I don't take it as anything. I just take it as, 'OK, it can help me just get better.' They'll coach you different. So what coach (Josh Gattis) taught me last year, a new coach can teach me something different that I can put into my game to make me better."
Henry Ruggs III: "Wiggins is a guy that the whole group clicked with right off the bat. We got a good relationship with him right off the bat. He called meetings early before workouts and things like that just to build relationships and watch a little film and get to know the playbook. Like I said, that developed the relationship. We already had good relationships within the receivers because we didn't lose much. With a new coach and a new system, you have to build that relationship and trust each other before you can go into practice and that's what we did."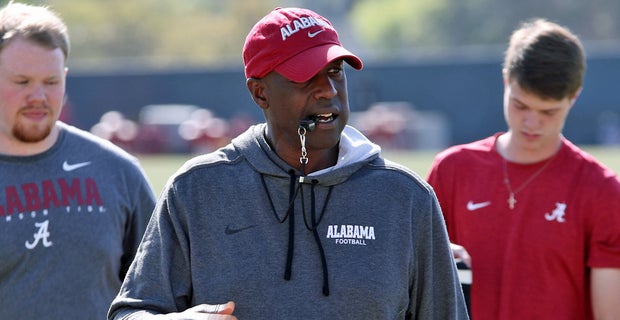 Alabama defensive line coach Brian Baker (Photo: Denon McMillan, 247Sports)
DeVonta Smith: "It's been great. Just the way he teaches, and how he teaches us on being physical and everything. That's what it comes down to, being physical." 
KYLE FLOOD
Jedrick Wills: "He's a really good coach, as well as Coach Key was as well. He's a great teacher, knows a lot about the game, a whole lot of experience. Just trying to feed off him as much as we can. ... Definitely a great learning experience. His knowledge of the game and how long he's been in it, and especially being at a high level in the NFL. I think it's something to advance our game. … I'd heard (his name) before with him being with the Atlanta Falcons offensive line, but he has some good accolades that came along with him. I'm really excited." 
BRIAN BAKER
Raekwon Davis: "He's a great coach, tremendously great coach. His technique is unbelievable, the things he helps us do. He pushes us, motivates us. He sets a high standard for us. There's no lolly-gagging about nothing with Coach Baker."
SAL SUNSERI
Nick Saban: "(Eyabi Anoma)'s doing a good job. He's working hard. He's learning a lot. I think he's responding very well to Sal with Sal coaching him. He's doing much better in school. Being responsible and trying to do the right things and respond to people the right way. He's certainly making a very positive contribution to the defense. I certainly think that's our expectation for him and if he continues this way I'm sure he's going to make a huge impact."
Contact Charlie Potter by 247Sports' personal messaging or on Twitter (@Charlie_Potter).
*** Take advantage of 30% OFF our Annual VIP Pass for the first year ***
Related Posts
No response for this article yet.