There's a little downtime in the NFL before training camps kick off next month. Although numerous roster decisions must be made leading up to Week 1 of the 2018 season, each team's foundation is, by comparison, easier to infer.
Given circumstances being what they are, imagine this dream scenario: All 32 franchises pluck one player from any era in their team's history to give themselves a jolt in their quest to make a deep playoff run—perhaps even hoist the Lombardi Trophy in Super Bowl LIII.
Read on to find out which superstars made the cut in this edition. Bear in mind, current two-deep depth charts (h/t
Ourlads.com
) were taken into heavy account, along with the style of play of the modern NFL, which has seen a heavier emphasis on the passing game.
Los Angeles Chargers: LaDainian Tomlinson, RB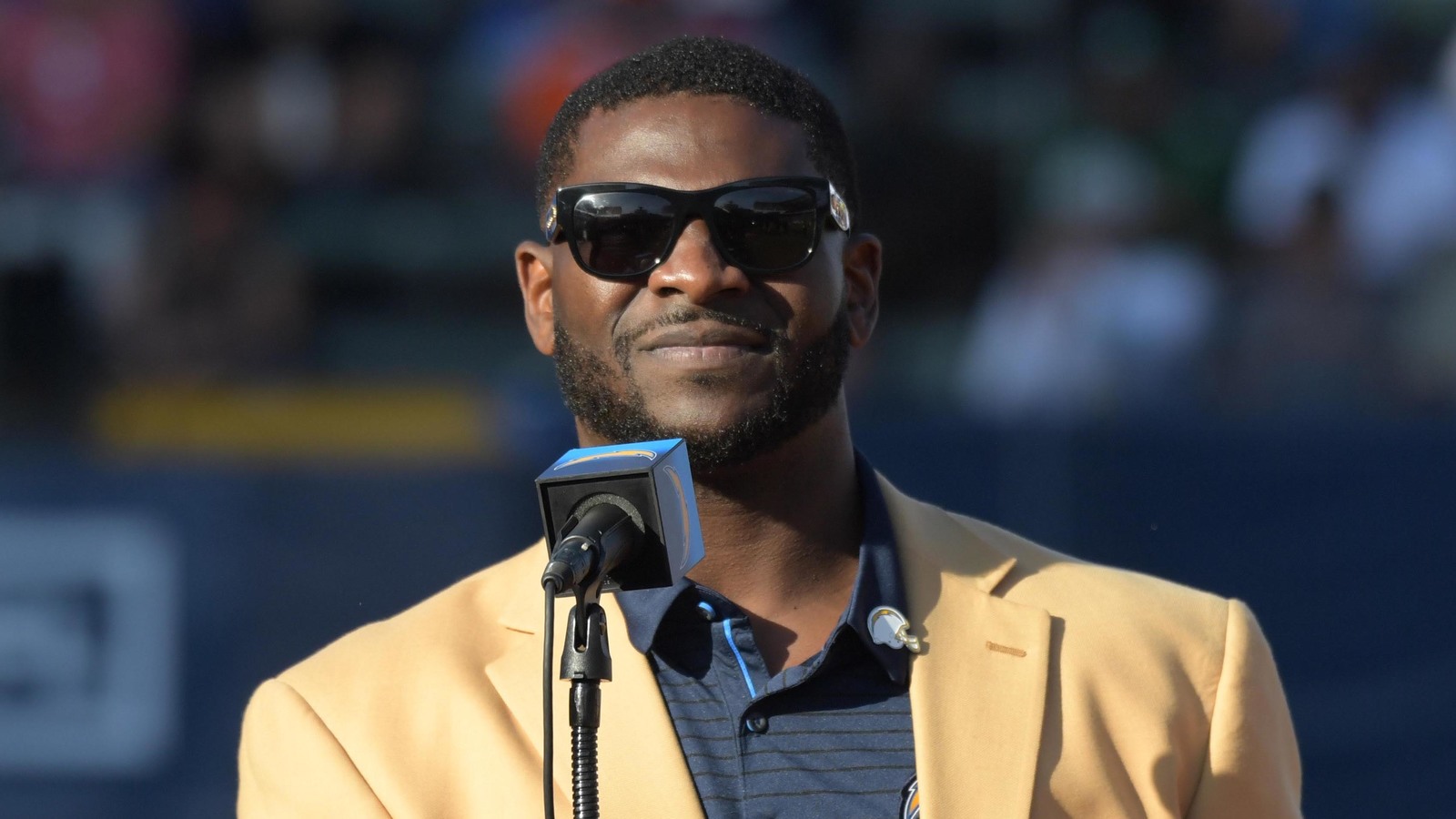 Kirby Lee-USA TODAY Sports
"LT" ran for at least 10 touchdowns in each of his nine seasons with the Chargers in San Diego. In 2003 he accounted for 100 receptions and still had the juice to average 5.3 yards per carry as a runner. However, 2006 was truly special, as Tomlinson set the NFL record for single-season rushing TDs with 28—not to mention, he had three receiving scores and threw for another two.
Yes, it's safe to say Tomlinson would be of some help to the current core of Chargers. Still the same gun-slinging sheriff under center in Philip Rivers, but equipped with a superior defense led by edge-rushers Joey Bosa and Melvin Ingram, the latest franchise to return to Los Angeles is primed for a monster 2018 campaign.
The division seems open for the taking for a team that's made the playoffs only once since Tomlinson left in 2009. Although former first-round pick Melvin Gordon capably spearheads the backfield at the moment, imagine what "LT" and Gordon could do as a duo with Rivers likely putting up another 4,000-yard campaign, which he's done in nine of the past 10 seasons.
Denver Broncos: Shannon Sharpe, TE
It seems like Sharpe is still such a strong presence around football since he's served as a TV analyst for CBS and now Fox Sports 1. On the receiving end of countless passes thrown by current Broncos GM and legendary signal-caller John Elway, Sharpe carved out an exceptional career and helped revolutionize his position due to his pass-catching prowess. He managed three 1,000-yard receiving seasons in Denver and helped the team to two Super Bowl titles, winning a third championship as one of the few playmakers on a 2000 Baltimore Ravens team known for its legendary defense.
So how would Sharpe fit in on today's Broncos? He'd be an excellent security blanket for newly acquired QB Case Keenum. After a breakout season last year for the Minnesota Vikings, Keenum has been handed the keys to Denver's offense by Elway. It likely won't be easy, though, as Keenum inherits a receiving corps of dubious depth, featuring the dynamic Demaryius Thomas and Emmanuel Sanders, who's good when healthy but was plagued by injuries this past season, missing four games and playing rather hurt in others.
With Sharpe as a security blanket underneath who can also stretch the field down the seam, Keenum would have a superior version of what he had in Vikings Pro Bowler Kyle Rudolph, which would ease his transition into a new system and not put as much pressure on the Broncos' strong defense.
Kansas City Chiefs: Derrick Thomas, LB
With cannon-armed wunderkind Patrick Mahomes taking the reins as Kansas City's hopeful franchise QB, it was tempting to deploy Hall of Fame guard Will Shields to shore up the offensive line. If not for the presence of Travis Kelce as arguably the best tight end in the game, Tony Gonzalez may have been in this slot. However, the nod goes to Thomas due to the Chiefs' current makeup and the aforementioned premium placed on the passing game in today's NFL.
Thomas was a havoc-wreaker extraordinaire when it came to getting after the opposing passer, registering a career-high 20 sacks in 1990. He wound up with 126.5 sacks overall and also forced 41 fumbles across 11 seasons, and returned four fumbles for TDs.
An ideal fit for KC's current 3-4 alignment, Thomas would be able to scream in off the edge lined up opposite Justin Houston, who broke Thomas' franchise record for sacks in a single season when he had 22 in 2014. That would help offset the loss of stud cornerback Marcus Peters on the back end. The secondary will also return All-Pro safety Eric Berry, whose leadership will go a long way in preventing chunk plays.
Oakland Raiders: Bo Jackson, RB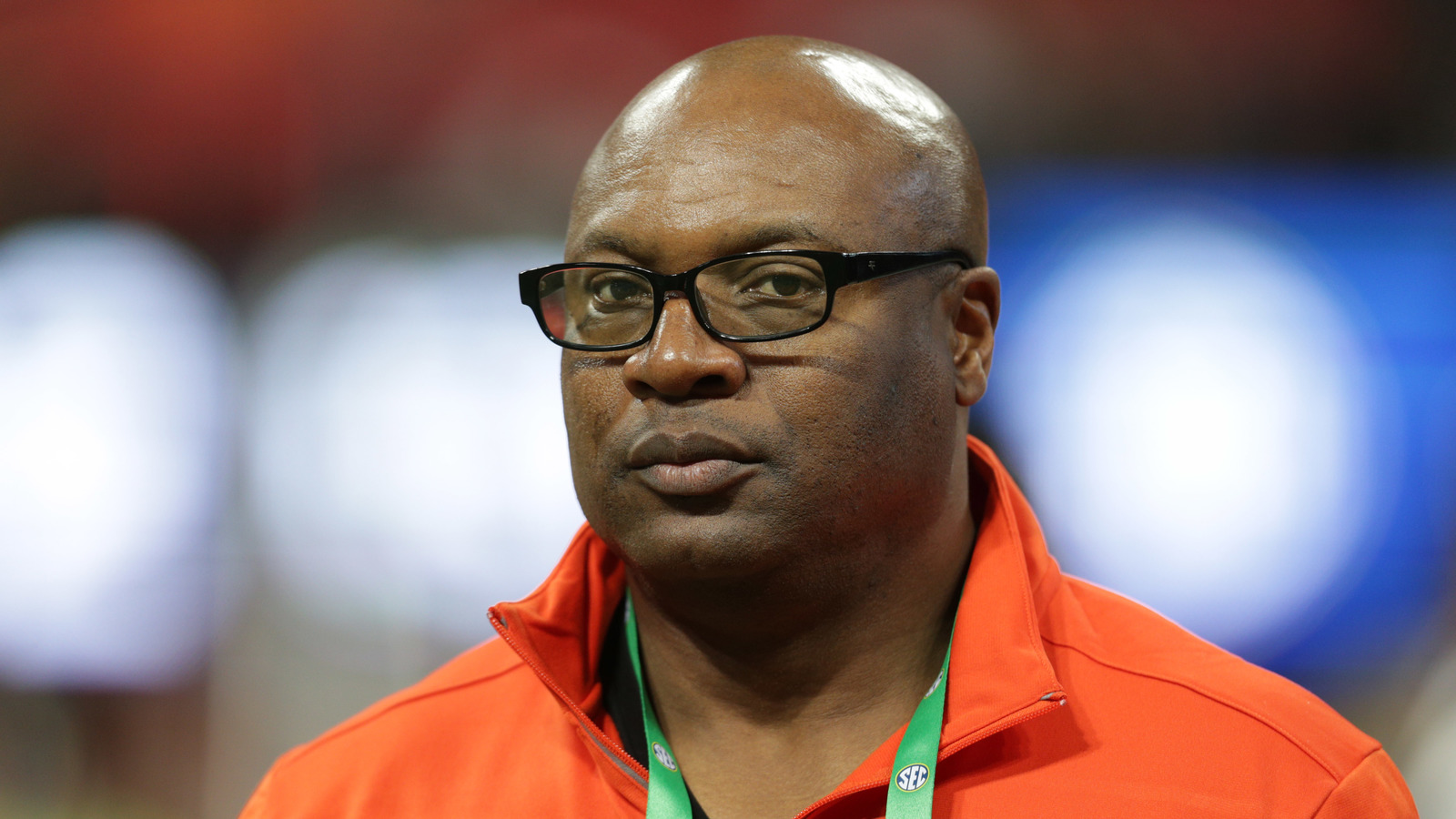 Marvin Gentry-USA TODAY Sports
After almost two decades away from the franchise, head coach Jon Gruden has made a triumphant return to Oakland for a second stint at the helm. How an old-school, no-nonsense approach will translate to the contemporary, more player-friendly culture of the NFL remains to be seen. One thing Gruden wouldn't have to worry about coaching would be Jackson's freakish athleticism, which translated to a
self-professed 40-yard dash time of 4.13 seconds
. Um, wow.
Imagine if Jackson had access to the modern training regimens players follow now. Imagine if he could be convinced to just focus on football rather than also becoming an MLB All-Star. What makes Bo so fascinating is the number of variables involved in his case in particular. A hip injury cut his career short after only four NFL seasons, but in that span he averaged 5.4 yards per carry and had 92-, 91- and 88-yard touchdown runs. Talk about home-run ability. Speaking of which, in 1989, when he scampered for 950 yards on the gridiron, he still managed to club 32 dingers and 105 RBI for the Kansas City Royals.
The Raiders have aged their roster, with Gruden preferring veterans who've gotten it done in the league before over an influx of young, unproven talent. Whatever lack of athleticism and explosiveness Oakland has as it stands in 2018 would be immediately rectified by Jackson's presence. Derek Carr is a nice option to lead the charge in the passing game, but the backfield is made up of an aging Marshawn Lynch and the consistently inconsistent Doug Martin. Jackson would allow the Raiders to move on from one of those players and supply the impassioned Silver and Black fanbase with a superstar to rally around.
Cleveland Browns: Bernie Kosar, QB
That infamous Browns quarterback jersey that listed all the washed-out starters since the team returned in 1999 is
no longer a thing
, yet the damage is still there. Reigning Heisman Trophy winner Baker Mayfield was the No. 1 overall pick in the 2018 draft, but Tyrod Taylor is Cleveland's starting QB for now this season.
Taylor and Mayfield are undersized but can extend plays with their feet, deliver the ball accurately and have sneaky strong arms. In terms of helping the team transform into instant winners, though, Kosar would be the man to do the job. He has superior size to Taylor and Mayfield (listed at 6'5", 210 pounds) with a big arm, a high football acumen and three playoff wins under his belt.
Granted, it took Kosar a full season before he really hit his stride in the NFL. Having said that, he was Cleveland's best thrower since Otto Graham. One can't help but fantasize about what he could do from the jump with a top-flight freakazoid in Josh Gordon as his go-to target on the outside, Jarvis Landry as a prolific possession receiver and David Njoku making crazy catches from the tight end spot. Not to mention, Cleveland's backfield triumvirate of Carlos Hyde, Duke Johnson and rookie Nick Chubb would provide plenty of balance to a Kosar-led aerial attack.
Cincinnati Bengals: Chad Johnson, WR
One of the most eccentric personalities ever to grace professional football, "Ocho Cinco" is in a class of his own in that regard. Only Johnson could think to wear a mockup Hall of Fame jacket after scoring a touchdown. His antics would be a sharp contrast to Cincinnati's current pass-catching superstar in A.J. Green but would also supply the Bengals with a desperately needed playmaker opposite their All-Pro receiver.
Johnson had some of the quickest feet and superior route-running ability matched by virtually no one in his era. Cincinnati has enjoyed a relative amount of success since Johnson's time with the team ended in 2010, but emphasis on the word "relative."
Coach Marvin Lewis is still employed despite missing the playoffs the past two years and getting bounced as a one-and-done in each of the previous five postseasons. Andy Dalton has been a solid but at times unspectacular presence under center whose playoff passer rating is an abominable 57.8. With someone like Johnson to light a fire under his teammates on both sides of the ball and help push a gifted young defensive backfield in team practices, the Bengals could soar to new heights in 2018 and perhaps get over the hump in the first round of the playoffs.
Pittsburgh Steelers: "Mean" Joe Greene, DT
I'd listen to an argument for defensive backs here, as Rod Woodson and Troy Polamalu were strongly considered before Greene got the upper hand. The Steelers secondary was a top-five pass defense last season, though, and Joe Haden is a good-enough No. 1 corner to justify going with the man who anchored the "Steel Curtain" defenses of the 1970s.
Greene was instrumental to three Pittsburgh championships during that defining decade. He's basically the original Aaron Donald. But what made Greene special was his classy demeanor, his emphasis on team and his frequent praising of teammates, downplaying his impact whenever he could, despite being the invaluable centerpiece and engine that made his defenses so special.
Today's Steelers have arguably the best QB-RB-WR trio in the game between Ben Roethlisberger, Le'Veon Bell and Antonio Brown respectively. Plugging in Greene either as a 3-4 defensive end or even as a quick-twitch nose tackle would strengthen Pittsburgh's python-esque grip on the AFC North division, which the team has won three of the past four years. Greene would certainly improve the Steelers' chances of taking home their first Super Bowl since the 2008 season.
Baltimore Ravens: Ray Lewis, LB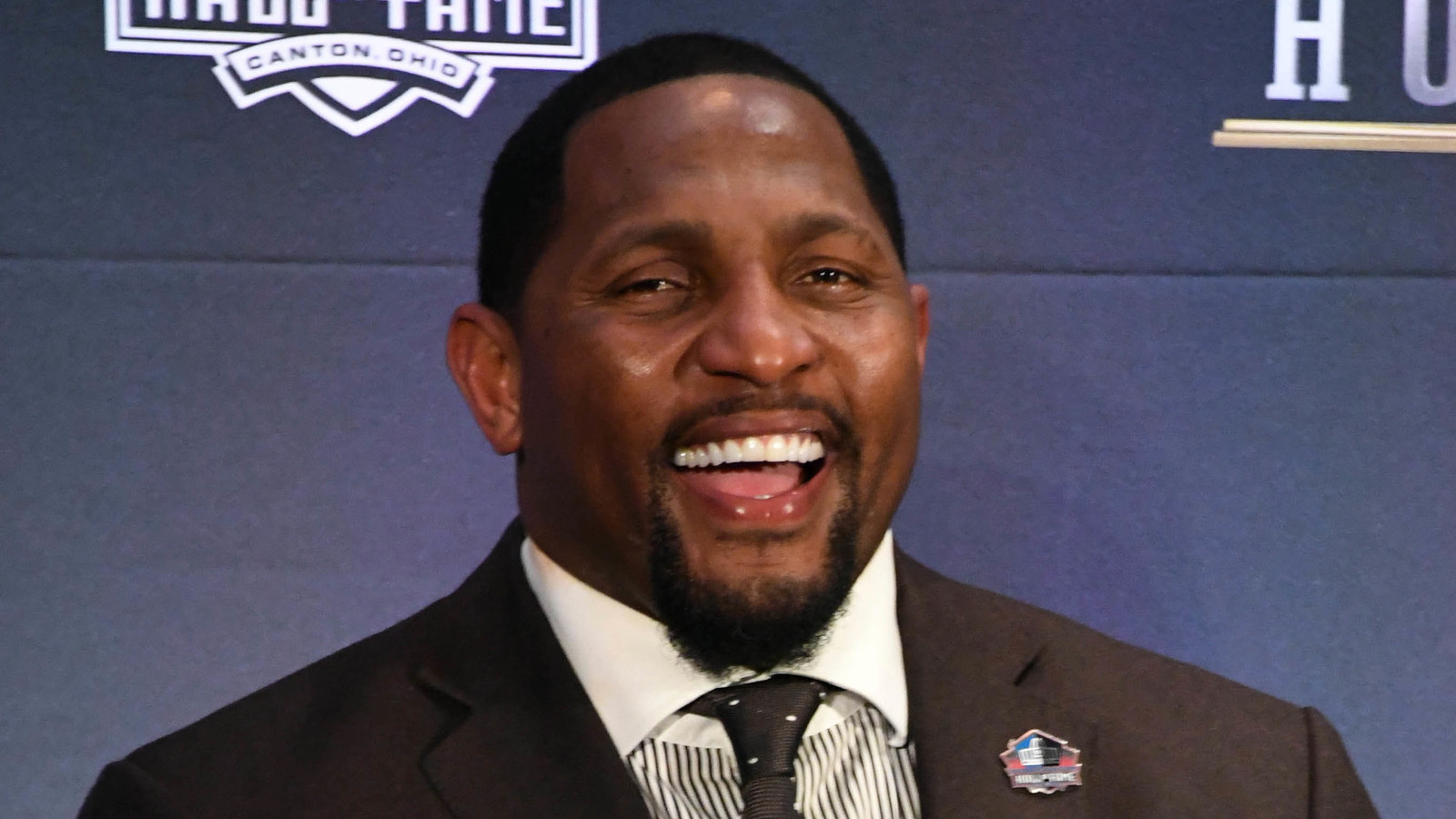 Kirby Lee-USA TODAY Sports
So much success in the NFL is determined by a culture. Lewis' hyper-competitive streak and relentless attitude held his teammates to a high standard and ultimately translated to nine playoff berths and two Super Bowl titles in his last 13 seasons. And that was without so much as one franchise quarterback to speak of.
That QB, Joe Flacco, is soon to be supplanted by first-round pick Lamar Jackson. "Joe Cool" has lived up to his moniker in a bad way since his magical playoff run that culminated in a Super Bowl XLVII triumph. Flacco has always been soft-spoken and never had to lead so much with players like Lewis and Terrell Suggs taking care of that.
With Lewis gone and Suggs in the twilight of his playing days, Baltimore has just one playoff appearance since 2012. It could use Lewis back in the heart of the defense, but also in the locker room to give these Ravens another veteran leader who can rally the troops and back it up with elite play on the field.
New England Patriots: Randy Moss, WR
Not exactly the subtlest player in NFL history, Moss attracted his fair share of negative attention for his behavior on and off the field, especially during the early part of his career. Whether it was seeing his draft stock plummet coming out of Marshall, "mooning" Green Bay Packers fans after a touchdown in the 2005 playoffs, or sulking in an unproductive stretch of his prime with the Raiders, there's no denying Moss deserved some of the flak he caught.
To his credit, though, one of the most talented, dynamic playmakers in NFL history got down to business when he was traded to the Patriots ahead of the 2007 campaign. Evidently it didn't take him long to buy in to New England's program, including its complex offense, led by arguably the best QB ever in Tom Brady, whose presence has rendered the rest of the division's competition mostly irrelevant for about a decade and a half now.
Moss hauled in 23 touchdowns during the Patriots' undefeated 2007 regular season and helped them all the way to the Super Bowl, where they were upset 17-14 by the New York Giants. Brady did throw for 500 yards in the most recent Super Bowl sans Moss, but if "Tom Terrific" could have that 2007 version of Moss again, it almost wouldn't matter what New England did on defense this coming year.
New York Jets: Joe Namath, QB
In late April, USC product Sam Darnold became the fourth signal-caller the Jets have drafted within the first two rounds since 2009. I'm not a big fan of Darnold, but he was widely regarded as the best QB prospect in the 2018 draft class.
Manish Mehta
of the New York Daily News reported last week that Teddy Bridgewater "looks great" and was impressive in the pocket and with decision-making in 11-on-11 drills.
But by all accounts, Bridgewater and Darnold aren't the most vocal leaders. They both present a calm countenance and can win teammates over that way. For my money, in a division that includes Tom Brady, give me more of a fiery leader than either of those guys. Enter "Broadway Joe" Namath.
One of the most captivating players of all-time, Namath had the gall to publicly guarantee a Super Bowl victory as a huge underdog—and proceeded to call
many of the plays
on offense himself and defeat the Johnny Unitas-led Baltimore Colts. A knee injury suffered in college at Alabama limited Namath's mobility. Modern medical advances would have indubitably helped Namath's health and likely his career longevity, not to mention the increased attention paid to nutrition and sophisticated training. Namath was unapologetic about loving the Big Apple nightlife, yet he still wound up as the epitome of a franchise legend. No one can deny Namath's arm talent, and he was throwing for 300 yards in individual games well before it became the norm for even middle-tier quarterbacks. Pay little attention to his 65.5 passer rating, 173-220 TD-INT ratio or his 50.1 completion percentage. Joe Willie's arm talent and swagger would be perfect for today's NFL, and his social media presence would be just as GOAT-status-worthy.
Miami Dolphins: Dan Marino, QB
Since Marino's career ended in 1999, the Dolphins have spent only one first-round pick on a quarterback. That would be Ryan Tannehill, who converted from receiver to QB in college, has had an uneven pro career and missed all of 2017 due to injury.
Miami's lack of investment in the game's most important position, combined with the uncertainty regarding Tannehill's future, makes Marino an obvious candidate to step in for purposes of this article. In only his sophomore season as a pro, the rocket-armed Pittsburgh product threw for over 5,000 yards and 48 scores. Five QBs were drafted ahead of him, albeit two Hall of Famers in the aforementioned Elway and the next man on this list, Jim Kelly. Still, Marino deserved better, and used that chip on his shoulder to propel an epic legacy.
Offensive wizard Adam Gase is the Dolphins' current head coach and would love to have someone like Marino slinging the pigskin around on Sundays. DeVante Parker, Kenny Stills and Danny Amendola provide Gase's passing game with three viable receivers, but one can only dream of what Marino could do with that bunch.
Buffalo Bills: Jim Kelly, QB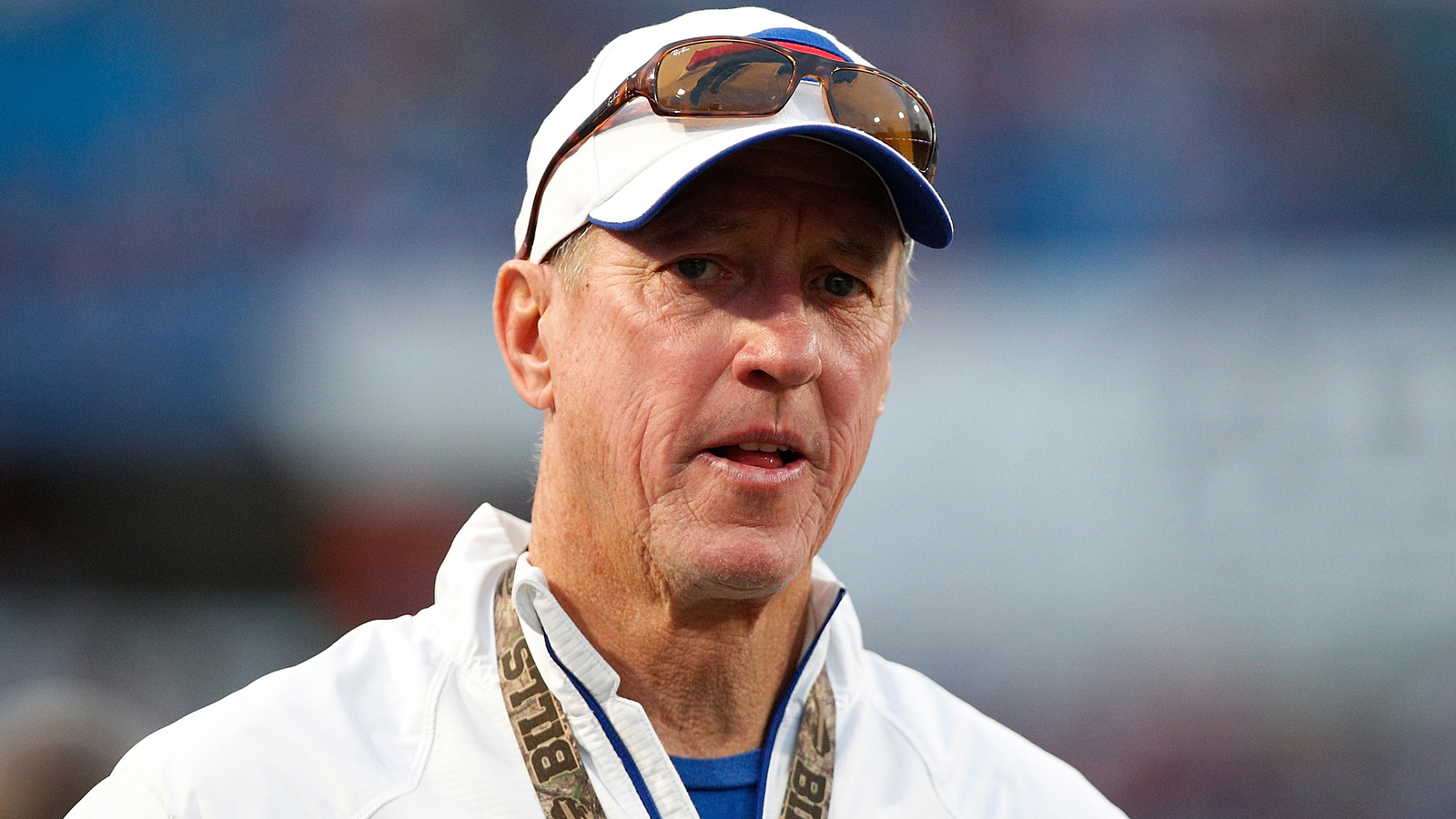 Kevin Hoffman-USA TODAY Sports
The run of passers continues with Kelly getting the nod for Buffalo. If teams have drafted a QB high at all recently, I've tried to avoid filling these spots with field generals, but it's a personal belief thing—or lack thereof—in rookie Josh Allen. He brings to mind more of a Jake Locker type than anyone elite, mainly due to inaccuracy and the to-date inability to stand out in a quarterback room that features Nathan Peterman and AJ McCarron headlining the two-deep depth chart.
Kelly guided the Bills to four consecutive Super Bowl appearances from the 1990 through 1993 seasons. He was on the cutting edge of the no-huddle offense and kept opponents off-balance, largely thanks to his savvy and high football IQ of being able to get everyone organized. Those are precisely the intangibles required to get it done at the highest level, and Kelly had those in spades. Despite never hoisting the Lombardi Trophy, Kelly is clearly the best QB in franchise history, and would be a huge asset to today's club, who may well start one of two former fifth-round picks this year.
Buffalo made the playoffs for the first time since 1999 last year with Tyrod Taylor throwing the ball. The front office proceeded to trade him to Cleveland this offseason. Now it's Peterman, McCarron or the raw Allen. Here's one anecdote to provide Bills fans hope, though: Kelly completed 60.1 percent of his passes in the pros after connecting on 55.6 percent of his passes in college, while Allen posted a 56.2 percent mark at Wyoming.
Jacksonville Jaguars: Mark Brunell, QB
Brunell is a loose definition of a "legend," but there's some leniency here since the Jaguars haven't been in existence all that long. The wily southpaw played just before rules changes allowed QB stats to become inflated, and despite that he still logged an 84.0 passer rating overall—only four-tenths of a point lower than Buffalo's Kelly.
Jacksonville made it to the AFC Championship Game last year with Blake Bortles under center. The team has stubbornly stuck with him through thick and thin, and were rewarded as he played probably the best football of his life during the postseason. But Bortles is far from a sure thing, and has been a turnover machine for much of his young career, with a particular penchant for pick-sixes (12 in four seasons, compared to 14 for Brunell in 13 years as a pro). Brunell became less mobile as his playing days wore on but he could pick up yards with his legs, one of the few areas Bortles offers value. Brunell also posted a better interception percentage than Bortles (2.3 versus 2.9) with a much larger sample size.
One could argue the Jags will still be a championship contender with Bortles piloting the offense. It just seems as though they could really be in the driver's seat for the AFC South in 2018 with a less turnover-prone and proven QB to guide the way, not to mention provide much-needed leadership for a young offense that will continue to lean heavily on bruising ball-carrier Leonard Fournette.
Indianapolis Colts: Gino Marchetti, DE
An easy answer would be Peyton Manning. Didn't want to go too QB-crazy. His favorite target, Marvin Harrison, deserves a mention here as well. But provided Andrew Luck returns to full strength and T.Y. Hilton continues to tear it up, the Colts should be fine on offense. Where they've really been lacking is the defensive side of the ball, and Marchetti is an ideal stand-in.
For an idea of Marchetti's badassery, he
fought
in the Battle of the Bulge in World War II even before he began his college football career. He was a first-team All-Pro from 1956 through 1964 and helped the franchise to two NFL championships in that span. In the first of those title tilts in 1958, even a
fractured ankle
couldn't keep Marchetti from watching on the sidelines rather than seek medical attention in the locker room as he witnessed the rest of Baltimore's victorious charge in "The Greatest Game Ever Played."
Equally adept at defending the run as rushing the passer, Marchetti is one of two Colts defenders to have his number (89) retired. With a relentless motor and toughness that transcended the sport, those intangibles would be such a big boost to a Colts defense that ranked 30th in points and yards allowed in 2017.
Houston Texans: Andre Johnson, WR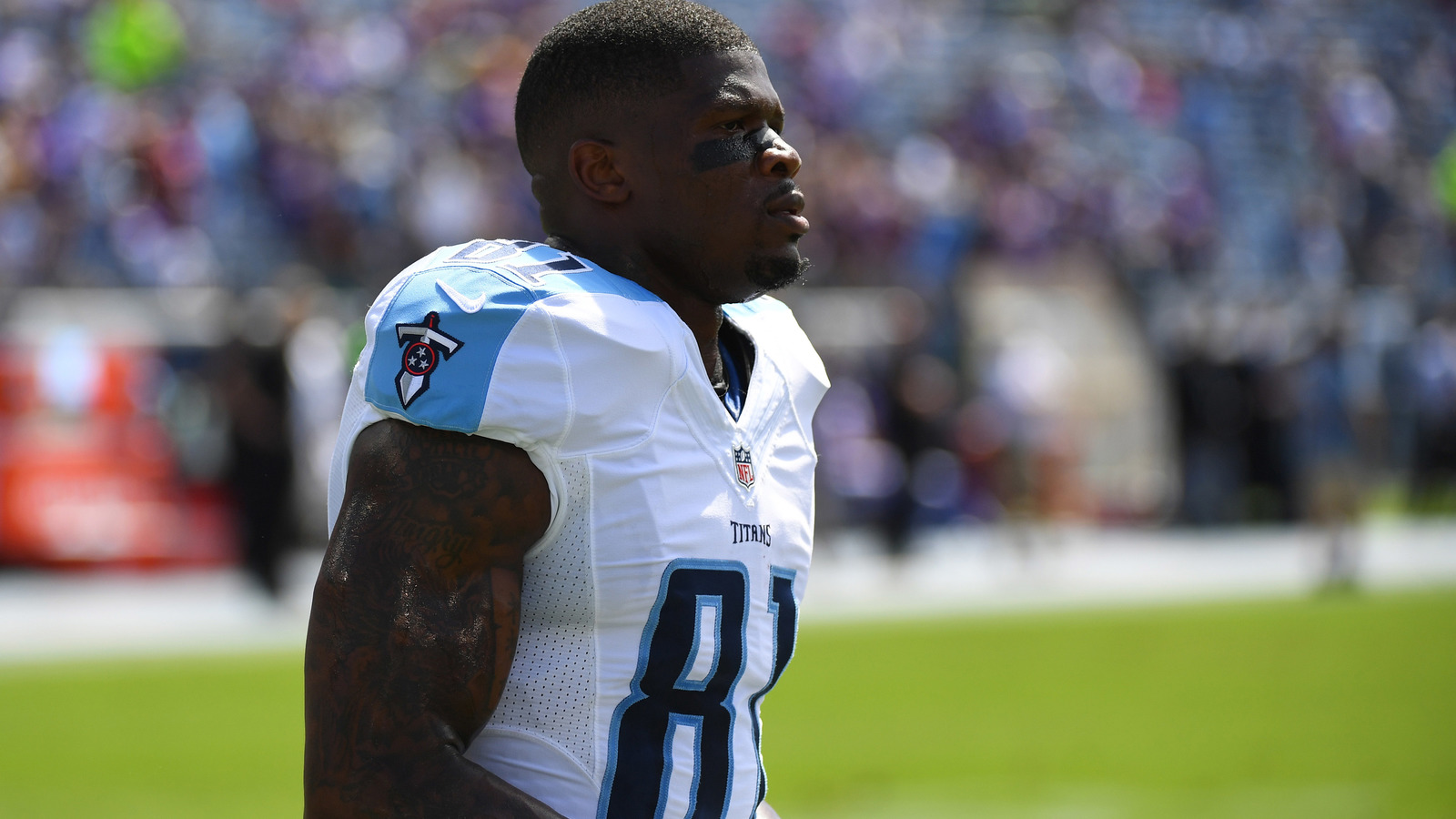 Christopher Hanewinckel-USA TODAY Sports
Before J.J. Watt burst onto the scene as one of the best defensive players ever, Johnson was the face of the young Texans franchise. Drafted fifth overall out of the University of Miami in 2003, he produced no matter who he was catching passes from, and averaged 84.3 receptions for 1,133 yards in 12 seasons with Houston.
An in-his-prime Johnson would have complemented DeAndre Hopkins quite well in what would be probably the best duo of outside receivers in the league. Second-year QB Deshaun Watson would have an embarrassment of riches with those two studs on the perimeter and speed demon Will Fuller tearing the top off of defenses from the slot.
Watt has been afflicted with injuries in recent years but provided he and Watson are healthy this season, the Texans are poised to make some noise in the AFC South. If only Johnson could've entered the league a little later, or lasted a little longer to be around for the heydays of Watson and Hopkins. There's little doubt Houston would be having even stronger visions of a Super Bowl in the near future.
Tennessee Titans: Keith Bulluck, LB
Pass-rushing specialist Jevon Kearse might have been here had he been more productive over a longer span. That being the case, Bulluck gets the nod. The middle linebacker was the heart and soul of the Titans defense and missed only three games in 10 seasons from 2000 through 2009. In addition to being a heavy hitter versus the run, Bulluck was more than capable dropping in coverage as he racked up 19 interceptions for Tennessee. The three-time All-Pro just missed being a part of the Super Bowl finalist team from 1999.
Bulluck is a prototypical fit for new Titans coach Mike Vrabel, who starred as a linebacker for the Patriots on three championship teams. Rookie first-round pick Rashaan Evans figures to start at inside linebacker and would've benefitted from a seasoned pro in Bulluck mentoring and starting alongside him.
It's important to have a linebacker who can hold his own in the open field, particularly with lethal weapons at the tight end spot. Bulluck would've been able to do that, not to mention serve as a catalyst for Evans' development and a boon to Tennessee's pass defense that ranked 25th in yards allowed last year.
Los Angeles Rams: Deacon Jones, DE
Famous for his patented helmet-slapping antics to rattle opposing blockers, Jones was a sensational pass-rusher who literally came up with the term "sack," which in turn became an official statistic. Thus, he unofficially registered three seasons of 20 sacks or more during his 11-year tenure with the Rams.
With a big-market personality and the gridiron game to back it up, Jones would be an ideal fit in LA today. The Rams are a hotshot, upstart team led by young head coach and offensive genius Sean McVay, who rapidly reversed LA's fortunes from division cellar-dweller to NFC West champion in 2017. Decorated defensive coordinator Wade Phillips has always been known as a player's coach, so Jones would be given freedom to be himself and not be encumbered by something like the "Patriot Way."
Not only is Jones a good fit from a personality, chemistry and culture standpoint, but his presence on the field for the Rams would be downright scary for their adversaries. Reigning AP Defensive Player of the Year Aaron Donald is the superstar in the trenches on Los Angeles' defense, which added Ndamukong Suh in free agency this offseason. Phillips runs a 3-4 defensive alignment, but would find a way to make it work with Jones, Donald and Suh on the field at the same time. It's scary to fathom the possibilities of what that trio could do.
San Francisco 49ers: Jerry Rice, WR
The GOAT. What more needs to be said? Okay, well, Rice would be an—ahem—upgrade from the Niners' current cast of skill position players.
Newly anointed franchise quarterback Jimmy Garoppolo learned coach Kyle Shanahan's intricate offensive system on the fly after being traded to San Francisco in the midst of last season, but managed to win all five games as a starter, posting a 96.5 passer rating with Marquise Goodwin as his No. 1 receiver.
I do think Goodwin is finally in a system where his skill set and world-class speed can thrive, but Shanahan would do wonders with Garoppolo pulling the trigger and Rice as the go-to guy. Shanahan made Matt Schaub an NFL passing yards leader in Houston, helped a Brian Hoyer-led Browns team to a 6-3 start and temporary AFC North co-lead in 2014 and orchestrated a Matt Ryan MVP season for the Atlanta Falcons in 2016. A Garoppolo-to-Rice combo would be dynamite, putting "Jimmy GQ" in position to be on par with Niners legends Joe Montana and Steve Young.
Seattle Seahawks: Walter Jones, LT
The consensus, glaring weakness on recent Seahawks teams has been a putrid offensive line. Plugging Jones in is therefore a no-brainer. One of his former head coaches, Mike Holmgren, called Jones the best offensive player he ever coached, per ESPN.com's
Mike Sando
.
Dual-threat dynamo Russell Wilson is often running for his life, sometimes ill-advisedly from a clean pocket, but mostly as a result of horrendous pass protection. Seattle has not established the run over the past two years as it managed to in the first several seasons of Wilson's tenure, much of it due to a dearth of blockers up front.
Jones was not only a Hall of Fame protector of the blind side, but he was tenacious, almost impenetrable and a wrecking ball when it came to run-blocking. Rashaad Penny was selected in the first round to give Seattle's backfield some help in April. He does need a good line to run behind, though, and Jones qualifies as the best centerpiece to build around in Seahawks history.
Arizona Cardinals: Anquan Boldin, WR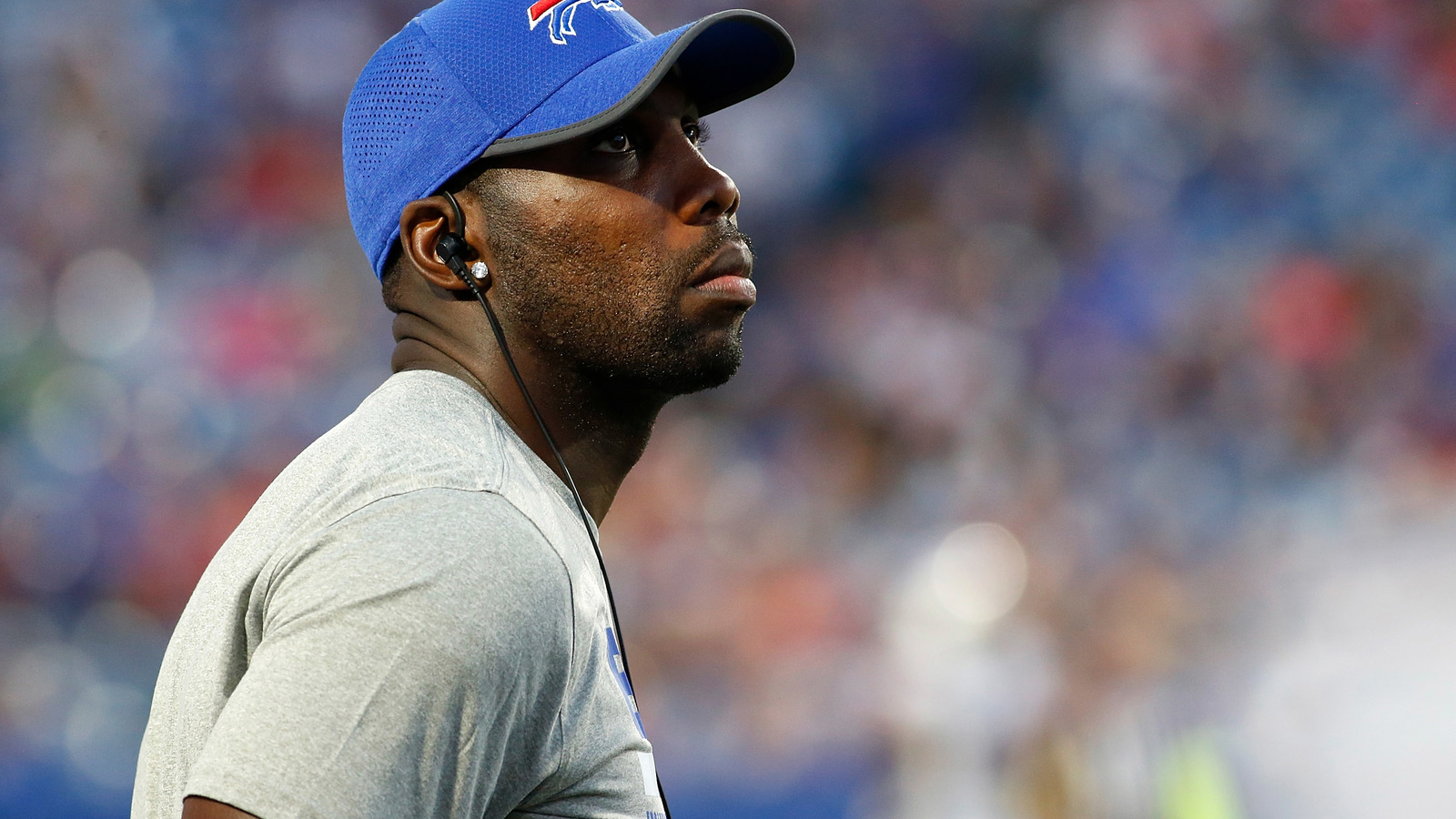 Kevin Hoffman-USA TODAY Sports
To give a callback to the Ravens' 2012 Super Bowl run: Boldin was as big a part of that as Flacco, who routinely threw up 50-50 balls to one of the strongest catchers in the history of the game and reaped the rewards. Boldin hauled in 22 passes for 380 yards and four scores in those playoffs' four contests—an explosive output for someone who ran a pre-draft 4.77-second 40 (h/t USA Today's
Steven Ruiz
).
Whatever Boldin lacked in top-end speed he made up for with imposing physicality, separating at the catch point and a knack for shielding defenders with his thick frame. He wasted no time making an impact in the pros, racking up 101 catches, 1,377 yards and eight TDs as a rookie in 2003.
The Cardinals' current receiving corps is thin beyond Larry Fitzgerald. If Boldin were in the picture, he'd give Arizona a second No. 1-caliber wideout and set up either Sam Bradford or Josh Rosen for success in the passing attack. Combine Boldin's presence with the return of David Johnson at running back, and the Cardinals wouldn't be in as much peril of falling into the cellar of the NFC West this coming season.
Green Bay Packers: Reggie White, DE
Ranked second all-time with 198 sacks, it's rather self-explanatory as to why White would be so valuable and an obvious upgrade to Green Bay's defense. In his last year with the Packers, at age 37, he had 16 sacks. Talk about longevity.
Not only would Green Bay have one of the top two QBs in the game today in Aaron Rodgers, but they'd also likely have the best edge-rusher. At 6'5" and 291 pounds, White could slide inside to collapse the pocket from the interior in addition to setting the edge versus the run and showing more finesse as a rusher at defensive end.
White's versatility up front would go a long way in upgrading the Packers' 26th-ranked scoring defense from a year ago. Although general manager Ted Thompson spent his first two draft picks on cornerbacks in 2018, there will likely be growing pains for Jaire Alexander and Josh Jackson on the back end, making someone like White all the more pivotal for a potential 2018 return to the playoffs.
Detroit Lions: Barry Sanders, RB
Lions QB Matthew Stafford has nary had a rushing attack to support him. Whatever Detroit would lack in run-blocking this season could be made up for by the most elusive back in history.
If Calvin Johnson hadn't voluntarily cut his career short, the Lions would be in much better shape as they stand. However, the prospect of putting Sanders behind Stafford would change the entire dynamic of the NFC North.
In an era where quarterbacks are king, Sanders would buck that trend. His unparalleled lateral quickness, agility, lower-body strength and low center of gravity gave defensive coordinators nightmares when he played from 1989 through 1998. Sanders amassed 2,053 yards in his penultimate season and averaged an even five yards per carry for his career despite frequently taking losses by dancing around too often in the backfield.
The ultimate big-play threat who averaged 99.8 yards rushing per game, there's no era in which Sanders would've flopped in the pros. He'd be a dream for Stafford, who hasn't had a teammate rush for 100 yards in any contest—including three playoff losses—since Reggie Bush in Week 13 of the 2013 season (h/t
FootballDB.com
).
Minnesota Vikings: John Randle, DT
No one will mistake the Vikings' current receiving tandem of Stefon Diggs and Adam Thielen as Cris Carter and Randy Moss, but they get the job done, and were good enough to get to the NFC Championship Game. Thus, adding a Hall of Famer in Randle to an already-elite defense takes priority here.
After not playing much as a rookie in 1990, Randle came into his own as a second-year pro, registering 9.5 sacks and reaching double digits in that category each year until his last with Minnesota in 2000 when he had eight.
Coach Mike Zimmer has teamed with GM Rick Spielman to build an intimidating defense that relies on freakish athleticism across the board—lots of big but speedy and athletic grown men to strike fear into opponents. Randle fits the bill perfectly and would help keep players like Linval Joseph and Sheldon Richardson fresh and afford Zimmer more creative latitude in his game plans.
Chicago Bears: Mike Singletary, LB
Until Mitch Trubisky establishes himself as the signal-caller of the future in the Windy City, the Bears could use someone of Singletary's ilk—with a nickname of "
Samurai Mike
" due to his ferocity—to instill some tough love.
Chicago spent aggressively on the open market and much of the team's fortunes in 2018 will rest on how quickly a new-look roster can come together and how Trubisky grows in Year 2 with a new system. These things aren't mutually exclusive, as Trubisky must get on the same page with new targets Allen Robinson, Trey Burton and Taylor Gabriel while hoping to get something out of former first-round choice Kevin White.
Rather than throw yet another playmaker into the mix or pluck one of the Bears' legendary ball-carriers such as Walter Payton or Gale Sayers, let's go with Singletary, whose playing days spanned 1981 through 1992, all with Chicago. Singletary's career was highlighted by a starring role on the '85 Bears defense as Defensive Player of the Year and Super Bowl XX champion.
Dallas Cowboys: Deion Sanders, CB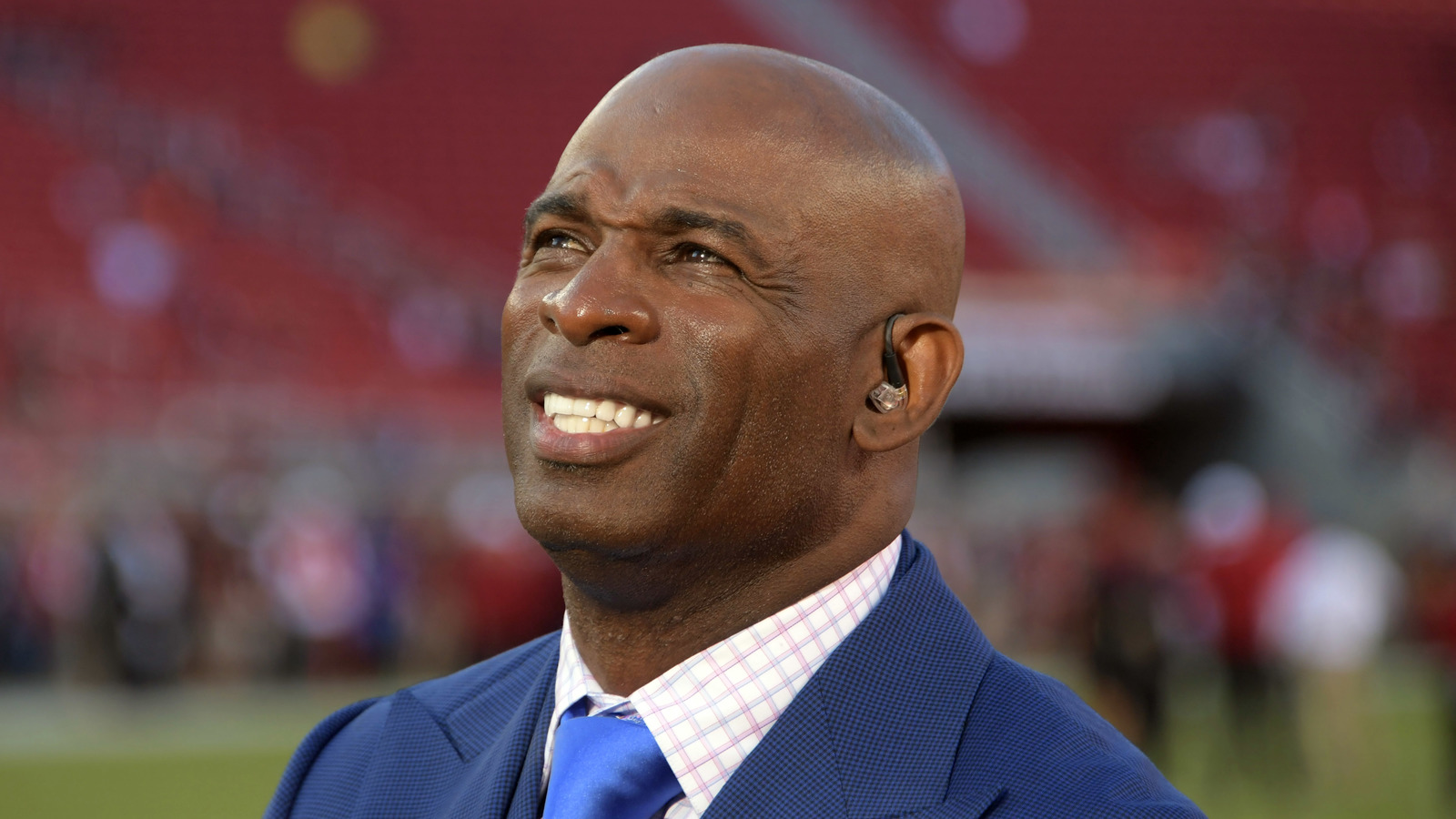 Kirby Lee-USA TODAY Sports
Like Bo Jackson, Sanders—though not as accomplished on the diamond—was a two-sport star as a pro baseball player and defensive back/return specialist. He even got some touches on offense, most often by far in 1996, when he recorded 36 receptions for 475 yards.
Sanders had the larger-than-life persona capable of thriving in big markets. After a six-interception 1994 campaign and a Super Bowl win in his first and only season in San Francisco, he went from the 49ers to the Cowboys, helping them to a championship the following year. Due to his sheer versatility and uncanny ability to lock down the opponent's top receiver, Sanders is such a rare athlete who was a Hall of Famer even as he had part of his focus on baseball during his football prime.
The 2018 Cowboys lack both talent and experience in the secondary, not to mention a truly explosive return man and have a depleted receiving corps. There would be no better time for "Prime Time" in Big D.
New York Giants: Lawrence Taylor, LB
Aging two-time Super Bowl MVP Eli Manning is just about done as a quarterback, but the Giants opted to invest at least one more year in him when they drafted RB Saquon Barkley No. 2 overall. With second-round guard Will Hernandez and free-agent left tackle Nate Solder brought in to shore up the o-line, it's safe to say New York is set offensively, provided Manning does his part.
That brings us to the other, or, original "LT." Taylor is considered by many to be the greatest defender in NFL history, including a top spot on a 2016 list compiled by NFL.com's
Eliot Harrison
. It's hard to argue, for Taylor was the last defensive player to garner NFL MVP honors—and deservedly so. In 1986, he led the G-Men to a Super Bowl XXI romp by a score of 39-20 over the Denver Broncos. Taylor logged 20.5 sacks that year and finished his career with 132.5 official sacks.
There's no question Taylor would be an asset to New York as it tries to win a third Lombardi Trophy in the Manning era. He'd thrive as either an edge-rusher or as a sideline-to-sideline inside linebacker, fully capable of crushing the bigger, faster competition of today's NFL.
Washington Redskins: Darrell Green, CB
Along with Deion Sanders, Green was among the speediest cornerbacks the league ever saw. By all accounts, he was a generous player with a good heart whose influence and professionalism were infectious among those he played with.
Fred Smoot, who was one of several players who benefitted from Green's mentorship, said in 2002, per Redskins.com's
Gary Fitzgerald
, "Darrell epitomizes what an NFL player should be. In my rookie season, he took me in and showed me the ropes, all the while we were competing for the same position. I looked up to him as a great player and a great man."
Despite standing at only 5'9" and weighing 184 pounds, the "Ageless Wonder" had no trouble holding up to the physical punishment of the NFL, enjoying a 20-year career in which he appeared in all 16 games in 15 seasons.
Green would form a magnificent CB combination with the more brash, outspoken Josh Norman and likely help the Redskins' efforts to secure their first playoff berth since 2012.
Philadelphia Eagles: Brian Dawkins, S
The defending Super Bowl champs have just about everything covered. Even when they lost their new franchise QB Carson Wentz to a season-ending knee injury, Nick Foles stood in and did nothing less than earn Super Bowl MVP honors.
Malcolm Jenkins can play any position in the defensive backfield and could even move in the box as a linebacker-safety hybrid if need be, so sliding in a true free safety like Dawkins makes sense for this exercise.
Dawkins was part of the excellent core Philadelphia formed near the turn of the century under coach Andy Reid. The nine-time Pro Bowler captained the defense while Donovan McNabb led the offensive charge. There's no doubt Dawkins would love to be part of a championship favorite after so many close calls.
During his 13 years in Philly from 1996 through 2008, Dawkins was a model of consistency. From 2001 through 2004, he played in consecutive NFC title games, winning only one and losing Super Bowl XXXIX to New England. The Eagles lost the 2008 conference championship to Arizona, which was Dawkins' final year with the club.
Carolina Panthers: Kevin Greene, OLB
A fifth-round pick who went on to be a Hall of Famer, Greene was the ultimate underdog who wouldn't stop fighting and carved out a prolific career for himself.
After eight seasons with the Rams and a three-year stop in Pittsburgh, the fledgling Panthers, in just their second season of existence, signed Greene, and he immediately helped them take the next step from a 7-9 inaugural campaign to a 12-4 record in 1996 and NFC title game berth.
Since Carolina hasn't much history to pull from, and Greene is the only current Hall of Famer to have played more than one season for the organization, he earns the nod. The Panthers can't have enough pass-rushers as they continue to retool their secondary. Greene fits the bill with 160 sacks, 41.5 of which came in his two-stint, three-season Carolina tenure, ending in 1999.
New Orleans Saints: Rickey Jackson, OLB
In 13 seasons with the Saints, Jackson was highly productive after being selected No. 51 overall in the second round of the 1981 draft. He amassed 115 of his 128 career sacks in that span before spending his final two years with the 49ers, earning a Super Bowl ring.
Few players epitomize having a nose for the football more than Jackson, who at the time of his retirement, per
ProFootballHOF.com
, ranked second all-time with 28 recoveries of opponents' fumbles in addition to being third on the sacks list.
New Orleans recently traded up to select pass-rusher Marcus Davenport in the draft, which would form a dynamic tandem with Cameron Jordan. Nevertheless, Jackson could plug in and make the Saints all the more dangerous, further supporting a secondary that's shown marked improvement of late, in large part thanks to cornerback Marshon Lattimore, the reigning NFL Defensive Rookie of the Year.
Atlanta Falcons: Claude Humphrey, DE
The Falcons lost 2017 sack leader Adrian Clayborn to the Patriots in free agency, leaving them with only one viable pass-rusher in Vic Beasley on the roster. Enter Humphrey, a tenacious QB harasser who would be a huge upgrade from the departed Clayborn.
Six of Clayborn's 9.5 sacks came in one game against Dallas last season, so his numbers are a little deceptive. Humphrey was the third overall pick in the 1968 draft and was Defensive Rookie of the Year that season, ending his 10 full seasons with the Falcons with 94.5 sacks, per
I.J. Rosenberg
of The Atlanta Journal-Constitution. That ultimately translated to only two winning campaigns in Atlanta, though, which frustrated Humphrey to the point that he sat out the entire 1975 season in the middle of his prime.
Something like that wouldn't happen now. With Matt Ryan guiding the offense and a receiving corps of Julio Jones, Mohamed Sanu and rookie first-rounder Calvin Ridley, not to mention a running back tandem of Devonta Freeman and Tevon Coleman to help the cause, defensive-minded head coach Dan Quinn would love to have someone of Humphrey's caliber to give the other side of the ball a necessary spark.
Tampa Bay Buccaneers: Warren Sapp, DT
If young signal-caller Jameis Winston can keep his tendency to turn the ball over at bay, his squad should be well on its way to challenging for a playoff berth. On the other hand, Winston's counterparts in the division feature a Super Bowl MVP and seven-time NFL passing champion, along with two recent league MVPs, making him by far the least decorated to date.
In a division with opposing QBs of such high class, Sapp would be an awesome addition to Tampa Bay's defensive front. At the 1995 NFL Scouting Combine, he ran a
4.69-second
40-yard dash at over 300 pounds. I mean, dear lord. Not just a mere workout warrior, though, Sapp proceeded to become a sensational interior pass-rusher with his blend of size and quick feet.
The Bucs drafted Vita Vea in the first round this year, a 346-pounder who put up 41 reps of 225 pounds on the bench press and ran a 40 in 5.1 seconds at the 2018
combine
. Already armed with veteran Gerald McCoy and Jason Pierre-Paul, Tampa Bay would be unbelievable with a quartet capped by Sapp in 2018.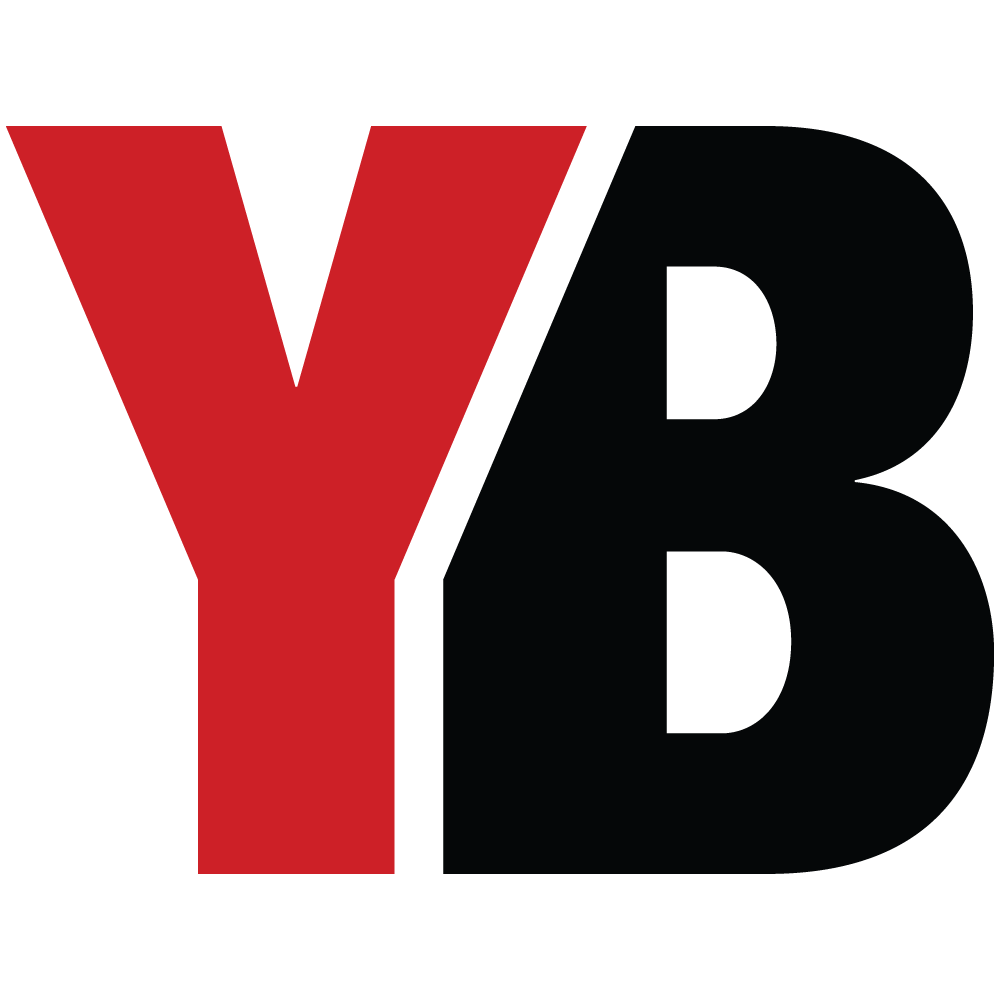 NFL News
Delivered to your inbox
You'll also receive Yardbarker's daily Top 10, featuring the best sports stories from around the web. Customize your newsletter to get articles on your favorite sports and teams. And the best part? It's free!
Original link
Read full article